Original URL: http://www.theregister.co.uk/2008/12/15/revew_radio_dab_roberts_rdk_2/
Roberts RDK-2 kitchen radio
A 'kitchen radio' actually designed for the kitchen
Posted in Personal Tech, 15th December 2008 13:02 GMT
Review Many radios are dubbed 'kitchen radios' solely for the reason that this is the room they end up getting most of their use in. Roberts has gone the whole hog and designed a radio specifically for kitchen use.
The first thing to note about the RDK-2 is that not only is it designed for the kitchen from a functionality perspective, it's intended to become part of the kitchen's fixtures and fittings. It's designed to be mounted to the underside of a kitchen cupboard.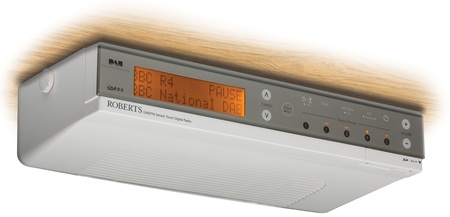 Roberts' RDK-2: at last, a kitchen radio designed for kitchens
It's not a bad idea this - radios that find a permanent home on a kitchen surface often become covered in all manner of grime and general stickiness. Still, a little DIY competence is needed to get the unit fitted, so if all your shelves end up wonky, this product is probably not for you.
For the rest of us, installation is straightforward. The cupboard you pick for mounting should be away from direct sources of heat. A good tip is to check the reception where you intent to hang the unit before doing the fixing. This sounds obvious, but it's one of those things that can easily get overlooked in the desire to get the unit up and running quickly.
Another thing that needs a bit of thought is making sure the power cord is long enough to reach a power point. In fact, Roberts could have helped by fitting a longer cord. The unit is supplied with a simple wire FM/DAB aerial which provides decent reception, but there's an F-type socket on the back also if you need to something more serious.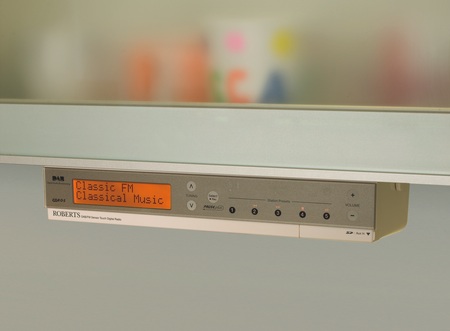 Have cupboard, have place to hang radio
When testing the proposed site for signal strength, if you're using the wire antenna, it's a good idea to fix the aerial in the proposed spot with a bit of tape. Holding the aerial in place may well give a false reading. With aerials of this type, it's more usual to get the best signal by fixing the aerial vertically rather than horizontally - that was certainly the case with our unit. It's also a good make sure you're not near any water pipes or other metal objects as this can affect reception.
Once you've identified the best spot, all you have to do to put the RDK-2 up is undo the two large thumable screws that hold the fixing bracket in place on the top of the unit. Mark where the radio is going, remove the bracket completely so you can see where the drill holes go, drill the holes, screw on the bracket, fit the radio and the job is done. The whole process took us around ten minutes.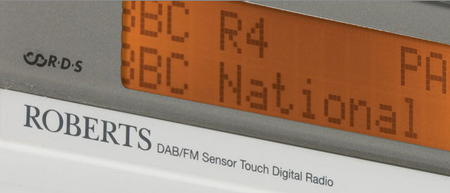 The RDK-2 has a clear 16 x 2 display...
You can adjust the degree to which the radio hangs down from the surface, so you can get it flush to the bottom of the cupboard of leave a bit of space. We found that leaving a bit of a space was best as it makes some of the other radio's functions a little easier to use.
The radio has four main operating modes: DAB, FM, playlist mode and auxiliary input. There's also an SD card slot for recording radio programmes in MP2 or playing back MP3 files made elsewhere. This function is accessed by selecting the playlist mode. Repeatedly pressing the Band button toggles the unit between its main functions, though the auxiliary input is automatically selected if an external devices is connected to the RDK-2's 3.5mm jack.
This is where leaving a little gap comes in handy, as a personal CD or MP3 player can sit neatly on top of the unit during use.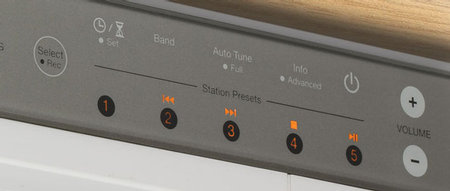 ...and wipe-clean controls
As the unit is designed specifically to survive in a kitchen there are no conventional buttons. Instead, it has a wipe-clean panel with touch-sensitive controls. You need to make sure no moisture builds up on the panel as this does affect the sensitivity, but generally the panel is very accurate and gives fast access the unit's functions. The layout is clear and combines the file playback buttons and favorites storing/access into the same four buttons at the base of the panel.
You can tune the RDK-2 manually in DAB mode, but we found its auto-tuning system was able to pick up all stations available in the area we were testing in. FM also has auto and manual tuning, and four RDS playback options.
There's an instant pause function that can record a maximum of five to 15 minutes of a DAB broadcast - you don't need an SD card for this, thankfully - depending on what station you are listening to.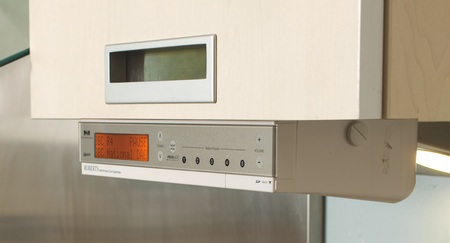 Good on treble, poor on bass
Longer recordings will require a card, and can be begun simply and quickly with one touch. Roberts reckons that a 512MB card will give between eight and 16 hours of recording time, but the machine doesn't work with cards greater than 2GB capacity or SDHC cards. Cards that have been formatted elsewhere have to be re-formatted for the radio to be able to use them.
Sound quality is never going to be a world beater here. You have a down firing 100mm driver outputting 3W. The unit doesn't create bass very well, and we found our cupboard vibrating and negatively affecting the sound. The unit performs well enough to cope with most kinds of broadcast, but it's never really inspiring. The RDK-2 is at its best on talk stations and music that has more treble than bass. Two levels of Dynamic Range Control setting are available to help with quieter stations, and this does improve performance a little.
Other functions include an 'egg timer' which works fine - and can be used whilst playing music - but it only goes to 99 minutes. If you want to time anything longer, you'll have to use the radio's alarm clock.
Verdict
The RDK-2 comes across as a very durable unit with decent enough performance to keep most listeners happy. We smeared enough sticky stuff at the touch controls and gave the unit enough punishment to establish that it should stand up to the rigors of a busy kitchen. The sound is acceptable and the functionality is perhaps at a higher level that you might expect for a product of this type. The £100 price tag is a little on the high side, but the build quality just about justifies it.
More Radio Reviews...
| | | | |
| --- | --- | --- | --- |
| Roberts Ecologic 1 | Revo Pico RadioStation | Pure Digital Evoke Flow | Roberts Stream 202 |