Original URL: https://www.theregister.co.uk/2008/12/12/review_mobile_phone_lg_kf300/
LG KF300 budget clamshell phone
An easy-to-use offering for the non-techie in your life
Posted in Personal Tech, 12th December 2008 13:02 GMT
Review So what if you're after a phone that doesn't have an eight-megapixel camera, smartphone functionality or touchscreen tech? LG's been busy of late speccing up and serving out a pick-and-mix of eye-catching and - occasionally - innovative mobiles, but they're not for everyone.
Enter LG's KF300, aimed squarely at those mobile buyers looking for something straightforward and easy to use, but still want a smidgeon of style too.

LG's KF300: easy-to-read buttons
LG has added a sprinkling of features designed to make this handset a shade more user-friendly than most. Large number keys with easy-on-the-eyesight labelling greet you when the clamshell's flipped open, while under the display are a row of keys for specific functions – again, clearly marked for easy finger-jabbing.
The KF300 may not be a heavy-puncher like the Renoir, but it's not a complete hair-shirter either. It omits 3G, relying instead on quad-band GPRS/Edge for data, but includes a two-megapixel camera, a music player and an FM radio. MicroSD card support means you can carry around up to 2GB worth of tunes in the phone.
LG will be expecting the bodywork to catch punters' eyes too, with a shimmering, light-catching surface on the outside of the flip, and a businesslike bit of chrome trim around the sides and the top. The back panel is covered in tactile rubber-feel material.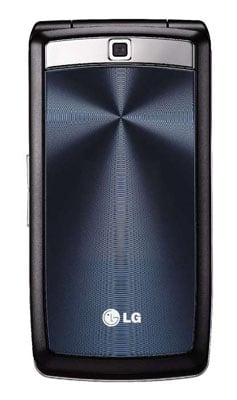 Shimmery metal effect
Emerging from under the front panel is a secondary colour display that provides a clock in standby mode, or incoming caller information when activated.
The big numberpad means the KF300 isn't the tiniest fold phone we've flipped. Shut, it measures up at 98.8 x 49.5 x 16.2 mm – giving it a sizable footprint for a clamshell, with its 97g weight reflecting that.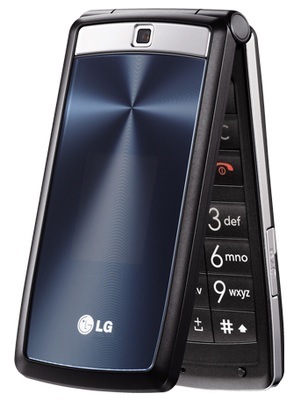 Large for a modern flip phone
Build quality feels excellent – it's substantial in the hand and doesn't feel cheap. Similarly, the controls under the lid are well designed and built. LG's done some good work here. The rectangular number keys are almost flush with the surface, but are slightly humped to help separate them and make button-pressing accurate. They're responsive too, and large numbers and letters mean those with less than perfect eyesight won't be struggling.
The sizable bodywork allows scope for a large screen under the flip. The 2.2in, 240 x 320, 262k-colour display is a decent sized screen for a phone of this class. It's bright and clear too. But all that space on the upper flip could easily accommodate something even larger.
There's room for a quartet of function keys under the display – another element of the enhanced usability in this design - for the alarm clock, calendar, the image gallery and a user-definable list of shortcuts.
We've seen dedicated keys like these before on other phones, but in the context of this big-buttoned clamshell, they're welcome and do the job required.

Good build quality
One issue users might initially come across could be with soft-menu operation, by hitting the shortcut buttons by mistake. Conventionally, soft-menus displayed on the bottom left or right of the screen are operated by the nearest control buttons, but not on this phone: they're on the main pad. To be fair, we didn't find it a significant handling problem, but it's worth noting on phone that's aimed at hassle-light use.
Apart from the large controls and easy-access function buttons, LG has stuck to familiar, conventional user interface. Tap the menu button, and you're presented with a default grid of icons for features and apps, but you can be switch it to a list view. Tap one of these and you enter a regular list of options, with numbers next to them for quick selection using the numberpad.

LG plays it straight
On our review sample from Orange - which has the KF300 on exclusive - the sub-menu fonts had been cranked up to super size, presumably to make it easier to read. OK, so this may well help folk with poor vision, but it actually makes reading the menus more time consuming and fiddly, as you can't see more than five options at once. Again, more an out-of-the-box niggle rather than a problem, as you can easily reset the text to normal size.
With the key features, LG plays it straight. The camera, which can be launched from the keypad shortcut button, is an entry-level shooter with no flash or autofocus. Pics are snapped in portrait mode, with strips framing the shot. You can choose a full-screen mode, in which case the viewfinder image will be larger but won't show the edges of your shot. Typical cameraphone settings - brightness, white balance, multi-shot, timer and colour effects - are available for adjustment but there's nothing out of the ordinary.
The images the KF300 produces are reasonable for this level of snapper but aren't particularly crisp or well-defined, depending on 'point and hope' thanks to the fixed focus lens. Colour is lacklustre, with some images appearing washed out.
Indoors, shots are softer and, with no added illumination, picture noise is more of a problem. But overall, the camera is fine for taking snaps to send by MMS. The phone can shoot video at 320 x 240, but the results are of a typical low quality.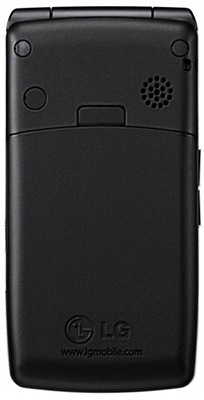 Memory card not included
With only 14MB of internal storage, slipping in a Micro SD card is essential if you want to use the music player properly, though you don't get one bundled with the handset. The card slot is tucked away beneath the battery.
There are better budget music mobiles out there, though the KF300's sound quality isn't bad. The MP3 player has a plain and unsophisticated look about it. Its categories are basic – All Songs and a Playlist option – and there are controls for shuffle and so on. But compared to plenty of budget phones, it looks basic and unsatisfactory.
It's possible to copy tracks over from a PC using a USB cable – not included – with the phone in mass-storage mode. Slipping in a memory card or Bluetoothing tracks are possible too, though the phone doesn't automatically update music lists when you put a card in. As we say, it's not the slickest music mobile we've ever seen.

Plenty of 'mature use' appeal?
The bundles earphones slip into a side-facing multi-function port. They come with a 3.5mm adaptor, though, so you can use you own 'phones. The bundled set sound a bit better than average for this class of handset, with a fair amount of bass, so the overall audio performance is acceptable without being exceptional.
The KF300 keeps it simple with browsing too, with a standard-issue WAP 2.0 browser, set up for fast access to the Orange World mobile internet portal on our review sample. Email is supported, and there's a typical line-up of organiser functions and tools. Games are at the more mature end of the spectrum - chess and backgammon – reflecting the audience this phone is pitched at.
With a phone that's meant to be easy to use, the basics of voice calling have to be up to scratch, and we had no issues with quality of the calls we made – the KF300 was reliable, loud and clear. Battery life is reasonable too. LG estimates the phone will run for up to 200 hours in standby or provide up two hours' talktime, which is less than we'd have expected for a quad-band GSM handset. Still, we managed a comfortable three days between charges with average usage and limited tune-playing.
Verdict
LG's KF300 isn't a handset that will light up everyone's mobile lives, and it certainly isn't pitched at the tech-savvy young phone user. It has a respectable if unexciting design, but most of its low-key features are unexceptional for a phone of this class. Yet that large numberpad and easy-to-operate buttonry should attract the 'mature user'.