Original URL: https://www.theregister.co.uk/2008/12/11/titanium_preview_release/
Titanium puts open source mettle against Adobe AIR
Web devs in deskstopland
Posted in Software, 11th December 2008 06:22 GMT
Adobe Air is getting an open source rival with Appcelerator Titanium, a new platform designed to let web developers build installable desktop and mobile applications using HTML, CSS, and JavaScript.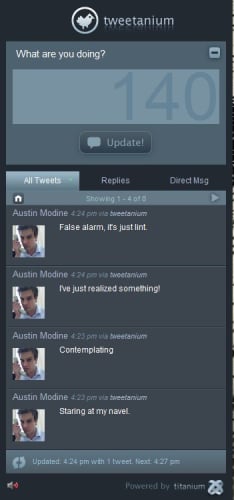 Googleton Mountain View, California-based Appcelerator on Monday cooked up a public preview release of Titanium for Windows and Mac. The Linux version apparently needs to stay in the oven until January 2009.
Titanium compiles web applications into desktop code with all the file system access and operating system privileges web developers normally must do without. It's much the same story as Adobe's AIR, only distributed under the Apache Public License.
In fact, the Appcelerator itself claims "The most significant difference between Titanium and Adobe AIR is that Titanium is open source and Adobe AIR is not."
The preview release of Titanium includes the full source code as well as two proof-of-concept applications. The demos are a local Twitter client, "Tweetanium," a YouTube video player, "Playtanium," and a contact manager, "Contact Manager," (apparently Contactanium Managanium is too much of a mouthful).
El Reg is a family pub and therefore won't recommend masturbation like Twitter, but a heads-up to the curious: This author couldn't find a way to close Tweetanium in Vista outside of using Task Manager.
Appcelerator said Titanium is powered by open source products, WebKit, Chromium, Gears, GTK+, Jquery, Appcelerator SDK, NSIS, and Ruby.
Readers can grab the preview release here and the app demos over yonder. ®