Original URL: http://www.theregister.co.uk/2008/12/09/review_smartphone_blackberry_pearl_flip_8220/
RIM Blackberry Pearl Flip 8220
The message machine to be seen with?
Posted in Personal Tech, 9th December 2008 13:19 GMT
Review It might seem slightly perverse for RIM to produce a clamshell Blackberry when almost every other phone maker's attitude seems to be 'been there, done that' while they focus on sliders and candybars. But there is method in the madness.
RIM's intention with the Pearl range has been to broaden the appeal of the Blackberry beyond its corporate beginnings and to make it just as much about all the other things that people buy phones for – style, fun, a camera, a music player, web browsing and, of course, email, still the Blackberry's USP.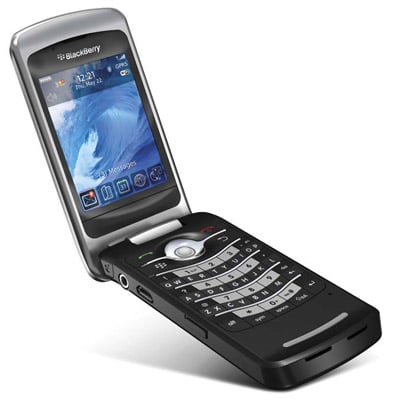 RIM's Blackberry Pearl Flip 8220: stylish and sophisticated
Adding a clamshell variation into a market that's not exactly awash with them at the moment could well prove a window of opportunity for the brand, especially when it's as stylish and technically sophisticated as this one.
Looks-wise, the 8220 has a more sober appearance than its brightly coloured predecessors in the Pearl range - which are "aimed at girls and hairdressers", as one WAG had it. It looks serious with its glossy black front, but not necessarily in a boring business way. Put it this way, James Bond wouldn't blow his cool by ostentatiously displaying one of these in his next movie.
The outer screen measures 27 x 34mm with a 128 x 160 resolution - the main, interior one is 240 x 320 - and is barely noticeable with the phone in repose. When you receive a call, however, it flicks into life, revealing an analogue clock with date as well as caller, battery, message and signal info. You can also activate it by pressing one of the two programmable 'convenience keys' on each side.
Elsewhere on the 8220's sides are a mini USB charging port, 3.5mm socket for headphones, a Micro SD memory card slot - it will take up to 16GB though no card comes supplied as standard - volume keys and a call mute key.
Back to the front, and above the outer screen there's a two-megapixel camera with LED flash and a red status light. There's a slight curve to the body near the top, which may help when flipping it open with one hand. But there's a small surprise when you do: the screen comes to rest behind the body of the phone. This feels a bit odd both in the hand and next to your face when you're holding it to your ear. It's no big deal - it's just a bit odd.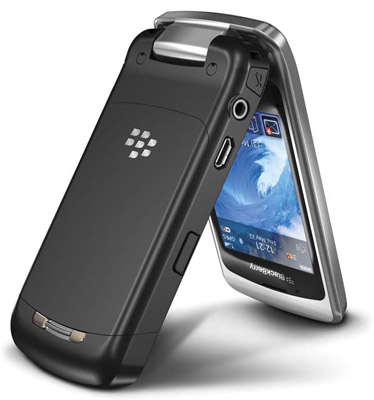 Not for girls and hairdressers?
There's nothing odd about the keyboard, though, which is all business sleekness and efficiency. The keys are large and well spaced, making the entry of text messages and email as a pleasurable as it can be without a full Qwerty keyboard.
Actually, the Blackberry SureType keyboard is arranged in Qwerty style, but with two letters per key. You can set it so you tap twice for the second letter, or use predictive text. Either way, you'll need to spend a bit of time getting used to it if you're not already a Blackberry user. It doesn't take long, though.
Blackberry's patented trackball sits above the keypad, but unlike the one on other Pearls, it's recessed slightly to allow the flip to close. It's easy enough to use, though habitual Blackberry users may have to make a slight adjustment to their trackball style, using the tip, rather than the flat of the thumb.
Blackberry's 4.6 OS is very nicely turned out, with 24 icons neatly displayed on screen. While it's not really the fastest phone OS when it comes to nipping through menus, it's by no means disastrous. Our niggling frustrations at having to wait a fraction of a second when switching functions was offset by the fact that everything seemed to be in its proper place and easy to find.
The browser won't pass muster against the best new browsers from Apple or HTC, but it does the job efficiently enough, the trackball allowing you to pan around pages with ease with a single press allowing you to zoom in - though you'll need to access the menu options to zoom back out again.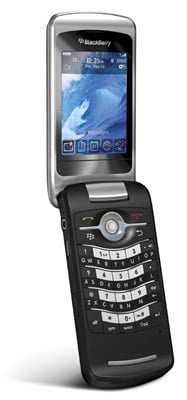 3G-less
The column view option puts all text and pics into a single column, which can come in handy, especially since there's no option to view pages in landscape mode. The 8220 is a quad-band phone, but with no 3G, fast internet access when you're out and about isn't an option unless you find a handy hotspot to connect to through the phone's Wi-Fi link.
The two-megapixel camera isn't a selling point by any means, but it's not an embarrassment either. It's very quick to get into - around two seconds - and takes pics quickly too, which, let's face it, is great for the kind of ad hoc snaps we all tend to take on our cameraphones. Pics are about as good as you could expect for this resolution - 1600 x 1200 - and show up well on the sharply detailed screen.
There's also a 5x digital zoom, which you can control with the trackball, which is a neat trick, but little in the way of post-pic editing tools. Quality takes a drop with video, as is usually the case with phones. The moving picture isn't as sharp as still ones, and the camera struggles with fast movement. But it's certainly not the worst we've seen.
Blackberrys in the past haven't done music very well, but this one is right up there with the rest - except the iPhone and Sony Ericsson's Walkman series. The player can handle all the main audio formats, including MP3, WMA, AAC, AAC+, eAAC+ and MIDI music files, as well as MPEG 4, WMV and H.263 for video. It also has a 12-setting graphic equaliser.
Usefully, the call mute button on the side doubles as start/stop for the music player so long as you've left it on in the background – it even works when the phone's shut. It sounds pretty good through the phone's loudspeaker, too, which offers a pleasingly well-rounded sound. Even the supplied headphones aren't bad, though you can easily add your own using the 3.5mm jack plug.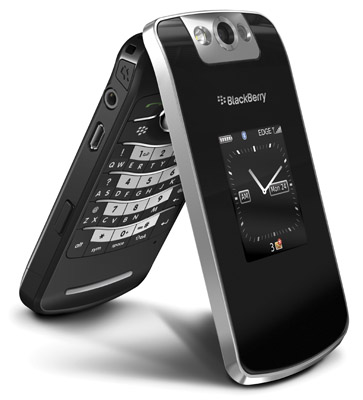 A decent music player, but not a great camera
Among the other features are GPS with maps apps from both Blackberry and Google - Google's has more detail and better features, including satellite view and traffic. It didn't find our location as well as other built-in GPS units we've used, offering accuracy to only 500m, which doesn't really cut it these days.
Battery life stood up pretty well overall. With Wi-Fi and Bluetooth turned on, plus screen brightness turned up full, we still got a good two days out of it, which you could easily extend with a bit of judicious feature management and by dimming the display.
Verdict
The Pearl series has done a lot to break Blackberry out of the business ghetto and this could well be the best one yet. It has all the Blackberry pluses with the only real minus being its lack of 3G, which seriously hampers the effectiveness of its browser, otherwise, it's great as a messaging device, and as a phone.