Original URL: http://www.theregister.co.uk/2008/12/08/review_monitor_samsung_syncmaster_2263dx/
Samsung SyncMaster 2263DX 22in monitor
A neat idea packed into a nice chassis
Posted in Personal Tech, 8th December 2008 09:02 GMT
Review To the masses a monitor is a monitor. For those who spend hours staring a screen, response times and colour reproduction can be important. But for most, screen size and price are the deciding factors.
However, the Samsung 2263DX has something else that may pique some people's interest. This 22in monitor comes with a little friend: a small, 7in companion, to be precise.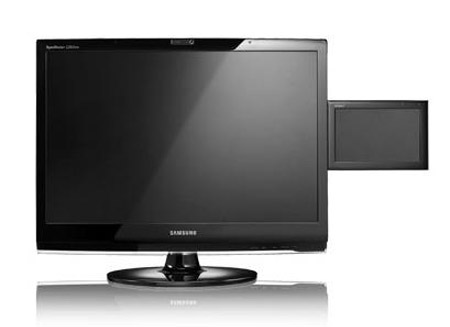 Samsung's SyncMaster 2263DX: novel solution
For a couple of years now, most discrete graphics cards have been able to support multiple monitors, but a pair of full-size screens can be expensive and cumbersome for most desks. One response is to use a laptop with an external monitor attached.
Samsung has come up with a different and rather novel solution to the problem, namely introducing a smaller secondary monitor that can be used to display all the information that's useful to have on hand, such as email, widgets, instant messenger conversations, reference documents or a media player.
The 7in UbiSybc 7 monitor is driven by a DisplayLink chip, which means it connects and is powered over USB, so even if your PC only has a single display connector you can still make use of this monitor. In fact, you can even use this screen completely independently.
There is a swivelling mount that sits behind the main monitor, allowing the sub-monitor to be positioned almost anywhere around the main screen. Alternatively the sub-screen can stood on its own like a digital photo frame.
The Samsung 2263DX is housed in a glossy black casing, which looks good in just about any setting and includes a pair of USB ports on the back, recessed speakers and a 3Mp webcam at the top. The entire effect is very sleek, with no protrusions at all.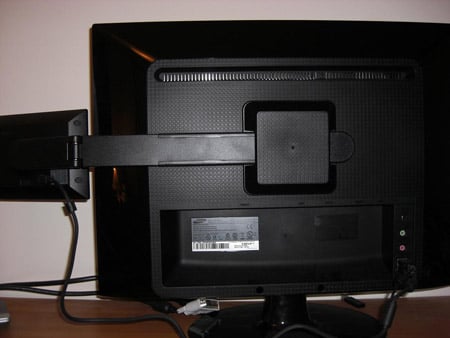 The back mount means the sub-monitor can be moved anywhere around the screen
The speakers are embedded underneath and are well hidden, only visible if looking from directly below. The sound is pretty decent given the limited size and should be sufficient for those with basic audio requirements.
There are also headphone and microphone connectors, however there is no line audio input, because the 2263DX features an integrated audio card with a USB interface.
Keeping with the monitors sleek looks, the controls at the base of the screen are touch sensitive. We found them to be very responsive making it easy to configure and adjust settings as required. The on screen display is pretty straight forward and offers all the usual adjustments.
The matte coating of the screen itself reduces reflections making it a good choice for environments with lots of glare. The selection of DVI, VGA and HDMI is very nice to see and offers a range of connectivity options for users who may want to use the screen in a more varied multimedia setting.
The main monitor performs perfectly adequately, but we don't think it's going to win any awards. The default 1680 x 1050 resolution, 5ms response time and 1000:1 contrast ratio are perfectly acceptable and the colour reproduction is quite good. There are better options out there, but they're generally more expensive - or at least the same price, but lacking the additional secondary screen.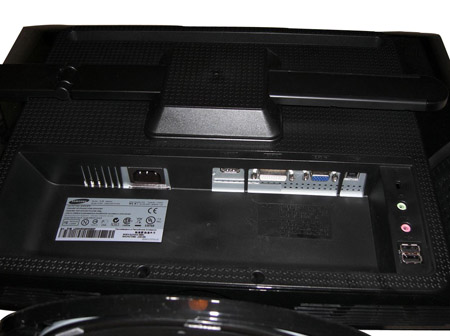 The selection of DVI, VGA and HDMI offers a range of connectivity options
Being based on DisplayLink technology, as you would expect the secondary screen is not designed for performance but for functionality and hence is not suited for anything particularly taxing, but with an 800 x 600 resolution it is nice and clear with good colour reproduction so reading email or instant messages doesn't require squinting.
All in all it's nothing exceptional, but it's certainly no slouch either and for the vast number of users it will be suitable, even for games, movies and other multimedia content.
As with all displays we would highly recommend taking the time to adjust the monitor's settings for optimal use in the environment and requirements of each user. We would also recommend that people make use of Samsung's MagicBright and MagicColor features to make dynamic adjustments depending on what they are doing at the time.
There is one thing that annoyed us about the 2263DX and that is the fact that the monitor's stand is not height adjustable, so you're left either stacking books under the base, or tilting the screen at an upward angle, which seems to work fine until you try and use the webcam, which is now pointing toward the ceiling and not adjustable either. It's a relatively small thing, but can get very irritating very quickly if you frequently make video calls.
Installing the secondary monitor is straightforward, but does involve the installation of some extra software to drive the device, which in turn lets you control the orientation and resolution from the system tray.
We were somewhat disappointed that such a good idea was hampered by niggling drawbacks that could have been avoided, but if you have about 300 quid to spend and could make good use of two screens instead of just one, then the Samsung may be worth considering. However, for the same amount you could get a better standalone monitor, with better colour and response times.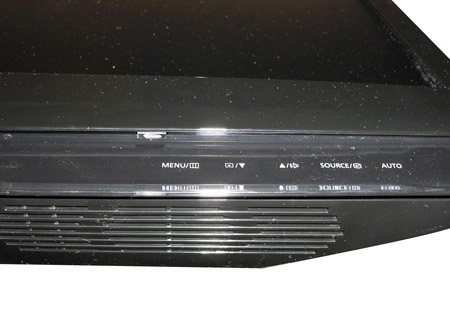 There's no line audio input, it has an integrated audio card with a USB interface
Verdict
Ideally, we'd love to see Samsung sell the UbiSync 7 on its own, allowing people to use it alongside any other display or even as the primary display for systems that only require occasional checking such as a server or demonstration unit. Being sold separately does bring up issues of how to position the little screen next to a primary monitor in any way other than as a photo frame but hopefully the boffins at Samsung could come up with way of mounting it alongside a normal monitor.
Update Since this review was undertaken, the powers that be have had similar thoughts and announced a pair of digital photo frames that can be used mini-monitor or as a standalone device. There is a 7in and a 10in version available. Of course, these can't be easily attached to the main monitor, but apart from that it could be the best of both worlds.