Original URL: https://www.theregister.co.uk/2008/12/05/review_smartphone_rim_blackberry_storm/
RIM Vodafone BlackBerry Storm
Attempts to take on iPhone, fails...
Posted in Personal Tech, 5th December 2008 12:56 GMT
Review RIM's first BlackBerry to feature a touchscreen has been eagerly awaited for some time now, and after all the hype, you'd have thought it would have made a much better job of it.
Now don't get us wrong, the Storm's not a terrible phone by any means, and there are parts of it that are very impressive, but RIM and Vodafone have certainly missed out on the chance to be in the running as the next iPhone killer, if only because, despite the long lead-up, the phone feels like it was rushed to market.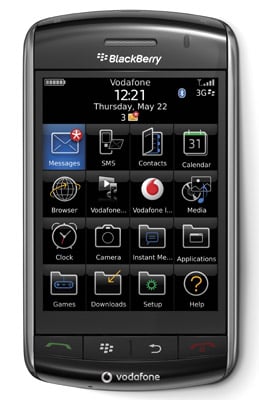 RIM's BlackBerry Storm: feels different
But first, the good stuff. A little late to the touchy-feely party it may be, but the Storm is no me-too product because RIM has managed to put a new spin on capacitive touchscreens. It feels different. Not the feel of plastic against skin, but when you press it, there's a much more tactile reaction from the SurePress touchscreen than you get with other phones - the whole screen moves.
This is because it floats a fraction of a millimetre above the phone's sensor pad and gives a similar impression to clicking with a mouse. It's disconcerting at first and feels like something might be loose, but with regular use the benefits become clear. The problem common to most of today's touchscreens is the accidental activation of buttons as you try to scroll around the screen. That doesn't happen with the Storm.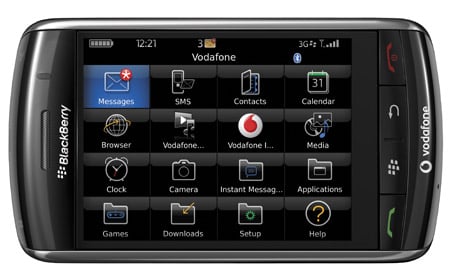 The accelerometer will flip the screen to portrait or landscape as you choose
But while this is a welcome innovation, it has its drawbacks, most noticeably when you're typing. There's a choice of RIM's own SureType and multi-tap keyboards in portrait mode, or a full Qwerty keyboard in landscape mode, but entering text feels slower than with standard BlackBerry keyboards because the screen requires a distinct click to register a keystroke. This is great for preventing accidental presses, but we found it frustrating to try to write this way.
Given that BlackBerry's USP has always been the ease it brings to email on the move – not just sending and receiving but creating, with the range of keypads available - this is the first BlackBerry we've tried that has disappointed us. And, odd for such an email-centric devices, the @ symbol doesn't appear on the keyboard – you'll need to access it through the Symbols menu.
Cut and paste is reassuringly easy, though – just highlight a stretch of text by tapping your thumbs at each end and use the menu button to cut, copy, or paste it elsewhere. You can even paste into different documents. So it certainly beats the iPhone here.
Next to email, the other main BlackBerry selling point is browsing and here too the Storm starts well but ultimately falls down. There's a fast-ish HSDPA 3G link on board, but no Wi-Fi, which is a serious omission shoudl you you want to access your company's intranet, use hotspots, or even your home or office WLAN. No current HSDPA link is ever going to get close to proper broadband.
Speed issues aside, the browser's actually very good for the most part. You can use full page or column mode, there's the option to use your finger as a cursor and the on-board accelerometer will flip the screen to portrait or landscape as you choose. A quick tap on the screen will zoom into a column of text, iPhone-style, though you'll need to use the zoom icon at the bottom of the screen to pull out again. If you've got good reception, it all adds up to an easy and intuitive browsing experience.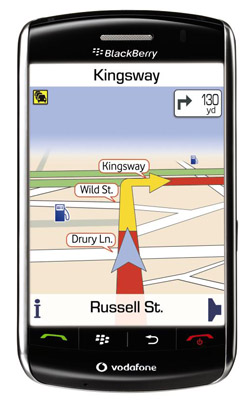 The GPS works with Google Maps
The 3.2-megapixel camera isn't the current state of the art, but it holds up pretty well, so long as you're not in a rush. It's quick enough to get into - around three seconds after you press the shutter button on the side - but focusing and snapping takes about five seconds, way too long to catch the moment in many cases. There's a 2x digital zoom and a reasonably effective flash, but not much in the way of post-snap editing tools.
The pictures themselves are decent enough if taken in good light, and the screen is sufficiently sharp and detailed to show them to good effect. Video recording is okay - the resolution's 320 x 240 - and displays reasonably well on the screen, with surprisingly crisp motion and realistic colours.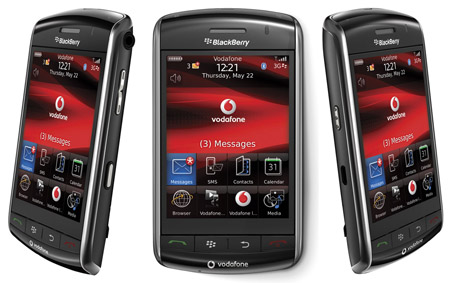 There's no Wi-Fi - a serious omission
The Storm struggles a bit with fast movement, but overall it's better than we'd expected. The music player does a good job too, though it took us a while to work out that the volume controls on the side double-up as forward and back nudges when you hold them down.
Incidentally, this phone goes LOUD, and sounds good and bassy through the supplied earphones, though for a more refined listen there's a 3.5mm socket so you can add your cans of choice. There's a graphic equaliser with a dozen presets, and while there's only 1GB of memory on board, you can expand this by up to 16GB at a time with a Micro SD cards. However, one isn't provided as standard.
But clever and capable though it is, there are still a few problems with the general operation of the Storm. It's slow, for one thing, and took ages to flip between menus. Now, when we say ages, we actually mean a couple of seconds, but that can seem like a very long time with mobile phones. Our test sample also seemed a bit buggy – we lost the keyboard at one point and were only able to get it back by removing the battery and restarting.
This also happened with another Storm sample that we're aware of, which gives the impression it's not an individual problem. The browser seized up and switched itself off a bit more often than we'd be comfortable with too. A replacement model ironed out some of the problems, but the frustration we felt at the lack of speed tended to cancel out any good feelings we had about the phone's many good features.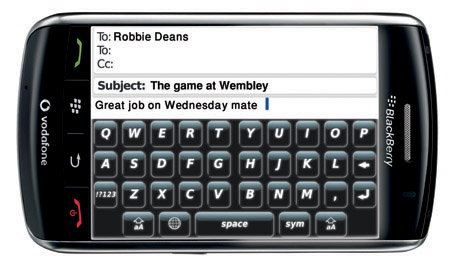 This is the first BlackBerry that has disappointed us in terms of using email
Worse, the Storm's battery life was quite shockingly poor, and we barely made it to three hours in our first day of use – that's with maybe about 30 minutes' browsing, playing a few songs, and a dozen or so minutes of calls. As with all today's smartphones, you can extend the battery's life by reducing screen brightness and cutting back on background apps, but the Storm is still a long way from the top drawer.
Call quality was fine in our part of north London, as was the GPS when with Google Maps, which did what it does with its usual efficiency.
Vodafone has the UK exclusive on the Storm and it's offering the handset free with a £35-a-month airtime package. But you'll be tied in to a two-year contract and you're limited to 500MB of data transfers, which may be plenty for some users, but may not be if you're planning to make full use of the Storm's potential for downloading video. An extra 5GB of data per month will set you back £22.50.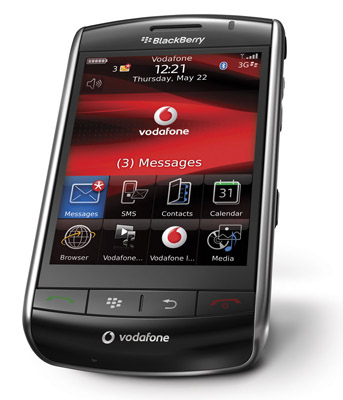 Call quality, good. Battery life, not good
There's the suspicion that the Storm may have been rushed, despite the hype that's been going on for months. Besides the slow OS - BlackBerry 4.7, since you ask - and feeble battery life, the 'Application Center' mart looks distinctly understocked compared to the app stores launched for the iPhone and the Android-packing T-Mobile G1. Still, it's got specialist apps for Facebook, Flickr and YouTube along with a few instant messaging clients, though without the geek caché of the Mac and Android fanbase, it's possible it may never achieve the variety those devices will be able to offer.
Verdict
In trying to take on the iPhone at its own multimedia touchscreen game, RIM has alas come unstuck, to the extent that we think the company could well alienate its core users: business customers who've come to expect hassle-free email.
The screen is certainly good, but the click mechanism makes email entry a pain. Couple that with the slow speed, the lack of Wi-Fi and that poor battery life, and we find this a hard phone to recommend.
More Smartphone Reviews...
| | | | |
| --- | --- | --- | --- |
| Nokia N96 | HTC Touch HD | T-Mobile G1 | Palm Treo Pro |