Original URL: https://www.theregister.co.uk/2008/12/05/review_mobile_phone_sony_ericsson_w902_walkman/
Sony Ericsson Walkman W902 mobile phone
Image-conscious Walkman phone gets a snappier snapper
Posted in Personal Tech, 5th December 2008 09:02 GMT
Review Is there any real reason why a Walkman phone shouldn't have a top spec camera like a Cyber-shot phone? With the W902, its first 5-megapixel camera-packing Walkman mobile, Sony Ericsson is attempting to address this often-asked question.
While Sony Ericsson's Walkman line-up have been consistently high quality music performers, its Cyber-shot range have so far hogged all its best camera gadgetry, leaving its music-centric handsets by comparison somewhat light on the imaging front.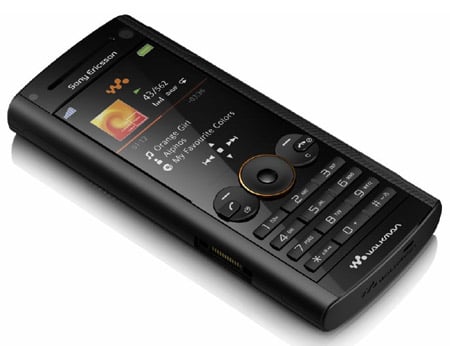 Sony Ericsson W902: Music plus top-class cameraphone performance
This no doubt helps Sony Ericsson differentiate its music-majoring and photo-specialist lines, but it's not quite so convenient for a Walkman phone buyer who also wants a top-class cameraphone performance.
The W902 is certainly a step in the right direction, with its 5 million-pixel shooter nudging this model up the Walkman line-up. But don't expect everything at once - beyond the camera, the spec rundown isn't exceptional for a mid-range Walkman phone.
It doesn't have top-level features like the Wi-Fi connectivity and GPS receiver employed on the new C905, and doesn't run on an app-customisable smartphone platform. Instead it sports many of the Walkman and other features we've previously seen on the likes of the W980, W595 and W760i, and many more mid-tier Sony Ericssons.
For online connectivity it uses HSDPA high-speed mobile data, and has typical 3G multimedia streaming and downloading functionality. The latest Walkman player software package is inside, including Shake Control motion sensor gimmickry, while dedicated music player buttons are ranged up the slim side of the phone. An in-box 8GB Memory Stick Micro card is included – providing essential extra storage to go with the minimal onboard 25MB.
The overall look and feel of this candybar is similar to Sony Ericsson's 5-megapixel C902, with a neatly slim profile with rounded edges, and a clean, classy design. Measuring 110 x 49 x 11.7mm and weighing 99.8g, it's nice and solid in the hand without being a pocket-sagger. The black version we tested, at least, looks neat (it's also available in 'wine red' and 'earth green').
It works its mix of glossy black and matt plastic well, giving it an attractive understated look that'll have widespread appeal. The numberpad buttons are neatly designed too. Small and narrow without being sliver-thin (like the W880i), they're well spaced, and are pleasingly responsive for fast text tapping. The control buttons, positioned around a decent-sized central navigation D-pad control, are more tightly arranged, but are adequately defined to avoid excessive mis-pressing.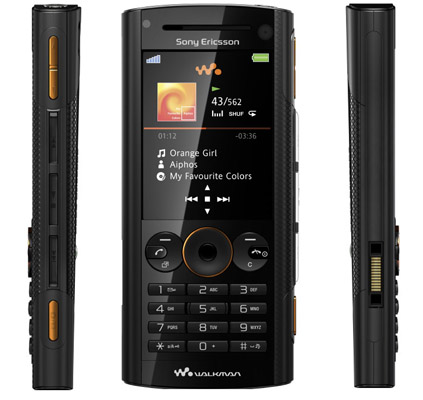 It has an attractive, understated look - also available in 'wine red' and 'earth green'
Conventional softkeys plus Call, End and Clear buttons are present, along with a standard issue Activity Menu shortcut button for quick access to lists of useful functions and applications. Its display's not out of the ordinary; it's a typically mid-tier Sony Ericsson 2.2in, 262k-colour QVGA (320 x 240 pixels) TFT screen, which is covered in scratch resistant glass (in our unscientific keys-and-coins pocket test it came out unscathed). A video call low-res camera is subtly tucked above it.
The dedicated music keys on the W902 are lined up on the side of the phone, the same busy flank as the camera and volume control buttons. These play/pause, forward and rewind buttons are useful for working the music player when it's on in the background as well as when it's centre stage onscreen, when the D-pad also doubles up as music player controls. A silver Walkman hotkey sits on top of the phone.
At a press, this fires up the music player. But it is also the key for triggering the track- and volume-changing Shake Control mechanism. It uses the motion sensor accelerometer inside the phone – which also rotates the display automatically for certain features. Holding in the Walkman button and flicking to one side or the other changes tracks back or forward (or to shuffle), while up and down movement alters volume.
Problem is, it's very gimmicky and very difficult to use effectively because of the position of the Walkman button. Fingers inevitably stray on to the side music and volume controls (randomly changing track and volume) as you're trying to awkwardly hold and flick properly. Trust us, you could far more easily just press the side buttons on purpose instead, and save the bother of that tricky-flicking.
On the music front, again Sony Ericsson has opted to do without a standard 3.5mm headphone socket on the bodywork. Instead it continues with its familiar stumpy multi-connector charger/USB/earphones socket on the side of the phone. As usual, the two-part in-box headset has a 3.5mm adapter, but we would really like to see Sony Ericsson getting this socketry right on the phone itself. Plus, that side positioning just makes headphones more snaggable in your pocket.
The menu set-up doesn't veer from the usual Sony Ericsson template, with a user-friendly main menu grid of icons, and further tabbed menu lists as you delve deeper into the system. It's easy to follow and get to grips with.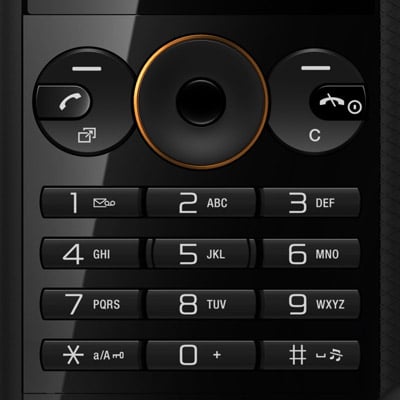 The controls are more tightly arranged, but adequately defined to avoid mis-pressing
Features The W902's camera is the best specified so far on any Walkman handset, and it's not just the 5-megapixel image sensor that raises its game. The phone incorporates many of the imaging features employed on other decent Sony Ericsson shooters like the C902. Its camera interface is similar to the C902's (albeit without touch-control shortcut buttons around the screen). A flash is built into the back panel, though it's an LED type rather than the xenon one you get on some higher-end cameraphones.
Autofocus is present, enabling you to get more precise, sharply focused shots than on other point-and-shoot Walkman phone. A macro mode enables some quality close up shooting too. Image quality is very respectable all round, although it's not quite up there with the best 5-megapixel cameraphones around. You can get detailed sharp shots, while macro images look crisp and refined.
Colour rendition is normally fine, though occasionally noticed some tones appearing slightly artificial. The auto metering system is able to handle varying lighting conditions pretty well; in overcast conditions contrast and exposure is good. Indoors shots, however, tend to have less punch, and the flash is only partially effective in low light, not being powerful over a couple of metres and washing out close-ups.
Unlike the C902 there's no face detection gadgetry, but Sony Ericsson has included its excellent BestPic software. Switched on, this clever gadgetry allows you capture a sequence of nine shots within fractions of a second before, during and after you press the camera button, from which you can select the perfect shot. It's been a regular for the Cyber-shot range and is a nifty extra to have here.
Shooting settings can be tweaked with various white balance and scene settings, plus other multi-shot, panorama and image colourisation options. There's an image stabiliser too (you probably won't notice much difference), plus a positioning option that adds location metadata to snaps.
This uses cellsite mapping information rather than GPS to get an approximate fix, so a rough position of where your image was taken can be shown up on a suitable mapping service or application - including Google Maps on the phone itself. Images can be uploaded to blogs straight after snapping using standard Blogger software, or automatically touched up using the standard issue Photo fix app. Additional PhotoDJ editing software is available too.

The music keys are lined up on the same side as the camera and volume control buttons
The stills camera may be a step up for a Walkman phone, but video capture quality isn't a great leap forward. Like the C902, it shoots at maximum QVGA resolution at 30 frames per second, so gives smooth played back but not in great quality. You can get decent playback though for video files copied over or downloaded to the handset, albeit on the limited-sized display.
Sony Ericsson has also pre-loaded a YouTube app on the phone, which enables you to easily upload footage you've shot straight from the phone, using your YouTube account details, or browse, search and view content from the service over the air.
Imaging is one thing, but music is at the heart of any Walkman phone. The Walkman player's audio performance is superb for a mobile handset, with terrific depth and a nicely balanced sound. The earphones boxed with it are much better than the norm for a music phone, the in-ear buds putting on a good show with decent bass and clarity. Thanks to the 3.5mm adapter, you can plug in your own headphones if you want to boost delivery quality further. Bluetooth earphones are also supported, and as an alternative the speaker on the back panel is loud and not too awful when lying down.
The W902 has the same Walkman Player software as the likes of the W980, so is straightforward to operate with its attractive user interface that's consistent with the rest of the media gallery. Walkman music player track categories extend further than most music mobiles, covering albums, artists, tracks, genres, playlists, years, audio books and podcasts, plus Sony Ericsson's mood-and-tempo generated SensMe option – enabling you to create playlists automatically based on how you want the tracks to 'feel'.
To use this you need to sync the phone with a PC using Sony Ericsson's supplied Media Manager software to utilise the pre-defined SensMe data. As well as using Media Manager to copy over tracks, you can drag and drop music with the phone plugged in via USB in mass storage mode. Sony Ericsson also supplies in-box a USB Memory Stick Micro card adapter, in case you want to load up cards that way instead, or you can use Bluetooth.
File formats supported on the phone include MP3, MP4, M4A, AAC+,WMA and WAV. With an 8GB card supplied in-box, you have a hefty amount of track storage to be getting on with. Cards slot in to a tray behind the back panel, though this is still hot-swappable. An FM radio function provides more audio entertainment, while TrackID song identification is another stalwart Walkman feature.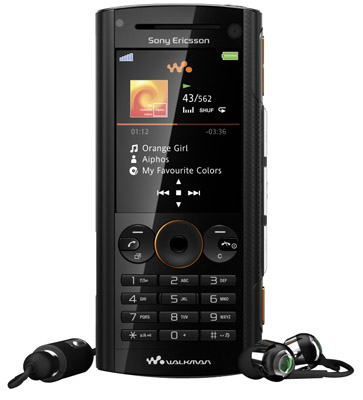 The Walkman player's audio performance is superb for a mobile handset
In fact, the W902 has a familiar set of non-camera features – reprising much of what we've seen on a plenty of mid-level Sony Ericsson phones over recent months. Although there's no GPS inside, Google Maps provides its usual welcome way of finding your way around, searching for places of interest, getting routing information and viewing satellite images. It's not satnav, but its ability to bring up on a map your approximate position or location you're headed to can be very useful in unfamiliar places.
Its HSDPA connectivity means web browsing can be a reasonably speedy experience. Again, it's a familiar Sony Ericsson Access NetFront browser – not iPhone slick by any means, but with a tidier, easier to follow front end than on most non-smartphone devices, with Google search and address bars heading up the options. Pages render fairly quickly, and you can zoom and pan in standard Sony Ericsson fashion. RSS feeds are supported too.
The basic voice calling performance is excellent on this phone, with first-rate sound quality and decent volume levels. Battery life is comparable to other recent mid-tier Sony Ericssons; the manufacturer rates this phone as offering up to 360 hours on standby on 3G networks or 380 hours in GSM coverage, or nine hours' talktime on GSM and four hours on 3G. We found we managed to get a comfortable three days' standby out of the phone between charges with our average usage, though listening to music regularly will take that down considerably.
Verdict
Apart from the superior camera, the W902 offers a similar spread of mid-tier features and Walkman player functionality as several recent models – so if you're after a Walkman phone and camerawork isn't your priority you may prefer a phone with other features, such as GPS on the W760i, or FM transmitter on the W980. Still, the W902 is an attractively designed mobile that handles well, has a fine music player onboard, and comes with a decent amount of out-of-the-box storage.