Original URL: https://www.theregister.co.uk/2008/12/04/review_digital_camera_fujifilm_finepix_s100_fs/
Fujifilm FinePix S100 FS digital camera
A bridge camera that offers bags of DSLR features
Posted in Personal Tech, 4th December 2008 13:02 GMT
Review Who wants a bridge camera these days? After all, you can always opt for a super-zoom compact or an entry-level digital SLR. Well, according to Fujifilm, the FinePix S100 FS "provides the manual controls and functionality of a DSLR without the bulk, hassle and expense of additional lenses".
At first glance, you'd be forgiven for thinking that the FinePix S100 FS was a DSLR. It certainly has the size, shape and style you'd associate with a DSLR, but scratch a little deeper and you notice things like the lack of a switchable lens, mirror system or optical viewfinder. Another thing you notice is the sheer size of this beast – it measures 133.4 x 93.6 x 150.4mm and weighs almost a kilogram (968g) when loaded with a battery and memory card.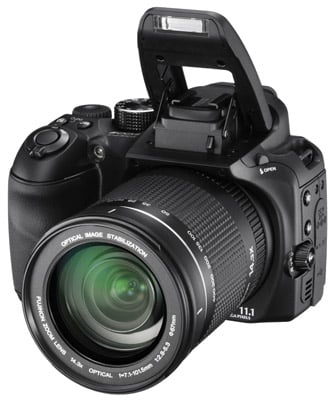 Fujifilm's FinePix S100 FS: not a DSLR
It makes a DSLR like Nikon's D40 - which weighs around 530g when loaded - seem positively lightweight. Let's put it this way, hanging the FinePix S100 FS around your neck is a bit like putting a python over your shoulder – you can't ignore it. Then again, there's a lot to be said for a camera that feels solid and robust, and which provides plenty to grip.
To say that the S100 FS is festooned with buttons is rather like saying Lewis Hamilton isn't half a bad driver. There are loads of them dotted all over the camera's body, and you know what? We think it's a great idea.
There's nothing worse than having to navigate a menu system when you want to, say, adjust the ISO, switch off the image stabilisation or alter the drive mode. The S100 FS has buttons for all of these and more. A brief tour of the camera reveals a massive F2.8-5.3 14.3x optical zoom at the front, with a 7.1-101.5 mm focal length, equivalent to 28-400mm on a 35mm camera. That's one versatile lens spec.
On the left-hand side of the body are buttons for the drive mode and image stabiliser, and a focus selection switch which lets you quickly change the focus system from, for example, continuous to manual mode. There's also a flap covering power, AV and mini USB sockets.
On the top is a hot shoe, large mode dial - you can switch between various modes, including, auto, manual and movie - exposure compensation button; ISO button; a command dial which, depending on what mode you're in, lets you quickly change parameters such as the shutter speed; shutter button and power lever.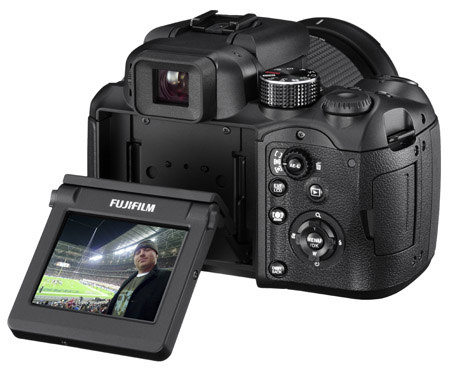 The LCD screen can be tilted for shooting at various angles
At the back are a 0.2in electronic viewfinder and a 2.5in LCD. The LCD screen can be tilted for shooting at various angles. Nearby are buttons for selecting LCD or EVF; metering mode - multi, spot, average; AE Lock; playback; face detection; display; plus a selector dial for functions such as flash, macro and self timer. At the right-hand side is a flap for an xD, SD or SDHC card - the camera also has 25MB of internal memory - while at the bottom is a battery cover for the lithium-ion battery.
In terms of features, the S100 FS offers a 2/3in Super HR VIII CCD with 11.1 million pixels. This certainly beats the size of CCD size you get on an ordinary compact, but it's not quite in the big league when compared with many DSLRs. You can shoot both JPEG and Raw images, and the maximum resolution is 3840 x 2880 pixels - the lowest is 640 x 480 (VGA). Movies can be shot in VGA or QVGA (320 x 240) resolution at 30f/s.
The normal ISO range is from 100-3200, but you can also shoot at ISO 6400 if you select a 6Mp resolution or lower, and there's even a jaw-dropping ISO 10,000 at 3Mp or lower. Shutter speed ranges from 30-1/4000 second, except in auto mode where the slowest speed is 0.25s. You can shoot up to 7f/s in JPEG format or 3f/s in Raw, and there's also a high-speed continuous mode, which shoots 7f/s at 3Mp file size.
There are loads of scene modes, such as night, beach and sport; an option to store customised settings; and something called FSB, which we thought was the successor to the KGB. In fact, it stands for Film Simulation Bracketing. This is designed to produce images that mimic the effects produced when shooting with Fujifilm's Provia, Velvia and Soft films. What next: a CD player that mimics the sound your grandad got from his old 78s?
The S100 FS still offers a number of shooting menus - despite all the buttons - and here you can change parameters such as image quality, colour, tone and sharpness. We were disappointed that the Raw setting was buried in a sub-menu rather than having a dedicated button.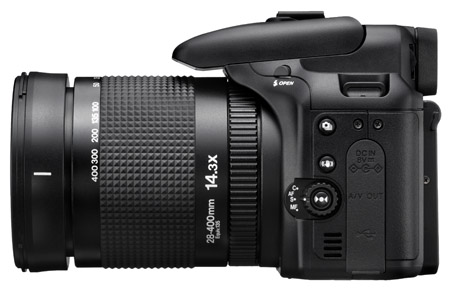 A substantial shooter, weighing in at almost 1kg
The angled viewfinder is a nice touch, but the EVF did show some colour smearing when panning. It takes a bit of practice, but it's possible to shoot without moving your eye away from the EVF and at the same time, change the ISO speed or exposure compensation level by using both the dedicated button and control dial with your right hand.
You can also adjust the drive mode by using both thumbs, and activate the image stabiliser with just your left thumb, but these are trickier manoeuvres. Switch on is fast - around two seconds - and shutter response swift. As we say, the many buttons make it easy to make changes quickly.
That said, you'll really have to do your homework when using the S100 FS, because there are so many settings to learn. In terms of performance, colour and sharpness are close to DSLR quality, and the high speed continuous mode - which shoots up to 50 shots at 7f/s - is one of the best we've used.
The zoom lens is great for getting close to the action and the wide angle setting is a bonus. But, set against this, we found the AF system to be somewhat sluggish, especially at the longer focal length, where it takes time to settle down and still occasionally produced out-of-focus shots.
The same went when using the super macro mode, which lets you shoot up to 1cm away from the subject – we found it often struggled to focus. Yes, you can manually set the focus, but we think many potential customers will wish use the AF mode most.
Sample shots
Click for full-size images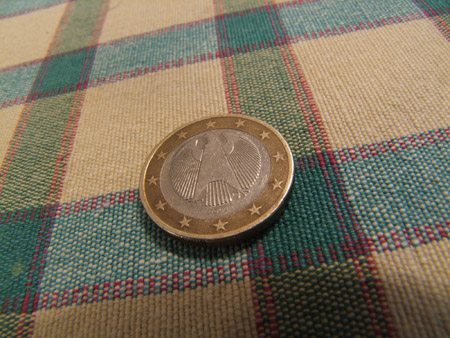 The super macro mode worked quite well, but we've seen better results with compacts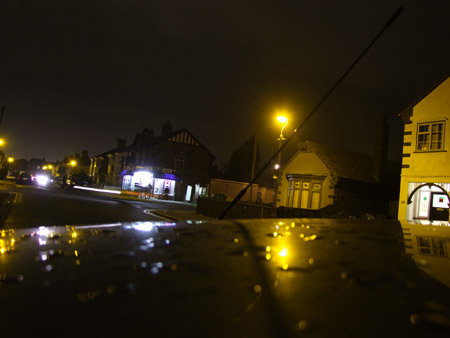 There are lots of scene modes to select - including Night, which gave us some impressive results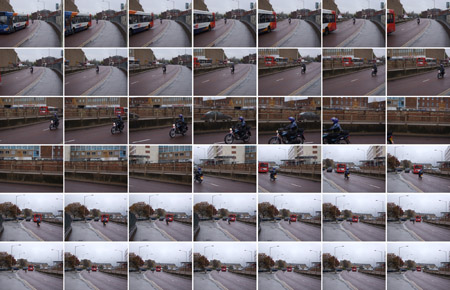 It offers various continuous shooting modes, including Top 50, which shoots up to 50 frames at 7f/s in 3Mp resolution
Sample shots
Click for full-size images

You can't change lens, but the zoom offers an equivalent to 28-400mm on a 35mm camera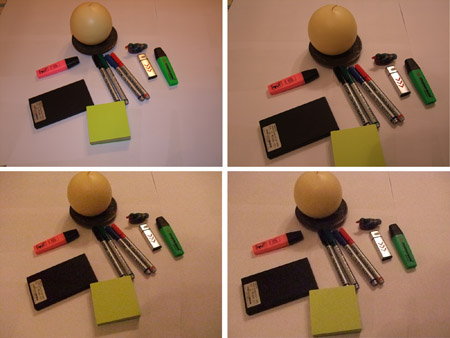 Left-to-right, top-to-bottom, ISO 100, 400, 6400 and 10,000
Picture noise didn't become too much of issue until around ISO 800. The 6400 and 10,000 ISO settings are a gimmick because the results are really bad – unless you like looking at grainy images. Likewise, the film modes produce some interesting effects, but we're not sure how useful they are in practice.
We also noticed some fringing on a number of frames, due to chromatic aberration, but all-in-all, the FinePix S100 FS is capable of impressive results.
Verdict
Compact cameras offer portability and simplicity and the option of a super zoom. DSLRs offer performance, functionality and – if you want it – plenty of automation. The FinePix S100 FS is much closer to a DSLR than a compact, but without the full functionality offered by the former. But the biggest issue is the price. It isn't a bad camera, but it we suspect most people will want to leap straight from compact to a DSLR rather than opt for this model.
More Camera Reviews...
| | | | |
| --- | --- | --- | --- |
| Olympus SP-570 | Nikon D40 | Pentax K200D | Sony DSC-H3 |