Original URL: http://www.theregister.co.uk/2008/12/03/review_security_camera_logitech_wilife/
Logitech Digital Video Security System
The webcam, reborn
Posted in Personal Tech, 3rd December 2008 09:02 GMT
Review We've seen a number of PC-based home security systems in the past, but they all tend to share one common – and fundamental – flaw. The standard approach is to use motion-detection software running on a PC to tell the camera to record video footage of anyone that's sniffing around your home or office without your permission.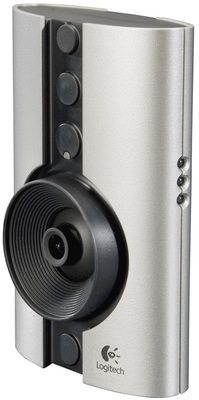 Logitech's Digital Video Security: place your cameras indoors...
That's straightforward enough, but storing the video footage on the PC means that an intruder can easily destroy the evidence of any crime they might commit. All they have to do is rip the hard disk out of the PC or - if it's a laptop - just walk off with the entire machine under their arm.
Logitech's new Digital Video Security (DVS) system offers a partial solution to this problem: an online component that allows it to email video 'alerts' to you whenever it detects any movement that triggers the camera into action.
The DVS is a modular system that allows you to connect up to six security cameras to your PC - there's no Mac support, unfortunately. You start with a 'Master' system, costing £249, which includes a single camera and Logitech's WiLife software. There are actually three different Master systems that include different types of camera. There's a basic 'indoor' camera system, as well as an 'outdoor' model that includes a kit for mounting it on external walls. There's also a 'spy camera' model that hides the camera inside a digital clock, so that people who enter your home or office may not even realise they're being filmed.
Once you've set up the Master system, you can then add up to five further 'add-on' cameras to it, each costing a rather hefty £199 - which seems a lot for what's essentially a glorified webcam.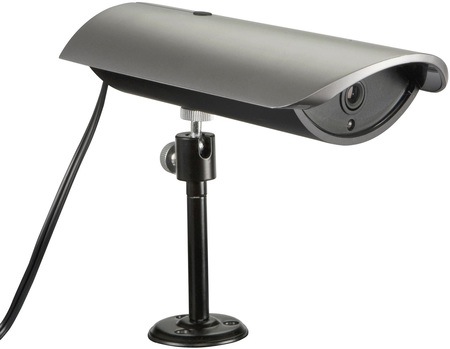 ...or out
The initial installation is straightforward enough: you just need to install the WiLife software onto your PC and then let its Setup Wizard guide you through the installation of the camera. The system uses HomePlug powerline networking to send network data across your residence's electrical wiring, so you can position the camera anywhere that's reasonably close to a mains power socket.
The WiLife program displays a live feed of the video signal from your camera(s), and automatically starts to record files onto your hard disk as soon as the program picks up any motion within the camera's field of vision. You can view these files on your PC by switching into playback mode, which displays clips arranged on a timeline similar to that found in many video editing programs. This makes it easy to browse through recorded clips but it does, of course, mean that you need to present at the PC in order to do so. And, as we've already pointed out, recording clips onto the PC's hard disk means that a burglar can make off with the evidence simply by smashing the PC open and ripping out the hard disk.
To get around this, you can also use WiLife to send yourself email 'alerts' that contain either video clips, still images or simple text messages warning you that the system has detected some movement. This is handy in the event of false alarms – such as the neighbour's cat peering in through a window – but it also means that in the event of a real break-in the emailed video alerts can be safely stored on a separate machine, or simply left on your mail server.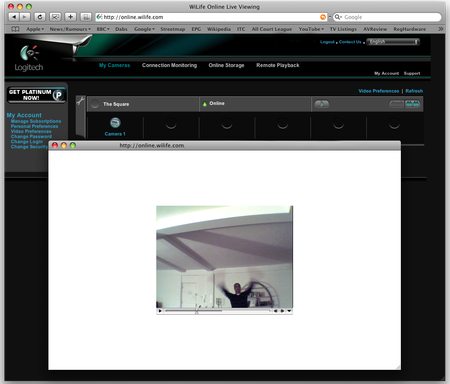 'Oh, I seem to be being burgled...'
To receive these alerts you'll need to register for an account on the WiLife website. That was straightforward, but the poor manual has a tendency to simply list features without explaining how to use them properly. That left us struggling to set up the email alerts option, and we eventually had to put a call in to Logitech for a bit of help.
Our other complaint is that the quality of the video image - 640x480 - wasn't particularly impressive, even taking into account the compression needed to send the video signal over a network.
Once you've registered for your online WiLife account you can also view the live feed from your DVS camera using a web browser running on any computer that has internet access, or even from a mobile phone or PDA that uses the Windows Mobile software. You can also register for a 'platinum' WiLife account, which costs an additional £49 per year. This activates additional features in the WiLife software, such as the ability to upload recorded clips onto a remote server.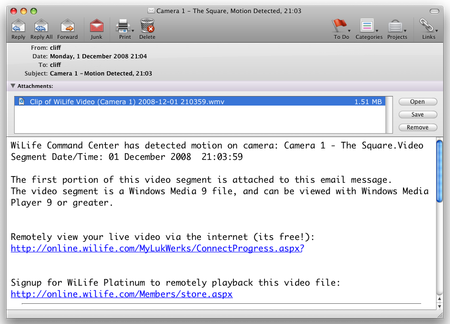 Email confirmation
Unfortunately, you still have to upload clips manually from the PC that's connected to the camera. It's a shame that you can't set the PC to automatically upload clips onto the remote server for safe-keeping, as that would be much more useful option.
Even so, the ability to send yourself email alerts and to monitor the camera online does mean that you can monitor your home or office from pretty much anywhere in the world. It also ensures that there's a way to save potentially vital video evidence if you are unlucky enough to experience a break-in.
Verdict
The DVS system is expensive, and certainly has some rough edges that need to be worked out, but it could still earn its keep by providing some extra peace of mind when you're away from home or the office.
More Gadget Reviews...
| | | | |
| --- | --- | --- | --- |
| Samsung ML-1630W | Sony HBH-IS800 | Zoombak Locator | 3M MPro110 |