Original URL: https://www.theregister.co.uk/2008/12/02/review_samsung_pixon_m8800_8mp_cameraphone/
Samsung Pixon M8800 8Mp cameraphone
Worth a ponder if imaging performance is a priority
Posted in Personal Tech, 2nd December 2008 12:45 GMT
Review Samsung is getting serious with its cameraphones. Having recently landed its first eight-megapixel phone in the UK, the i8510, it's now doubled its tally with the Pixon M8800, its debut 8Mp touchscreen phone.
Jostling for position among a small but growing band of eight-megapixel new-wavers, including the Sony Ericsson C905 and LG Renoir, the Pixon is most likely to draw direct comparisons to LG's device. The Pixon opts for a now-familiar minimalist look. It has an elegant design, with a mainly black plastic and metal body dominated by a 3.2in, 240 x 400, 262,000-colour display.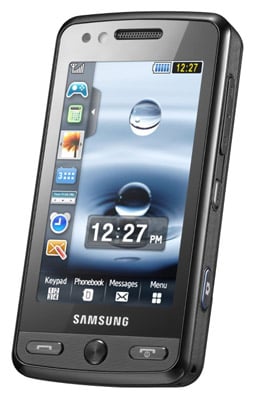 Samsung's Pixon M8800: minimalist look
As far as touchscreen operation is concerned, the Pixon is more like an upgraded Tocco than Samsung's other recent touchscreen big-hitter, the Windows Mobile-powered Omnia. It uses a similarly straightforward user interface as the Tocco, but it has introduced enhanced 'online widgets' for the home screen that add web-based mini apps such as weather reports and Google search.
Unlike the LG Renoir, there's no Wi-Fi support on the Pixon. There is still HSDPA 3G, however, of the 7.2Mb/s max variety.
Samsung claims the Pixon is the World's slimmest full-touch eight-megapixel cameraphone, courtesy of its 13.8mm profile – a sliver thinner than the LG Renoir. But despite its skinny look, the Pixon hasn't passed up on any of the shooting abilities of its chunkier i8510 smartphone stablemate.
With a larger display than the Tocco's 2.8-incher, the Pixon is a taller handset than its stablemate, with a 107.9 x 54.6 footprint – a fraction slimmer than the Tocco and Renoir, and smaller all-round than the iPhone 3G. It weighs in at 122g, making it a slightly heavier handful than the Renoir, though its dimensions make it reasonably comfortable to pocket.
Face-to-face video calling is provided by a discreet secondary lower resolution camera above the display, but the main camera action is on the camera-like metal back panel. The 8Mp sensor has an automatic lens cover built in, ready to be fired up from the main menu or the dedicated camera button on the side.
On the opposite side of the phone, there are a Hold key and, above it, an application switcher. From standby, this pops up a small grid of six shortcut icons: call, music player, message, browser, main menu and back. At the bottom of the home screen there are four small buttons: keypad, phonebook, messages and menu.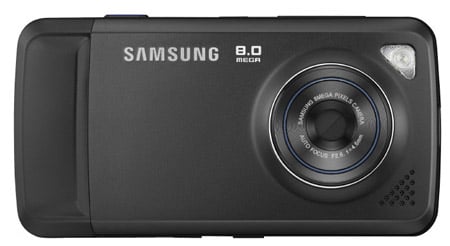 The main feature is the 8Mp autofocus snapper
Like the Tocco, there's an arrowed tab to the side of the display. Tap that, and a separate vertical tool bar pops out. This contains Samsung's widgets – a selection of mini apps and functions that you can drag from the toolbar onto the main portion of the screen. Multiple widgets can be pulled over and rearranged with some fingertip action.
Samsung has expanded the line-up of widgets you can select from, introducing some that use online connectivity, such as an Accuweather weather forecast widget, Google Search and a More Widgets finder that lets you download new ones over the air.
In addition to the online set, the pre-loaded widget line-up includes various clock and calendar functions, music player, FM radio, image viewer, games, favourite contacts, birthday reminders, and a profile selector. And there's a mirror widget – which uses the video call camera to give you a look at yourself onscreen.
You can scroll up and down the widgets toolbar with a swipe of the finger, and when you're finished adding or removing widgets, you can close the bar with another tap of the arrowed tab.
While not up there with the iPhone in terms of smooth, intuitive touch handling, the Pixon's UI carries out its tasks in an easy, functional way. And unlike on some touch phones, it doesn't feel like mis-pressing screw-ups are a problem waiting to happen.
You can easily swipe through lists of control options and tap to select, with haptic feedback confirming keys have been pressed. Contact lists can whizzed through by dragging an alphabetical search tab on the left side of the screen up or down the page.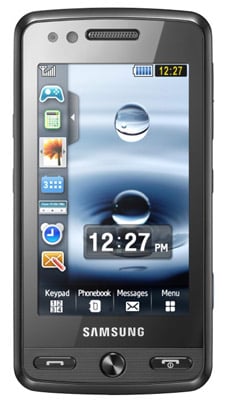 It's not the iPhone, but the touchscreen works effectively
One element of the Tocco that has been improved upon here is text entry. Instead of a virtual phone numberpad as the sole way of typing in text, the Pixon also offers a virtual Qwerty keyboard that pops up automatically when the phone's tilted from portrait to landscape mode in a text app.
The decent amount of space for typing and responsive screen action means tapping in text is accurate and easy to get used to. Handwriting recognition options are available too.
The camera is the star of the show, though. This is the best effort Samsung's yet made in fusing a camera with a mobile phone, with the same high-quality imaging capability as the i8510, combined with an intuitive touchscreen user interface, and a fine range of shooting features.
The autofocus system is fast and responsive, and its automatic metering system adjusts quickly and efficiently to changing lighting systems. There are many adjustments you can make too - the Pixon has one of the most extensive – and clearly laid out – set of photo options we've yet seen on a phone.
It's a delight to use. Main option icons are lined up on either side of the viewfinder display - tapping them pulls up a further set of large icons in the centre, with labels to make choosing the right one easy. There are plenty of pre-sets and for scenes and different lighting situations, plus various autofocus options, including a macro mode for close-ups and face detection. Both are useful, with the macro shot option yielding excellent results.
There's no touch-the-screen-to-focus option as there is on the Renoir, but you do get a smile-detection option: when you press the shutter, it only snaps when it spots a smile. Similarly, you can eliminate unwanted shut eyes in subjects. These aids work well, though they aren't infallible.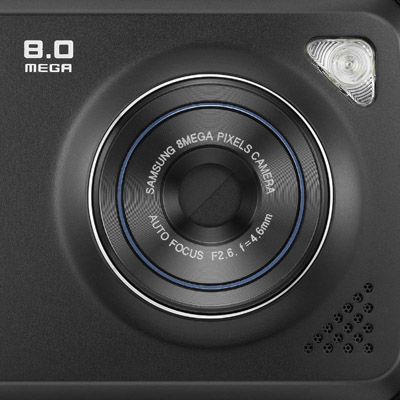 the camera array has an automatic lens cover, rather than the LG Renoir slide-control type
Image quality is extremely impressive on this device. It's capable of capturing very high quality shots for a mobile phone, with excellent detail and lovely colour rendition – accurate and vibrant, with decent exposure control and contrast.
Auto settings work very well, ensuring the majority of our shots looked good without much effort from us. We were taken with the indoor shooting capabilities too – it does a fine job at adjusting to lighting conditions. The dual-LED flash does a decent job at throwing light onto scenes without overwhelming subjects, helping get reasonable shots in dim conditions.
Other features include a way to link people in shots to previously entered phonebook entries, plus a typically lavish array of frames, effects and tweaks, and editing options. Samsung has again provided a clever Panorama mode which utilises the accelerometer for framing and stitching together a series of continuous shots.
An anti-shake setting is also available, plus there's Wide Dynamic Range shooting for tricky lighting situations, and ISO adjustment among the options. Pictures can be geo-tagged, so that you can see where shots were taken on suitable mapping applications and online services.
The accelerometer provides a novel tilt mechanism for moving from one image to the next. It works, but can get irritating when you've accidentally jolted images along for the umpteenth time. You can search through images too, and upload them to a variety of online websites and blogs using the pre-loaded Shozu app.
Videos clip can be uploaded too, though lack of Wi-Fi means its slower than it could be. The Pixon can capture video at 640 x 480 and 720 x 480 (WVGA) both at up to 30f/s. Or you can shoot 320 x 240, 120f/s footage for slow-motion playback. Playback looks great on the phone and on a PC. Again, there are some tidy editing facilities to trim and splice clips, and a soundtrack.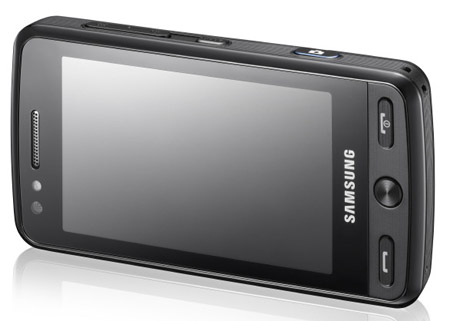 The accelerometer proves useful by adjusting the screen from portrait to landscape
The Pixon supports MPEG 4, WMV, DivX and XviD, and software is provided to convert files first. However, Samsung hasn't packaged this device with iPhone-bothering levels storage capacity. There's 200MB of internal user memory plus a 1GB Micro SD card included in the box, though 8GB cards are supported.
The music player can still do a fine job, and is well capable of pleasing your ears. The touch interface is uncomplicated and intuitive, with familiar control buttons and track categories to choose from. The performance of the bundled in-ear earphones is rather good - they deliver a full and detailed sound, with plenty of bass.
An adaptor is supplied for a standard 3.5mm headphone jack, so you can upgrade your ear-gear. Though the phone uses a typical all-purpose Samsung headset/charger/USB connector, at least it sits on top of the device rather than the side. Wireless Bluetooth earphones can also be used too.
The Pixon has a GPS receiver, though its contribution is limited by the software. Google Maps is included, with its neat location, routing and service finding that combines with the A-GPS system for exact positioning. It's a useful extra to have on any phone, though it's not the sort of step-by-step voice-guided satnav package you can get for high-end smartphone devices.
Samsung has included Access' NetFront browser, which does a reasonable job on HSDPA at delivering web pages speedily. Sites render quickly and you can move the page around pages and tap to open links with your finger. You can also tap a panel or use the volume keys to operate the zoom. It's not as swishy or as smooth as the iPhone's Safari browser, but it gets you around. RSS feeds are supported, and there's a typical selection of office, document viewer and organiser tools are pre-loaded onto the Pixon too.
We experienced no problems with voice calling on this device, getting good audio levels and perfectly reliable signal holding. Calling using the virtual numberpad is almost like the real thing too – it's nicely set up to use as a phone as well as a multimedia device.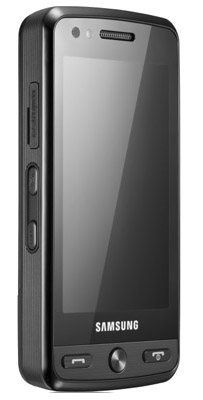 If you're a Mac user, you'll need Bluetooth to transfer files
Samsung estimates the battery performance on this quad-band GSM/GPRS/Edge and WCDMA 210 device to be better than the Tocco. On 3G networks, it reckons on up to four hours' talktime, or 280 hours on standby, or with GSM coverage figures of 430 minutes talktime or 310 hours standby.
With plenty of gadgetry on board to sap juice, how much you play with the Pixon will determine how much battery life you'll get out. Our average levels of usage delivered a couple of days of power before we needed to recharge the phone, though with much use of multimedia we were sometimes looking at daily top ups.
Verdict
We were bowled over by the performance of Samsung's i8510, and the imaging quality of the Pixon is equally impressive - and you get a lovelier user interface, more display room and even more snapping features.
But this Phone more like an upgraded Tocco than a smartphone: it doesn't have such a full range of apps and the lack of Wi-Fi is disappointing. It's still no iPhone, but if imaging performance is high on your list of buying criteria, the Pixon is an appealing handset choice.
More Phones...
| | | | |
| --- | --- | --- | --- |
| Samsung Innov8 | LG Renoir | Samsung Tocco | HTC Touch HD |