Original URL: https://www.theregister.co.uk/2008/12/01/review_mp3_player_sony_walkman_nwz_s639/
Sony Walkman S-series MP3 player
One of the finest sounding MP3 players available
Posted in Personal Tech, 1st December 2008 13:02 GMT
Review Releasing two MP3 players onto the market at the same time doesn't strike us as a wholly smart thing to do. Releasing two that look pretty much identical and have equally silly names could well be the acme of foolishness.
If you put them side by side, the Walkman S series and E series are not actually identical. At 89.5 x 43 x 7.5mm, the S - typified by the 16GB S639F; there's also an 8GB S638F - is a touch taller, narrower and thinner than the E, while at 46g it's a whole 4g lighter, but in design and form you couldn't slip a cigarette paper between them.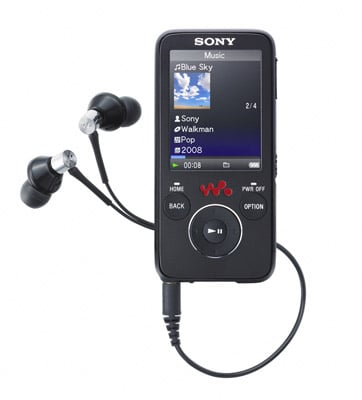 Sony's S-series Walkman : 'if it ain't broke, don't fix it'
The S639F's controls are identical to the E's, with the now standard Sony circular navigation pad, menu and back buttons sitting below a 2in, 240 x 320 screen with volume adjuster and control-lock slider on the right edge of the device, and the 3.5mm earphones jack and propriety USB port at the bottom.
It's a case of more of the same with the menu structure, which is also common to both players - with the exception that the clock icon on the E, has been replaced by an icon to access to SenseMe function – more about which below.
The upside of this is that the S is every bit as easy a player to use and live with as we found the E to be. It's also every bit as easy to load up with media, showing up reliably as a mass storage - though not an MTP - device on Mac and Linux machines. As well as MTP accessibility, Windows users also get the handy little iTunes-compatible Media Transfer tool.
There's no real difference with the basic specification, either. On nth the S and the E you get an FM radio without RDS but with 30 station pre-sets. You get support for MP3, and DRM-free WMA and AAC audio files, WMV9 and H.264 video files, and JPEG image files. As with the E, the S lacks a voice recorder or an on-the-go playlist creation facility. Nor do you get anything in the way of memory expansion.
All in all, it's a classic example of 'if it ain't broke, don't fix it', but we'd still like to see Sony go the whole nine yards and add Flac and Ogg support, and stop asking for a further £6 to enable the video transcoder function of the bundled Media Manager software.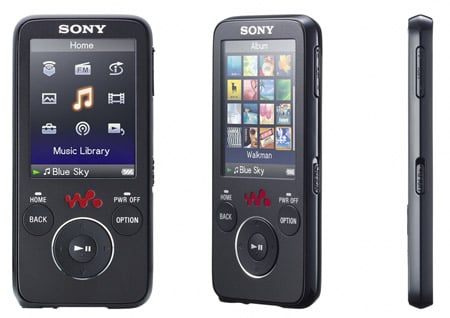 Just about the finest-sounding MP3 player available
So, assuming the extra memory capacity is not your sole reason for buying an S rather than an E – the latter being only available in 4GB form - is the S class worth the extra folding? In short, yes.
Firstly, Sony bundles the S class players with an excellent set of earphones – MDR-EX082's by the looks of them. Supremely comfortable and equally competent on the musical front, they are the only earphones 99 per cent of people will ever want or need. Secondly, we think the S is now just about the finest sounding MP3 player available to buy.
Without getting bogged down in all the sound modification options – you get an equalizer with four pre-sets and two user-definable settings, along with a VTP Surround setting with six sub-settings: DSEE (Sound Enhancer), Clear Stereo and Dynamic Normalizer – the S is supremely musically competent no matter what you ask it to play. It goes all the way up to 11 in the volume stakes too.
For the review we kicked off by coming over all minimalist and playing some Arvo Pärt - including his Miserere and Fratres - in the original ECM recordings, and Gorecki's O Domina Nostra. The sense of space and dynamic around all three works was simply glorious – they really have never sounded so good on an MP3 player.
To blow away the air of the pseudo-medieval, some loud Linkin Park – Minutes to Midnight – was called for along with the current office favourites from Seth Lakeman and Chris Knight that we have been using to appraise a lot of audio kit of late. Again, we can't think of a single reason to fault the S series' sound quality. Loud or quiet, acoustic or electronic, audio effects on or off, it just works - and works very, very well. Bass was solid, treble well defined, distortion of any sort noticeable only by its complete absence and everything was presented with a lovely feeling of balance and clarity.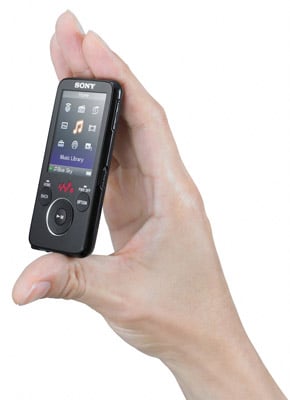 Delivers over 37 hours of play
All those sound modifiers actually prove to be of some use too and manage to open up the soundscape without making things sound wholly and horribly artificial. Our tip: set the Equalizer and VTP to None, and everything else to On.
Even though the screen shares a common basic specification with the E series, it presents a far more fluid, colourful and coherent image. Watching the same iPlayer-sourced WMV9 video of a BBC Four special on Valery Gergiev that we used to test the Samsung Q1, the S639F proved every bit as effective a video player, the 2in screen notwithstanding.
The Big Idea in the S series is the SenseMe function. What this does is scan the musical content of the player using something called 12 Tone Analysis and LCMIR (Low-Complexity Music Information Retrieval) to group your tunes into ten playlist categories – Extreme, Classical, Electronic, Acoustic, Lounge, Pop Ballad, Upbeat, Relax, Energetic and Daytime. It's not wholly unlike the iTunes Genius playlist creator.
Normally at this point we would yell "gimmick!" and roundly rip the idea to shreds, but SenseMe is actually a pretty good idea well executed. Even though sometimes the selections were a little obscure – we aren't sure we'd class any of the tracks from Prefab Sprout's Steve McQueen as 'electronic' – at no point did it make a choice that was hopelessly wrong, or that we found musically jarring. As an evolution of the random shuffle function, it's not at all bad, and we quickly got used to having it and using it.
It's not that fast, though. The player took an average of six minutes to sort through 100 songs, so letting it sort through 16GB of content could take a while. Luckily, you only have to do it once, thereafter it just sorts new content as the material is added to the library, though it has to be told to do this manually.
Sony quotes the S series' battery life as being five hours shorter than that of the E - 40 hours against 45. We managed to eke out just over 37 hours of continuous 160Kb/s and 192Kb/s MP3 play before everything went dark, which struck us as reasonable enough.

Available in a range of colours
The 8GB S638F has an RRP of £99, while the 16GB will leave you £129 lighter of pocket. That's more expensive than the Samsung Q1, but then it's a better device and still cheaper than the equivalent iPod Nano though with that you get Cover Flow album browsing and gapless playback.
One final point. Look at the S639F's user guide and you'll notice it's the same document that comes with the S638F and something called the S636F - a 4GB S, we presume. Makes you wonder why they bothered releasing the E436F when the S636F would surely be about the same price - £70 - and would be a wholly superior product. Does the Sony Walkman line-up and price structure make any sense at the moment? Quiet at the back, that's a rhetorical question, and the answer is no.
Verdict
If you can live with the sliced white bread audio format support and lack of Micro SD expansion then the S series is pretty much state of the art. It's small, light and easy to use. It lets you copy content direct from iTunes. It's bundled with a great pair of earphones and produces a truly excellent sound. What's not to like?
More MP3 Players...
| | | | |
| --- | --- | --- | --- |
| Sony Walkman E | Samsung Q1 | Creative Zen Mosaic | iPod Nano |