Original URL: https://www.theregister.co.uk/2008/12/01/amazon_nintendo_ereader/
Amazon and Nintendo cash in on e-reading
A paperback? What's that?
Posted in Personal Tech, 1st December 2008 16:08 GMT
E-book readers are in high demand this year, so Amazon's taken to selling "refurbished" Kindles. And Nintendo's launched a mini library of novels for its DS handheld console.
In the last week numerous sources have reported that Amazon's own e-reader – Kindle – is in such high demand that the online retailer may not have enough to go around this Christmas.
So it's little surprise to see that a section offering refurbished Kindles has sprung up on Amazon's US website. The section's already sold out, with hi-tech book fans told: "There are currently no Refurbished listings for Kindle."
But plenty of secondhand Kindles are available from existing customers, but prices start at about $520 (£340/€410) – roughly $160 more than a brand new one demands.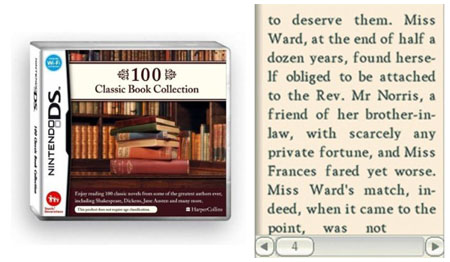 Nintendo's 100 Classic Book Collection
Nintendo's cashing in on the popularity of e-reading, with DS title 100 Classic Book Collection, now listed for sale on Amazon.
According to the description, the "videogame" cartridge turns the DS into a portable library containing 100 must-have novels from the like of Charles Dickens, William Shakespeare and Jane Austen. An extra ten titles can be downloaded over Wi-Fi.
The DS doesn't boast an easy to read E-Ink screen, as the Kindle and Sony's Reader range do, but is at least handy if all the Metro newspapers have been nabbed when you make it to the tube.
First editions of Nintendo's 100 Classic Book Collection will be available online through Amazon from 26 December, priced at £18 ($27/€21).
Be sure to check out Register Hardware's Group Test: electronic book readers