Original URL: http://www.theregister.co.uk/2008/11/28/review_two_way_radio_motorola_tlkr_t7/
Motorola TLKR T7 two-way radio
Walkie-talkies for outdoor action types
Posted in Personal Tech, 28th November 2008 09:02 GMT
Review As mobile phones get more exotic and expensive the desire to expose them to risk reduces accordingly. Fancy using your iPhone while canoeing or white water rafting? Or your N96 while bouncing down a forest trail on a mountain bike? Thought not.
Step forward the two-way radio. Robust, durable, easy to use with your gloves on, with voice-activated hands-free communication independent of cellular coverage, and endless fun if you happen to know anyone by the name of Roger.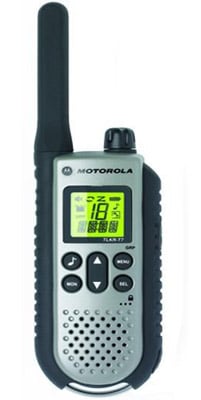 Motorola's TLKR T7: solid and robust
Motorola's TLKR T7 package consist of two radios with belt clips and a charger cradle that allows you charge both handsets simultaneously. You also get a couple of small plastic adaptors that will let you charge the batteries when removed from the handsets - handy as the radios will also operate from a couple of AAA disposables. Each handset also has its own 9V DC socket.
Each radio is a pretty chunky 53 x 30 x 202mm and weighs 178g with the batteries in place. Of course, that 202mm includes 75mm of flexible – and more or less unbreakable – rubber coated antenna but it still makes the T7 a little difficult to pocket. Just as well that the belt clips are robust and have a secure catch on them.
The military-lite looking rubber and grey plastic handsets shrugged off the worst we threw at them with no permanent signs of damage. The battery panel is a tight fit and no amount of throwing or dropping could dislodge it. Though not fully waterproof, all the sockets have effective rubber covers against splashed and dust. During our test, handsets got dropped into piles of wet leaves and a snow drift, all without ill-effect.
The lanyard loop at the bottom is an integral part of the handset so you can hang the thing around your neck with no fear if it coming adrift. The push-to-talk key and on/off/volume knob are both large enough to be easily used with ski gloves on, but you will need to take them off to use the smaller secondary controls on the front.
Each handset has a stated radio transmit power of 500mW and, in the UK, uses the PMR446 frequency band which is par for the course for such devices.
The T7 comes with eight PMR channels along with 38 CTSS (Continuous Tone-Coded Squelch System) and 83 DCS (Digital-Coded Squelch) codes so being able to have an interference-free conversation should be possible in even the most crowded of radio environments. During our time with them interference was never an issue.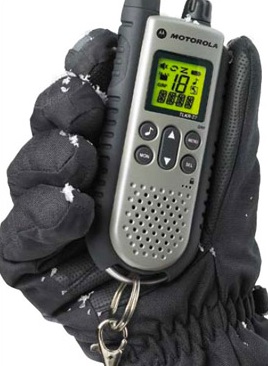 The lanyard loop at the bottom is an integral part of the handset
The T7 supports voice-operated transmitter (VOX) hands-free operation. A quick trip to Maplin was in order to get a couple of no-name 2.5mm jack headsets which, once plugged in, proved to work rather well.
The volume at which the VOX system picks up can be adjusted to one of five settings so you can set it to activate only when you speak loudly or to pick up general under-the-breath muttering and heavy breathing. After 60 seconds, a tone lets you know that VOX has been turned off so you have yell or whisper to reactivate.
We tested the hands-free capability on an indoor real- snow ski slope and found it worked well. As most of us can't ski for toffee, transmissions tended not to develop beyond a sequence of yells, cries and expletives, including one memorable howl of "I'm am trying to keep my bloody skis together... thump... ouch... [expletive deleted]".
A second test while out cycling was a rather more productive examination of the T7's efficiency allowing us to discuss which pub we were going to stop at without actually having to stop to discuss.
Other functions include a room monitor, a silent setting for those Secret Squirrel missions and paint ball outings, a group mode and the ability to assign specific handsets with names so you can see whose handset you are talking to.
Motorola reckons the range of the T7 is "up to 10km", or 6.2 miles. Well, maybe on the Bonneville Salt Flats, where you have line of sight, no obstructions higher than an inch and the nearest radio transmitter is in the next state, but in a moderately built up suburban area we only managed about half a mile.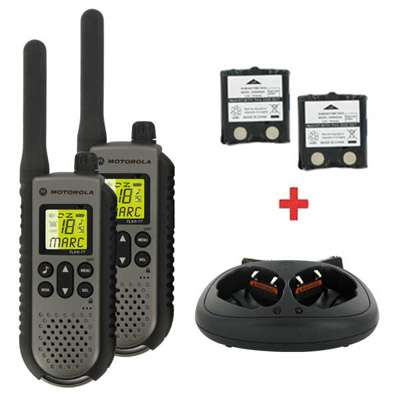 The package includes a twin charger tray for both handsets
While rambling in the Kielder Forest, things improved to a little under 1.5 miles, and while cycling on flat terrain in Cheshire we got about 2-2.5 miles. All in all we thought the effective range reasonable enough.
So long as we were within range sound quality proved remarkably crisp and clear, so a normal conversation could be had with little need to ask people to repeat what they'd said. The handset speakers have a good volume range too which could come in handy if they are being used in a noisy work environment.
Motorola say a full charge is good for round 16 hours use, while a couple of new AAAs should get you 24 hours. We charged our handsets fully before we started testing them and after what must have been a good 12 hours of use the charge indicators still showed about 30 per cent left so we'd say the manufacturer's numbers are about right.
The T7 comes in at £90, which is a fair chunk of change unless your lifestyle suggests you'll get regular use from it. For many, the £30-cheaper Motorola TLKR T5 may do just as well as the only basic differences are shorter range – 5km vs 10km – and the absence of a "roger" beep.
Verdict
The T7 is robust, usable and all together great for messing about with your chums in the great outdoors. We suspect they could prove tactically advantageous in large scale paintball combat too. The range was a little disappointing after the 10km claim on the box but other than that, there's not a lot to complain about.
More Gadgets...
| | | | |
| --- | --- | --- | --- |
| E-Book Readers | Polaroid PoGo | Olympus LS-10 | Roomba 560 |