Original URL: https://www.theregister.co.uk/2008/11/27/review_projector_infocus_x10/
Infocus X10 projector
Very high standard entry-level home cinema rig
Posted in Personal Tech, 27th November 2008 13:13 GMT
Review Full HD is what we all want, but until the release of the X10 from InFocus, a projector capable of displaying a full 1080p image would have cost you the proverbial arm and a leg.
With the X10, the full resolution of your Blu-ray Discs is available below the psychologically significant £1000 mark - that's exc. VAT, sorry - making big-screen full-HD home cinema an affordable possibility.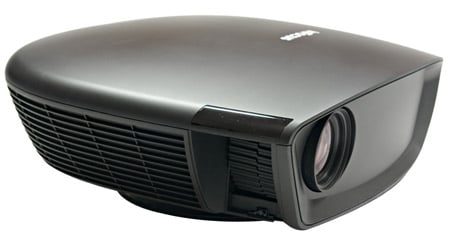 Infocus' X10: matte black - technically, the correct colour
Unlike many previous home cinema projectors from InFocus, which have used a striking glossy piano-black finish, the X10 has an entirely matte surface. It's not as eye-catching, but it is of course the screen which should be catching our eye, not the projector. And, if you're going to be really fussy about it, matte black is technically the "correct" colour not only for the projector but everything else in the room, including the walls and furniture, if you want to avoid reflections or colour casts on your projected image.
Its rather smooth, minimal looks are made possible partly by the use of flush-fitting panels which are used to conceal the lens adjustments at the side and the input connectors at the rear. Unfortunately, these panels aren't permanently attached and would therefore be quite easy to lose as they can be fiddly to fit – especially if you have the projector mounted on the ceiling.
The usual InFocus tilt and swivel stand allows you to place the projector easily on a table top. All the usual mounting orientations are supported, but the lack of threaded adjustable feet makes accurate adjustment considerably trickier than it is many of the machine's rivals. So, if your coffee table isn't quite level, you'll have to resort to wedges under the legs rather than adjusting the projector to compensate.
For many home cinema buffs, "1080p" and "less than £1000" will be all they need to hear to get them scrabbling for the plastic, but the X10 actually has a great deal more to offer than price alone. Its 1200 ANSI lumens output is more than adequate for home cinema and its native 2500:1 contrast ratio can be boosted to 7500:1 by means of a manual iris adjustment.
Designed with ceiling mounting in mind, all the inputs are labelled such that they'd be upside-down if you were to use the projector on a coffee table. Composite- and s-video are provided, along with component video, HDMI and, that favourite of InFocus, the M1-DA port, which can be used in conjunction with a supplied adaptor to enable a PC connection via DVI or VGA. This should allow you to hook up just about any kind of kit capable of putting out a video signal.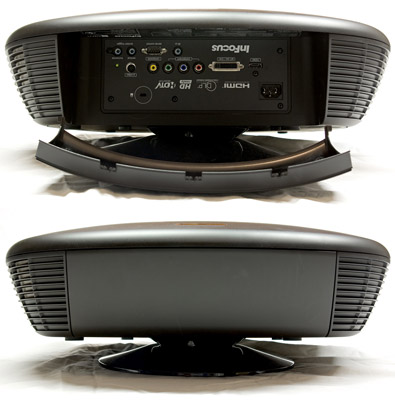 The ports are clearly labeled, but a second HDMI port would've been nice
A second HDMI port would have been nice, but at this price we're more than happy to make do with the M1-DA port and whatever adaptors we may need to get that second digital input going.
With 10-bit video processing and HDMI 1.3 support, the X10 is set to take advantage of the highest quality digital inputs. It can display up to 1.07bn colours, and Texas Instruments' BrilliantColor technology is available to boost image brightness according to your preference – although ours is to leave such features disabled.
Of course, on a budget projector like this you're not going to get motorised image adjustments or any form of mechanical lens shift, but the X10's large, chunky cog-like manual controls are easy enough to use and a digital vertical image shift is provided.
The manual zoom control has only a rather modest 1.2x range of adjustment, providing a throw ratio of between 1.85:1 and 2.22:1. It's therefore important to consider where you want to mount the projector and your desired screen size before purchase. If you have a small room, you may not be able to get the picture big enough. At 476 x 148 x 432mm, the projector itself is pretty large and could easily dominate a room.
A distinct lack of control buttons on the projector body means you'll be using the remote control to carry out most tasks. Infocus has paid considerable attention to the design of the controller, which has an expensive two-tone gloss black and silver look and a soft blue glow illuminates the buttons so you can use it easily when the room lights have been dimmed.
However, the projected 'on-screen' menus themselves are a little disappointing. Small, grey, word-heavy dialog boxes pop down from the top left corner of the screen with a distinct lack of descriptive icons. You won't be spending a lot of time in the menus though, because compared to many projectors there are relatively few options to get to grips with here.

InFocus has given considerable attention to the remote control
For example, we're used to seeing image presets for various view modes, such as "Cinema", "PC" and "Video", which are absent on the X10. However, once you've set up the picture to your liking you can create up to three presets of your own.
Of course, there's much more to a pleasing picture than a high pixel count. We want 1080p in order to get the best possible quality from our Blu-ray Discs, but a poor 1080p projector can easily be outclassed and out-priced by a good 720p model – especially if your screen size isn't large and you're not sitting with your nose pressed up against it.
Bearing this in mind, we weren't sure what to expect from the X10. Thankfully, we were very pleasantly surprised. The picture quality is pretty good. It's sharp and vivid, although perhaps lacking a little of the subtlety found on more expensive projectors.
The X10 uses the DarkChip 1, Texas Instruments' entry-level 1080p DLP chip and as such doesn't offer the deep blacks available on higher-priced models. Thankfully, the X10's secret weapon, its manual iris adjustment, will clear the mist from your outer-space battles – albeit it the expense of some brightness.
Fans of automatic iris control will miss the increased dynamic contrast that could have been achieved, but the manual option gives you greater control over the adjustment and doesn't suffer from the conspicuous and often distracting brightening and darkening of the image which dissuades many of us from using dynamic iris options.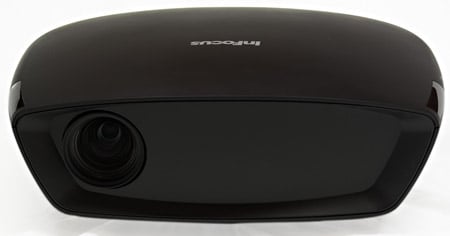 With a little bit of adjustment, you can get some really impressive images
With a little bit of adjustment, you can get some really impressive images from the X10. The picture is razor sharp, showing that InFocus hasn't skimped on the quality of the optics in this low-cost projector. If we had to quibble, we'd say that it can be a little tricky achieving a decent black level while maintaining good shadow detail. Thankfully, the X10 supports professional ISF calibration, so if you want to get the very best from your set-up you can have a certified technician pop round and calibrate it for you – although this will of course cost you extra.
The so-called "Rainbow Effect" is one of the most often criticised features of DLP technology, and unfortunately, those of us who are susceptible to it may well find this problem distracting on the X10. While not always visible, it can become noticeable in very high contrast scenes – not so great for Star Wars fans, but pretty much imperceptible if you're watching material such as the BBC's Planet Earth, which incidentally looks breath-taking on this projector.
Verdict
The X10 may be the lowest priced example of a rather large range of 1080p projectors from Infocus, but it's exceptionally good. Setting the standard for entry-level 1080p projection, it's a worthwhile step up from a decent 720p projector if your screen size and viewing distances are appropriate.
More TVs and Projectors...
| | | | |
| --- | --- | --- | --- |
| BenQ W500 | Philips Aurea II | Samsung SP-A400 | Panasonic Kuro |