Original URL: https://www.theregister.co.uk/2008/11/26/review_tv_tuner_mac_elgato_eyetv_dtt/
Elgato EyeTV DTT Mac digital TV tuner
Turn your iMac into a telly
Posted in Personal Tech, 26th November 2008 09:02 GMT
Review For a company that claims to be a leader in the field of video and multimedia, Apple has always had a strange blind spot when it comes to TV tuners. It's largely resisted building them into Macs, and doesn't even include one in its Apple TV set-top box.
Undoubtedly, it would rather sell you film and TV downloads from the iTunes Store than let you record your favourite TV programs for free. And with the Mac traditionally having a miniscule market share, most of the companies that manufacture TV tuners have tended to concentrate on the PC side of things.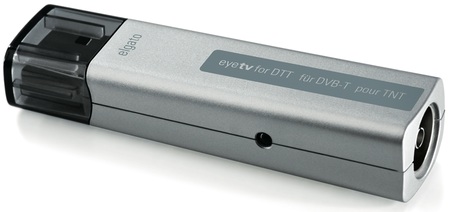 Elgato's EyeTV DTT: compact
That's changed of late, thanks to the Mac's increasing market share – and also to the success of the now video-capable iPod. That's created a big market for TV tuners on the Mac. Even traditionally PC-oriented companies, such as Pinnacle and Terratec, have started making Mac-friendly tuners. However, the reigning monarch of the Mac TV market is undoubtedly Elgato, with its well-established EyeTV range.
We recently reviewed the EyeTV DTT Deluxe, which is the flagship of the range and quite possibly the smallest TV tuner in the world. However, the Deluxe model does come with a deluxe price – around £70 – which can only really be justified if you specifically need that model's ultra-compact design - perhaps to accompany the ultra-portable MacBook Air.
For those of us that can't afford an Air, Elgato has also released an updated version of the standard EyeTV DTT tuner, priced at £40. That's just over half the price of the Deluxe model, so it's clearly the better choice for Mac users wh just want an affordable TV tuner.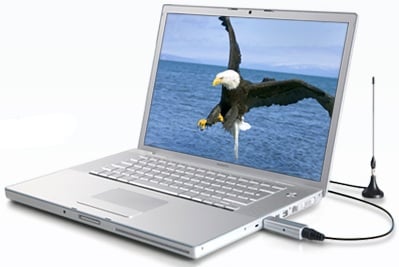 Comes with tilt'n'swivel aerial and co-ax connector
As the name implies, the EyeTV DTT is designed to pick up digital terrestrial TV ('DTT') signals, which, here in the UK, refers to the 40-odd channels included in the Freeview digital TV system. Digital reception across the UK is still quite variable, so you'll need to check the reception in your area before buying. If the reception's not very good, you may be better off with another product, such as the EyeTV Hybrid, which contains tuners for both digital and analogue TV, useful until the Digital Switchover.
Although this new version of the EyeTV DTT is smaller than its predecessor, it's still quite a bit bigger than the Deluxe, measuring 68 x 18 x 14mm thick, compared to 57 x 17 x 9mm for the Deluxe model. One of the key advantages of the DTT Deluxe is that its slimline design means that it won't block any of the adjacent ports on your computer - we've got the EyeTV Hybrid plugged into a MacBook, and it's so fat that we can't plug our iPod into the second USB port right next to it.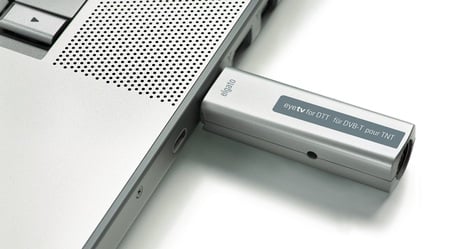 Won't block other ports...
Fortunately, the fact that the standard DTT is virtually the same width as the Deluxe means that it too can be plugged into a MacBook without blocking any of the adjacent ports. For many Mac users that fact alone will probably swing the choice in favour of the less expensive EyeTV DTT.
However, the lower price of the DTT does mean that it lacks a couple of additional features found in the Deluxe model. Instead of the flexible, extendable aerial supplied with the DTT Deluxe, the DTT has a simpler aerial with a magnetic base and a not-very-high-tech plastic suction cup for attaching it to flat surfaces.
If this small aerial doesn't provide good enough reception you can still plug in a larger, conventional aerial as the EyeTV DTT has a full-sized coaxial aerial connector built into it. The aerial provided with our review unit couldn't pick up the digital signal very well in our East London office, but connecting the tuner to the roof aerial wired into a wall socket provided much better reception.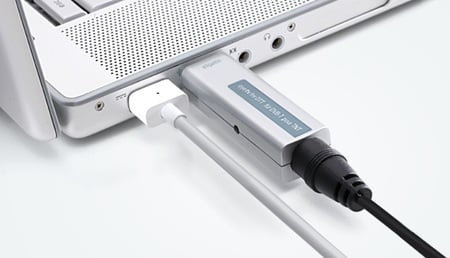 ...on either side of your Mac
The other missing feature is the remote control that's supplied with the Deluxe model, which means that you'll need to use a mouse to control the EyeTV recording software. EyeTV playback can be controlled by Apple's little remote control units, but the program's more advanced features need to be controlled with a mouse or Elgato's own remote. Fortunately, Elgato sells its remote control as an optional extra for an additional £10, which will still keep the total price just under £50.
However, the real strength of the Elgato range lies in the EyeTV software that the company includes with all its TV tuners. Elgato has always focused specifically on the Mac market – unlike rivals such as Pinnacle and Terratec, who sometimes struggle to understand the Mac way of doing things – and its in-depth Mac expertise is evident in the design of the EyeTV recording software.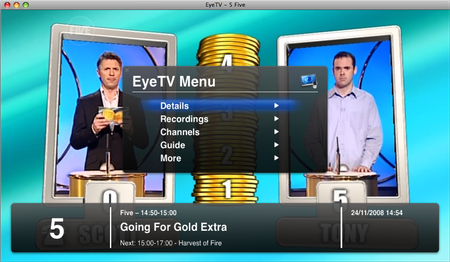 EyeTV: the best TV app on any platform?
As well as basic recording features, the EyeTV software includes an option called Smart Guides – similar to the Smart Playlists in iTunes – which allows it to scan its built-in programme guide to locate specific programmes that you want to record. As well as simply scanning for programme names, Smart Guides can also be configured to scan for well-known actors or directors, or even specific episode numbers, ensuring that you record just the programmes that you want.
Once you've recorded your programmes, you can easily export them onto devices such as an iPod or AppleTV, as the EyeTV software includes preset compression options for these devices, which can be activated simply by clicking on a button in the program's main toolbar.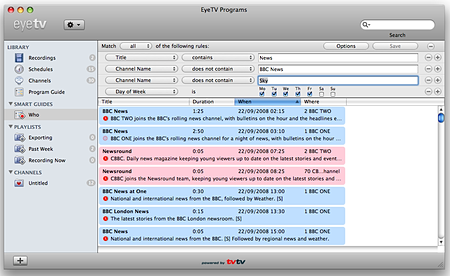 Search the programme guide for anything
We also like EyeTV's ability to share recordings over a local network. It can even stream shows over a wireless network, allowing you to watch recordings on an iPhone or iPod Touch while you slouch on the sofa. And, if you know you'll regularly be streaming files over a wireless network, EyeTV can be set to automatically convert your video files into a more highly compressed format in order to enhance streaming performance.
Verdict
To be honest, TV tuners in this price range don't really vary much in terms of their basic hardware features, and while the EyeTV DTT's compact design is very convenient it doesn't offer any special hardware features that you can't find in a number of rival products.
However, Elgato's ace-in-the-hole remains the powerful EyeTV software, which is easy to use and provides useful features for recording programmes and exporting them onto portable devices such as an iPod. That combination of affordable hardware and very versatile software makes the EyeTV DTT an excellent choice.
More TV Gadgets...
| | | | |
| --- | --- | --- | --- |
| Vuzix iWear | Elgato EyeTV Deluxe | Elgato Turbo.264 | 3M micro projector |