Original URL: http://www.theregister.co.uk/2008/11/26/review_smartphone_nokia_n96/
Nokia N96 16GB smartphone
Heavyweight upgrade packs in a hefty multimedia punch
Posted in Personal Tech, 26th November 2008 13:02 GMT
Review As the muscular successor to the N95, it's no surprise that the N96 packs in a flagship set of high-end features.
It's beefed-up spec list pushes up the on-board storage capacity to 16GB and adds Micro SDHC expansion to a formidable spread of functionality that includes Wi-Fi and HSDPA high-speed connectivity, A-GPS satnav technology, a five-megapixel camera with Carl Zeiss optics, and a top-line set of Symbian S60 smartphone applications.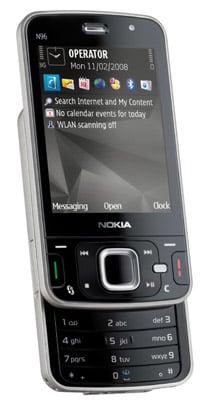 Nokia's N96: substantial
Although it has ratcheted up the feature count from the already well-endowed N95, the N96 has more heavyweight phone competition than the original N95 had when launched. With the likes of the eight-megapixel Samsung i8510 and LG Renoir, plus the iPhone 3G, it's got its work cut out to be a first-choice top-ender.
Sadly, one feature that differentiates it in some other markets – a DVB-H digital TV receiver – is redundant in the UK, as there are no commercial DVB-H broadcasts now or on the horizon. Instead, the N96 is one of the first N-series devices to arrive with BBC iPlayer pre-loaded.
With a 2.8in, 240 x 320, 16m-colour display dominating the front, the N96 is well set up for a decent video viewing experience.
Packing its meaty gadgetry in a two-way slider design that follows the N95's template, the N96 is a substantial handset. It's got a marginally broader footprint than its predecessor, measuring a chunky 103 x 55 x 18-20mm, but is a fraction lighter, at 125g. This reflects the lighter plastic used on the bodywork, which is more like the glossy black plastic look and feel of the N81 than the N95 8GB. The shiny front panel attracts finger smudges, and there's a slightly creakier feel to the buttons.
The N96's twin slider action reveals a regular numberpad when the body moves in one direction, and a set of media player buttons on the other end. These now use fashionable backlit markings and can become gaming keys when the N96 is in N-Gage mode.
These keys, like those on the number pad, are flush to the body. They're reasonably responsive to tapping and adequately spaced for comfortable quick texting and email writing.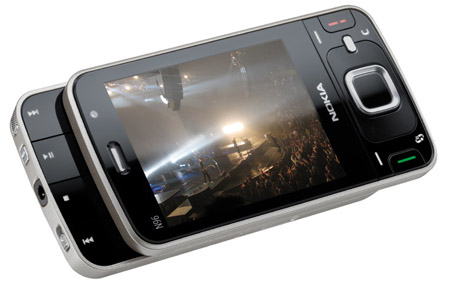 Watching streamed video over Wi-Fi is mightily impressive
The main controls are centred around the N96's navpad. Directly surrounding this are more media player controls - unnecessarily belt-and-braces, with that trayful of controls on the top slider - regular call and end keys, a menu button and a silver multimedia button, which extends above the otherwise flush control panel.
On the back of the phone, the camera barely protrudes, though there's no sliding lens cover to protect the optics. A twin-LED flash sits above the lens - Nokia hasn't included a more powerful and precise xenon flash on this model.
A neat design touch is a fold out kickstand, built into the lens surround. This lets you to prop the phone up on its side, which is ideal for viewing videos. It's a bit flimsy, but it's a good idea.
On the top edge of the phone there's a 3.5mm headphone socket. A spring switch also lets you to lock the keypad. A MicroSD slot on the side can accommodate cards up to 8GB capacity, adding to the hefty 16GB internal storage.
Operating the phone using Nokia's S60 3.2 user interface is straightforward, and will be familiar to anyone who's spent time with the N95 or other N-series Nokias. A row of icons at the top of the display offer fast access to seven user-definable features. Further down are additional readouts for search, calendar entries, Wi-Fi status, music player info, plus a shortcut for online sharing. Hit the 'squiggle' S60 menu button and you get the busy menu grid of icons. If you're looking for images, video or audio content, mapping, games and recent web links, tap the multimedia key and you're propelled into a rotating carousel of multimedia options.
There's the now inevitable accelerometer built in, so the screen changes automatically between landscape and portrait view, depending on how you're holding the phone. Here, this feature can be switched off.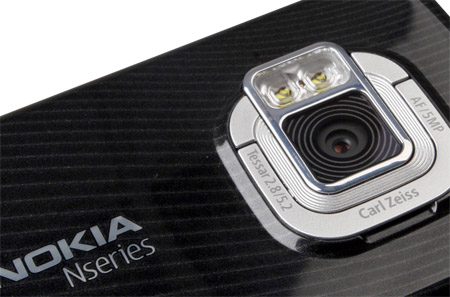 The 5Mp shooter holds its ground against the 8Mp camera competition
There's an impressive amount of applications to work through on this multimedia device. In some ways, this can be a drawback for the N96. Although it has a delightful set of features and functionality to play with, it can sometimes be a touch languid accessing them, particularly if you have several processor-heavy apps open at once - something that's likely on a smartphone - slowing it down noticeably.
The N96's main camera is constructed around similar high-quality Carl Zeiss optics as the N95. Although its five-megapixel sensor is no longer the most pixel-packed around, the N96 still has one of the best shooters available.
Image quality is superb for a mobile, with a fine level of detail and excellent colour rendition. Its auto metering system is very responsive, and adjusts quickly to changing lighting situations, while its autofocus set-up, with a two-step camera button and macro shooting option, helps produce crisp and precisely focused images. The usable camera interface offers a wide variety of picture adjustments, but the automated performance is reliable and hassle free.
The large display provides an excellent viewfinder, automatically flipping into landscape mode when the camera is activated. Snaps are taken and processed almost instantly, with no discernible lag. Indoors in dark situations, the flash throws some light on proceedings, though in our opinion Nokia's xenon flash-equipped phones, like the N82, are better in low light.
Images can be uploaded directly to sites like Flickr, Vox and Nokia's Ovi service, as can video clips. The camera can capture video at up to 640 x 480 at 30f/s - a higher quality than you can get with most mobiles.
Nokia has paid plenty of attention to the N96's video playing capabilities too, making for an enjoyable spread of content viewing options on its sizeable screen. It can play back a variety of formats, and puts in one of the best mobile video performances around. An in-box TV cable means you can play content from the phone on your telly too.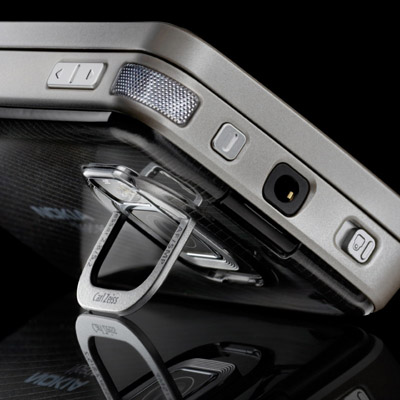 A neat design touch is a fold out kickstand, built into the lens surround
Watching streamed video using iPlayer over Wi-Fi is mightily impressive: there are no jitters and playback is extremely smooth. In fact, whether you want to download programmes to watch later - using RealPlayer - or whether you want to watch streamed content, the iPlayer app, although in beta, works excellently.
Nokia's Video Centre app enables users to browse and download or stream content from a wide range of online video services. There are also feeds from various TV broadcasters, including ITV, Sky and the BBC, while the phone also supports Flash video through the Nokia web browser.
The N96 can comfortably carry out duties as a music player too. It has a similar easy-to-use set-up to the N95 8GB, with typical categories for tracks and support for cover art. Transferring tracks is a simple matter of hooking up the USB cable to a PC and syncing with Windows Media Player or Nokia's PC Suite app.
Alternatively, you can drag-and-drop tracks with the phone in mass storage mode, or slip in a loaded Micro SDHC card – the phone automatically updates its music lists to incorporate new tunes. Over the air downloading of tunes is another option, but the N96 is not part of the Comes With Music range.
The N96's sound quality was extremely good through our reference Sennheiser headphones, offering a rich, deep and well-balanced music presentation. The supplied earphones aren't bad either. Volume is notably loud, with a fierce stereo performance possible too, thanks to a pair of speakers that are also well placed for video watching. An FM radio is a low-key but useful addition to the N96's audio arsenal, as is the podcast pick-up app.
Nokia's been steadily expanding its satellite positioning phone repertoire, and the N96 is another quality addition. Its A-GPS system is quick to lock on to satellites, usually taking under 30s from initialisation in our tests, though Nokia says it can take up to several minutes, depending on conditions. It works very effectively and reliably, with Nokia Maps software and maps for the UK and Ireland pre-loaded on our review sample. Other regional maps can be downloaded from Nokia when required, or updated over the air.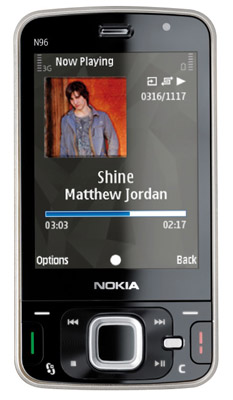 The N96 can comfortably carry out duties as a music player
The addition of N-Gage gaming further broadens this handset's appeal. The sophisticated game-playing is aided by the additional buttons provided on the media player slider, giving it more of a console feel than most phones have. Gamers may be keen on the neat graphics, multi-player and online community elements of the N-Gage service, but even so-so players may be tempted to try out some of trial N-Gage games available.
With Wi-Fi and HSDPA, the N96's browsing experience is pretty good. Not iPhone good, but pages are swiftly delivered and quickly rendered, and Flash is supported.
A decent helping of regular Nokia apps are included as standard, including instant messaging and email. Organiser tools include calendar, notes, calculator, clocks and converter functions, plus there are Office and PDF document readers, which can be used to view files sent as email attachments or copied over to the phone. Other apps include a voice recorder, voice commands and text reading apps. Plenty more S60 apps can be downloaded.
With all this multimedia and satnav jiggery-pokery, battery performance might be an issue for some users. Nokia has chosen to include the same capacity battery as on the original N95 rather than the upgraded, higher capacity battery used on the N95 8GB, which is a shame.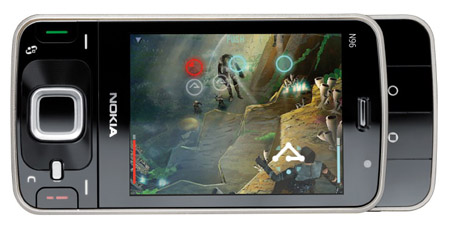 Gaming with a handheld console feel
Nokia's battery life figures suggest this dual-band WCDMA/quad-band GSM device can run on standby for up to 200 hours on 3G networks or 230 hours in standard GSM coverage. Talktime is estimated at 160 minutes or 230 minutes, respectively. Alternatively, it can be used to play music offline for up to 14 hours or video for up to five hours.
Although individual usage will ultimately determine how much battery life you squeeze out, these figures suggest a power performance below that of the N95 8GB. Expect to charge the N96 on a daily basis.
However, we had no problems at all with voice communications, which came across loud and clear.
Verdict
This phone can be slow during multi-app activity, and its battery life isn't that impressive. But the N96 is undoubtedly a multimedia powerhouse with an exceptional spread of high-end functionality. While there are enhancements to the specifications, notably the storage capacity and video capabilities - and that not-working-in-the-UK DVB-H receiver - this is more an evolutionary step up from the N95 8GB than a game-changer. But it's still one of the best equipped heavyweight handsets around.
More Smartphones...
| | | | |
| --- | --- | --- | --- |
| HTC Touch HD | T-Mobile G1 | Palm Treo Pro | Sony Xperia X1 |