Original URL: https://www.theregister.co.uk/2008/11/26/iss_update/
ISS drinks dispenser now taking the p*ss
Urine Processor Assembly up and running
Posted in Science, 26th November 2008 14:02 GMT
The International Space Station's cantankerous Water Recovery System (see pic) is now apparently up and running following a few issues with the unit's Urine Processor Assembly (UPA).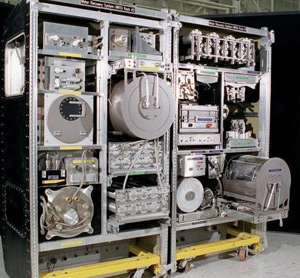 The crew of space shuttle Endeavour extended their mission STS-126 to the outpost by a day to tackle the problem, which centred on a dodgy distiller centrifuge. This spins the urine as it's boiled to produce the artificial gravity field required to allow contaminants to separate from the water content. NASA explains: "On Earth, distilling is a simple process of simply boiling water and cooling the steam back into pure water. But without gravity, the contaminants in water never separate from the steam no matter how much heat is used."
The agency elaborates: "The contaminants in the urine press against the sides of the drum while the steam gathers in the middle and is pumped to a filter."
When first fired up earlier this month, the recycler triggered a fire alert, which was subsequently found to be spurious, although the machine was shut down pending analysis.
This showed that the urine inside the centrifuge was causing the drum to thrash about on its evidently inadequate dampeners. These were detached and the unit bolted firmly into place with additional brackets offering extra support.
NASA now reports: "The UPA ran three successful cycles since modifications Sunday and Monday. Based on that success, program managers decided they will leave the distillation assembly on orbit. They were able to get the samples processed through the UPA and Water Processing Assembly and dispensed through the Potable Water Dispenser (PWD)."
Furthermore, NASA is satisfied with the performance of the port and starboard Solar Alpha Rotary Joints (SARJs), which were the subject of maintenance during the four STS-126 spacewalks. The starboard joint had proved somewhat inflexible due to metal flakes in its trundle bearing assemblies, and was unable to rotate freely to allow the station's solar panels to fully capture available sunlight.
NASA says: "Preliminary data shows an indication that the starboard Solar Alpha Rotary Joint is using less power and moving more freely than before. Engineers plan to continue monitoring the starboard SARJ's performance. The port SARJ's current usage has decreased as well due to the preventative lubrication."
ISS and Endeavour crew will today transfer the reuseable Leonardo Multi-Purpose Logistics Module - used to bring supplies to the station - back to the shuttle ahead of a Friday dedocking. Endeavour is due to touch down at Kennedy Space Center's Shuttle Landing Facility at about 18:18 GMT on Sunday. ®