Original URL: https://www.theregister.co.uk/2008/11/26/apple_report_card_part_three/
Sons of Macintosh - shaking the Apple family tree
The Jesus Phone is not divine
Posted in The Channel, 26th November 2008 20:07 GMT
Report Card, Part Three When the original Apple Macintosh debuted in 1984, it carried a $2,495 price tag - roughly $5,250 in 2008 money. Ever since, the debate has raged over whether Macs are more expensive, feature-by-feature and capability-by-capability, than their PC brethren.
And what a meaningless debate it is.
Here at The Reg, we subscribe to two time-honored dictums: "You get what you pay for," and "You pays your money and you makes your choice." By and large, Apple produces solid, reliable hardware, much of it bundled with a broad range of user-friendly software. If you want Apple, you buy Apple and you pay Apple's price. No one's forcing you to.
On January 24, 1984, when Steve Jobs unleashed the Macintosh at an Apple shareholders meeting (click here for video), no one cheered when he announced its un-LISA-like "mainstream price point." They cheered when he pulled it from a carrying case and it said "Hello, I'm Macintosh. It sure is great to get out of that bag."
With the inevitable January 24, 2009 just around the corner, we're handing Jobs and crew their 25-year report card. Just because we can. We've already served up Parts One and Two, rating and slating everything from Apple's innovation mojo to its (non-existent) philanthropic efforts. Now, we rate the products themselves. But we won't mention the price of a PC.
Sons of Macintosh
Since Steve Jobs first pulled the original Mac out of its carrying case, there have been just under 300 different Mac models.
Today, there are nine - not counting variations in processor power, graphics subsystems, and the like. The desktop line includes the Mac mini, the 20-inch and 24-inch iMacs, and the Mac Pro. On your lap, there are a pair of MacBooks, plus two different-sized MacBook Pros and the featherweight MacBook Air. Well, "on your lap" might be a wee bit overstated, since Apple's laptops have such toasty bottoms that it's not wise to get them too close to your naughty bits.
Most Macs are, in general, closed systems that aren't meant to be upgraded or customized, despite the fact that an entire third-party ecosystem exists to do just that. Most Mac users, however, don't exploit upgrade possibilities other than RAM - and except for the top-of-the-line Mac Pro and the hard drives of the MacBook and MacBook Pro, Apple doesn't make it easy for them to do so.
That said, if you buy the right Mac, it'll do pretty much what you want it to do right out of the box - unless you're a devoted gamer. Despite the fact that Apple continually tries to assert that it's got game, the truth is that no Mac can carry the jockstrap of a fully hot-rodded Windows box when it comes to PC gaming.
Let's start at the bottom of the desktop line and work our way up.
Mac mini: Ah, pity the poor, neglected runt of the Mac litter. The mini ($599 to $799) is the only Mac to still contain a last-generation 65nm Merom-class processor, and its innards haven't been upgraded since the middle of last year. It's the only Mac, for example, that's still lumbered with 667MHz frontside bus (FSB).
Rumors of the mini's impending death have yet to come true, and so it carries on in its humble duty of being the cheapest - and the cutest - way to run Mac OS X. It's tiny (2- by 6.5- by 6.5-inches), quiet, and unobtrusive. Do remember that you'll need to supply your own mouse, keyboard, and display.
Mac mini: C
Teeth and Sno Balls
iMac: The 20-inch and 24-inch iMacs ($1,199 to $2,199) are the direct descendants of the original all-in-one Macintosh of 1984. Over the years the all-in-one concept has morphed into multiple shapes and sizes, including such notables as the rare, education-market-only Power Macintosh G3 All-in-One (affectionately known as "The Tooth" for its ungainly mega-molar shape); the original gumdrop iMac, which jump-started Apple's Lazarus act when it appeared in 1998; and the second-generation iMac, which for all the world looked like a vanity mirror hinged to the top of a giant Hostess Sno Ball.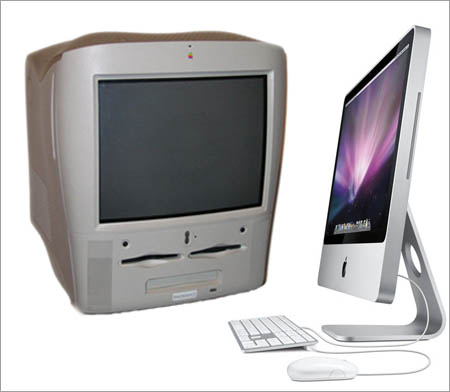 The Tooth and the iMac
The current iMac is the best of the all-in-one lineage. Its 45nm Penryn-class Intel Core 2 Duo processor and 1066MHz FSB make it plenty fast for most mid-level tasks, and its graphics performance is more than merely tolerable, especially in the top configuration, which includes a 512MB Nvidia GeForce 8800 GS graphics subsystem. Unfortunately, though, upgrading anything other than its RAM is a bee-atch.
In addition, know that the 20-inch model's glossy display is noticeably inferior to that of the 24-inch model. The 20-incher is only a 6-bit active matrix TFT (the 24-inch display is a full 8-bit unit) and thus achieves its claimed "millions of colors" by dithering. Also, images displayed on the 20-incher suffer from contrast and color shifts when viewed from an angle.
Finally, both models are available only with glossy displays, which tend to over-saturate color and overemphasize the depth of blacks. If you're a pro photographer, you won't be happy, but if you just want your snapshots of Junior to honor the perfect pinkness of your sweet li'l angel, you'll be pleased as punch.
20-inch iMac: B-
24-inch iMac: A-
Mac Pro: In years past, the performance differences between desktop and tower Macs were minor - in some cases, in fact, even as recently as the Power Mac G5 and iMac G5 in mid-2004, there were no differences at all in processor power.
Those days are gone.
Today's base-model iMac is powered by a single dual-core Intel Core 2 Duo. The base-model Mac Pro is equipped with dual quad-core Harpertown-class Intel 5400-series Xeons, each connected to the system controller over its own independent 1600MHz FSB. On the gridiron, that'd be Oklahoma Panhandle State versus the Crimson Tide.
Eight high-speed 45nm cores provide a pile o' processing power. Too bad the Mac Pro can rarely take advantage of it all. Why not? Two reasons - and Apple has an extra-cost solution for one and is working on a remedy for the second.
The first problem: A base-model Mac Pro ships with a single 7,200rpm hard drive that doesn't have a ghost of a chance of keeping eight hungry cores fed. The second problem is the dirty little not-so-secret that it's the rare Mac application that can distribute its tasks efficiently over eight concurrent threads.
Apple has two answers to the first problem - a cheap one and a not-so-cheap one. Cheap: Mac Pros have four easily accessible drive bays into which you can stuff four SATA drives and RAID 'em up using Mac OS X's Disk Utility. Not so cheap: If you want speedier throughput, pop SAS drives into those bays and hook them up to Apple's $800 Mac Pro RAID Card (which also adds a 72-hour backup battery). By the way, the next time an Apple rep gives you a Mac Pro demonstration, it's a good bet that there'll be a Mac Pro RAID Card connected to four SAS drives in the configuration he or she is demoing - that's what the Mac Pros were equipped with at the last Macworld Expo.
The second problem - dumb apps - is trickier, and the one that Apple's focusing on as it works on the next iteration of Mac OS X, Snow Leopard, scheduled for release sometime next year (look for it later rather than earlier, natch). Snow Leopard will include a technology called Grand Central that Apple claims "makes it much easier for developers to create programs that squeeze every last drop of power from multicore systems." We'll see.
The Mac Pro would be a more-attractive buy if Apple would sell you one with no drives nor RAM (it ships with a measly 2GB of the latter in two 1GB FB-DIMMs). Any Mac Pro worth his or her jumpers could stuff a Mac Pro with drives lying around the office, studio, workshop, or supply closet. Also, the price Apple demands for RAM is Pentagon-procurement ludicrous: a cool $9,100 for the eight 4GB FB-DIMMs needed to bring the Mac Pro up to its full complement of 32GB.
Remember the aforementioned "third-party ecosystem?" Well, members of that merry band will sell you eight fully warranted, in-thermal-spec 4GB FB-DIMMs for a lot less. Veteran vendor Other World Computing (www.macsales.com), for example, will max out your Mac Pro's RAM for a measly $1,479.99 - and, no, that's not a misprint. We checked.
All in all, the Mac Pro is a nice box. It's much quieter than its predecessor, the Power Mac G5 (which had fan noise so glaring that on-mic audio work was impossible), it's built like a brick, and its (few) upgradeable components are easily accessible. Let's hope Snow Leopard helps it reach its full potential.
Mac Pro: B+
Whites and Blacks
MacBook: Since Apple introduced its entry-level laptop in May of 2006, it's been selling faster than Palin 2012 buttons at a snowmobilers convention - so much so that in 2007 Apple sold 60 per cent more laptops than desktops (2008 figures aren't yet available). You can assume that the MacBook contributed a high percentage of that high percentage.
Today, you can buy two distinctly different MacBooks. The $999 version is merely a lower-priced, higher-powered version of the white-polycarbonate MacBook first introduced in 2006. It appears that Apple wanted the ability to claim it had a sub-$1,000 laptop, and keeping the white guy around for awhile was the best way to do so.
No problem - Apple's cheapest laptop is both perfectly serviceable, thoroughly unexciting, and fine for productivity apps and interwebbing. It has a crisp 13-inch display (glossy - sorry, shooters...), a tolerable keyboard, and one feature that the new aluminum MacBook, introduced in October of this year, doesn't have: a FireWire port. The newer MacBook is the first Mac to bow to FireWire's inevitable demise. Expect more to follow.
October's aluminum MacBook also has a backlit keyboard for your late-night flights (both of fancy and cross-country), a 1066MHz FSB (up from whitey's 800MHz), a thin, bright, and glossy LED-backlit display, a wide multi-touch trackpad that double as a clickable button, and - perhaps most important - an NVIDIA GeForce 9400M graphics subsystem and northbridge. Sure, it's not a discrete-graphics setup, but it's a clear improvement over the Intel GMA X3100 integrated-graphics subsystem in the MacBook Caucasian.
And - for an Apple laptop, at least - the new MacBook's $1,299 entry-level price ain't bad.
MacBook White: C
MacBook: A-
MacBook Pro: We've always been a bit puzzled by the 15-inch MacBook Pro, seeing as how the lower-cost MacBook has plenty of power for traveling business folks.
If, however, you're a traveling content creator, a photographer shooting on location, or a peripatetic videographer, you'll appreciate not only the MacBook Pro's extra gigahertz, but also the fact that you can switch between its integrated NVIDIA GeForce 9400M graphics subsystem and its discrete NVIDIA GeForce 9600M GT - although switching between the two is a logout/login pain, with no ability to set one as default for battery operation and other for plug- in use.

Macbook family portrait
However, we suspect the real draw of the MacBook Pro is not entirely logical. This laptop is simply one smash-down, full-bore, dampness-inducing sex machine, beautifully built and impeccably fit-and-finished. Nobody really needs a Porsche when a Jetta can get you home just as quickly and safely. But a Porsche is a fine ride. So's a MacBook Pro.
Oh, and if you're the aforementioned photographer shooting on location, you may want to buy one of the last remaining big-as-a-cafeteria-tray 17-inch MacBook Pros before they get the same makeover as the 15-inchers - you can still order one of the big boys with a anti-glare display. The 15-inchers are glossy or nothing.
15-inch MacBook Pro: A
17-inch MacBook Pro: B+
Various and Sundry
MacBook Air: This slim, sexy three-pound cutie might best be described as the love child of an iPod and a MacBook. Like the iPod, its battery is sealed inside and not user-replaceable. It has a 1.8-inch, 4,200rpm, 120GB hard drive as does the iPod Classic; a single analog audio-out minijack; and connects to the world through a single USB port. (Well, yeah, it also has a Mini DisplayPort, but you know what we mean).
Like the MacBook, it has a 13.3-inch glossy display, a full-size keyboard, and runs a full version of Mac OS X. No Ethernet nor optical drive, although Apple will sell you a USB-tethered MacBook Air SuperDrive for $99.
Also, like both the MacBook and the MacBook Pro, you can opt for a 128GB solid-state drive instead of the stock HDD for an extra five-hundred bucks. Unfortunately - also like its two siblings - that SSD isn't one of the new, fast Mainstream SATA Solid State Drives from Intel, which at this writing only ship in the 80GB capacity (160GB units are coming Real Soon Now).
Needless to say, the Air isn't for everyone. If, however, you travel extensively and have a "real" Mac back at your home or office, this li'l slip of a thing could be a boon companion.
MacBook Air: B+
Input devices and displays: Let's cut to the chase: The ill-named Mighty Mouse is crap, the wired and wireless keyboards are far less deplorable but still suboptimal, and the Cinema Display line is gorgeous but hella overpriced.
Where do we begin with the Mighty Mouse? Its dual buttons, to be kind, have less than fully positive clickability, its squeezable side buttons give poor feedback, and its miniscule scroll ball may be fine for equally miniscule hands, but normal humans will find it annoyingly, well, miniscule.
But what's most galling about the Mighty Mouse (available in both USB-tethered and Bluetooth versions) is that in a world populated by such fine mouse-customization software as Kensington's MouseWorks, Logitech's Control Center, Microsoft's IntelliPoint, and Macally's Input Manager, Apple steadfastly refuses to give users any decent degree of control over button customization. C'mon, Steve - you've finally given us two buttons, ferchrissakes. Why not go all the way?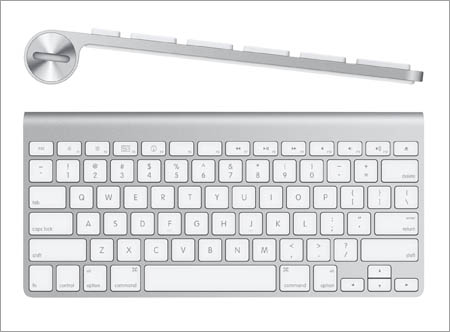 Where's the keypad?
Apple keyboards, both USB-tethered and Bluetooth, are an acquired taste we'd rather not acquire. Although we've talked with many users who find them perfectly acceptable, their lack of full-travel keys and adequate tactile feedback make them more toy-like than workmanlike.
And although we vowed above that we'd not diss Apple products for their prices, we'll make an exception for the Cinema Display line. Apple makes lovely displays with good brightness, color, contrast, viewing angle, and refresh rates, but they charge an arm, a leg, and a spare kidney for them. Case in point: The excellent 30-inch Apple Cinema HD Display runs a cool $1,799. The excellent 30-inch Gateway XHD3000 display can easily be found for under a thousand bucks. Case closed.
Apple Mighty Mouse: D-
Apple Keyboard: B-
Apple Cinema HD Displays: B
Apple Computer Inc.
On October 23, 2001, Apple invited the tech press down to its Cupertino headquarters, unveiled the iPod, and sent each editor home with their very own.
They might as well have gifted them with vials of crack.
The addiction may have started slowly - by the end of 2003, only 381,000 had been sold - but the iPod jones soon wrapped its seductive tentacles around the medulla oblongata of the popular psyche. In 2004, Apple sold 4.4 million iPods; in 2005, they sold 22.5 million; in 2006, 39.4 million. Then, on January 9, 2007, Apple Computer Inc. acknowledged the obvious and dropped the word "Computer" from their name.
The company that for years had wrapped up each an every one of its press releases with a paragraph that began, "Apple ignited the personal computer revolution in the 1970s" had become a consumer electronics giant.
In addition to the online iTunes Store that feeds them all, Apple produces three consumer electronics lines. The aforementioned top dog, the iPod; the foot-in-the-door, maybe-destined-for-greatness-but-maybe-not Apple TV; and the latest hotness and rising star, the iPhone.
Oh, and that press-release wrap-up paragraph now has a new line appended to it: "Apple is also spearheading the digital media revolution."
iPod: Today's iPod line divides and conquers its target market. First, you've got bling with or without a display (iPod nano, $149-$199; iPod shuffle, $49-$69), the vault (iPod classic, $249), and the iGame iBoy iGPS iWi-Fi iPhone-without-a-phone (iPod touch, $229-$399). The ones with displays all play videos and stills. The one without a display is cheaper than dirt.
Microsoft's Zune never had a prayer.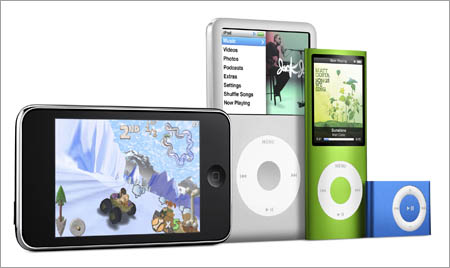 iPods
Not that the iPods are perfect, it's just that what they do, they do very well. Their sound is excellent (even through Apple's substandard earbuds), their displays are crisp, media navigation is straightforward even if their clickwheels can be a bit touchy, and their integration with the media mega-mall that's the iTunes Store is seamless.
Of the quartet, the most interesting is the iPod touch, which appears to be either a transition product until the iPhone grabs more market share, or the iPod of choice for game and on-the-go video lovers who already have Blackberries. And if the relatively small capacity of the iPod touch (or the iPhone, for that matter) gives you pause, remember that Apple recently filed a patent for metadata-transfer technology that will allow iPod and iPhone users to manage, access, and play all the media stored on their home Mac or PC on a file-by-file basis over wired, Wi-Fi, and mobile-phone connections.
And to answer one recurrent gripe: No, they don't have FM radios. So pipe down and download Terry Gross's podcasts over iTunes.
iPod shuffle: B
iPod nano: A
iPod classic: A-
iPod touch: B
Apple TV: The 2.0 version of Apple TV that was rolled out this January 15th suffers from one major obstacle: the reputation of Apple TV 1.0. That first iteration of Apple's set-top box for widescreen TV deserved the enormous yawn that it received when it appeared one year earlier. The 2.0 software upgrade is an enormous improvement - but, we hasten to ad, it's no TiVo.
Unlike its boring older brother, Apple TV 2.0 can download and rent video content directly over the Web - your Mac doesn't need to get involved as it did for version 1.0. Apple TV 1.0 was limited to 480p. Now, 2.0 hardware-upconverts 720p to 1080p for surprisingly decent image quality. No, it's not as good as Blu-Ray quality, but there are many good reasons why Blu-Ray may never catch on, not the least of which being that direct download either through services such as the iTunes Store of cable-company video-on-demand is just so damn convenient.
Still, Blu-Ray (and, for that matter, plain ol' DVDs) can and do offer bonus content rarely found in digital downloads or VoD. What's more, services like NetFlix offer insanely large libraries, multiple viewing options, and liberal play-and-return periods.
Apple TV 2.0's upconversion to 1080p is smart, since native 1080p downloads are either brutally compressed, resulting in heinous image quality, or so tediously long that you could film Transporter 3 in as long as it took to download it in full 1080p. To our eyes, Apple TV 2.0 H.264-based compression is superior to that of HD cable's VoD (cf. "You pays your money and you makes your choice," above).
On last nicety: Apple TV is a brilliant vodcast-surfer. There's a whole world of smart, well-produced amateur (whatever that means anymore) video out there, and the iTunes Store and Apple TV make wasting an entire evening sampling it a couch-bound pleasure.
If the Apple TV 2.0 could only record shows - but, hey, that'd put a dent in Apple's revenue stream, so what do you expect?
iApple TV 2.0: B+
The Jesus Phone iPhone
iPhone 3G: The Jesus Phone is not, as claimed by so many, the savior of all mankind. It's a nice phone, folks, with many nice features, but its flaws make us hungry for the next time it's baked.
But let's start with the good stuff. First off: the move to 3G. For any degree of data transfer, especially full Web browsing, EDGE was a sad joke. Big improvement number two is the App Store. Say what you will about Apple's paternalistic iron grip on the Store's offerings, but tight control keeps malware from digging deep into your iPhone's private life, and the availability of hundreds of vetted third-party apps elevates the iPhone from a device to a platform.
And, god love it, the iPhone is fun to use. Slippin' and a-slidin' across menus and pages, even typing once you learn to trust its surprisingly prescient predictive corrections - all good stuff. And for the many new iPhoneys who had never owned a decent mobile Internet device before, the ability to send and receive email and browse the Web are eye-openers.
The iPhone is also a better business partner now that Apple has added Microsoft Exchange ActiveSync compatibility, Cisco IPSec VPN capabilities, and secure network-services authentication. But let's start the niggling with Exchange: Although syncing email, calendars, and notes works fine, there's no syncing of tasks or notes. Also, you're forced to choose between corporate or personal contacts and calendars - the two can't coexist on the same iPhone.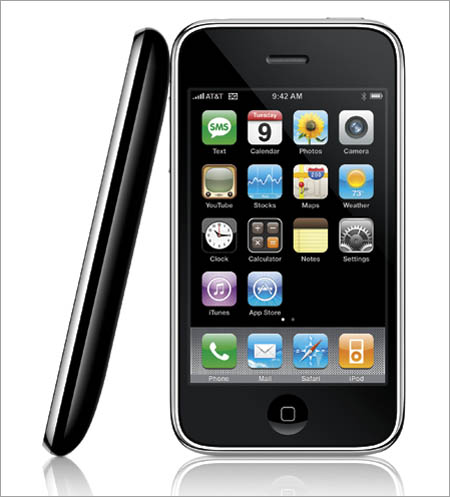 A phone is not divine
Also, you still can't cut and paste anything - a true pain, especially when quoting Web content in emails or moving info from Notes into email messages. There's no voice-activated calling (or, for that matter, voice-activated anything). Flash support is still a no-show. Typing when in Apple-supplied iPhone apps is only available in narrow, finger-squishing portrait mode (download the third-party WriteRoom to help mitigate that problem). And, of course, the iPhone follows Apple's mystifying tendency to make the battery not user-serviceable. Do they want us to merely toss our iPhones, iPods, and MacBook Airs when their batteries wear down? Mebbe so, mebbe so.
And then there's the iPhone's 2-megapixel camera, which had no video mode and a lens with the optical quality of a Jujube. Compare it with such units as the 5-megapixel Sony Ericsson C902 Cyber-shot Phone, which includes a xenon flash, auto focus, face detection, and red-eye correction. The C902 may be overkill (as may be its soon-to-be-released successor, the 8-megapixel C905), but there are many other less-sophisticated camera phones that make the iPhone's camera look like the toy that it is.
Finally, there are features that are popular in, for example, Japan, that many users may not even know are missing, such as RFID technology that lets phones act as credit cards and train tickets, fingerprint scanners for rock-solid security, and broadcast-TV tuners.
The iPhone is a lovely device, to be sure, but a little more usability and a little more hardware innovation would help it live up to its hype.
One thing we can say in the iPhone 3G's defense, though: Don't blame it for call drop-outs and dead zones where you can't find a signal. Blame those on AT&T.
iPhone 3G: B
And Another Thing
There are many more Apple offerings, of course, that what we've discussed above. The most glaring omission is software, from the entry-level iLife '08 through the hot and cold iWork '08 productivity suite, from the market-leading Final Cut Studio 6 through the vastly improved Logic Studio, from the continually improving Xcode 3 IDE and Interface Builder 3 to the sliding-into-irrelevancy WebObjects.
Then there's the company's somewhat neglected SMB offerings, with hardware represented by the Xserve and software by Xsan 2 and Apple Remote Desktop 3.2. Apple's consumer-level services in Mobile Me need an examination, as well - if Apple ever gets them running seamlessly, that is.
Finally, there's the universe that's Mac OS X 10.5, aka Leopard, in both its client and server variations. From Mach 3.0 to Darwin to Aqua to Quartz Extreme to Bonjour to the four Cores of Audio, Video, Image, Animation, and more - all topics for another day.
Until then, we'll brace ourselves for January 24, 2009. There's no telling what the Jobsian cult might do.
Rik Myslewski is the former editor in chief of MacAddict and former executive editor of MacUser. He joins The Reg full-time on December 1.