Original URL: https://www.theregister.co.uk/2008/11/25/review_mp3_player_samsung_yp_q1/
Samsung Q1 music and video player
Sleek, svelte and very nicely priced
Posted in Personal Tech, 25th November 2008 13:02 GMT
Review Silly names notwithstanding, Samsung's recent MP3 players have been a decent enough bunch. Both the YP-P2 and YP-T10left us reasonably impressed. The new kid on the block is the YP-Q1, a player that fits in between the two previous models and is the standard bearer for Samsung's latest sound technology.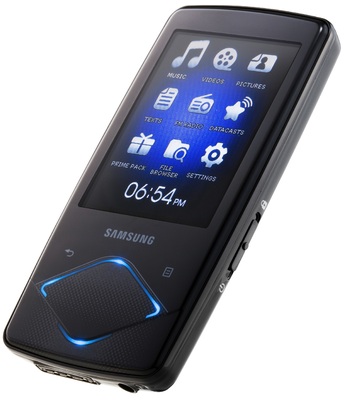 Samsung's YP-Q1: visually very attractive
For our money, the Q1 is one of the most visually attractive MP3 players on the market. Sleek, svelte and housing a 2.4in, 320 x 240 screen in a smooth and curvaceous body that measures 98 x 50 x 11mm and weighs 61g, it looks great in either black, white or silver, and challenges SanDisk's Sansa Fuze for Register Hardware's Best Made MP3 Player award.
External controls have been reduced to a minimum in the quest to keep the Q1 as aquiline as possible, so all you get is an on/off/lock slider on the right, and a 3.5mm 'phones jack and proprietary Samsung USB port at the bottom.
In fact, apart from that score line you can see running along the underside of the diamond – which is purely decorative – the entire face of the Q1 is absolutely smooth and solid.
Since the Q1 doesn't cater for memory expansion, you'd be wasting your time looking for a MicroSD slot. You have to make do with the 4, 8 or 16GB the player comes with.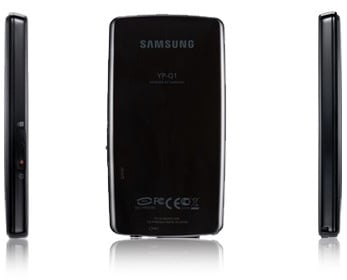 Largely free of keys, buttons and connectors
All navigation commands and media controls - including volume adjustments - are executed using that light-edged diamond-shaped touch pad below the screen. Since the pad is devoid of any type of physical feedback, you only know if you've hit the right control when the device starts doing what you wanted it to do - or when it does something completely different.
In general, we found it far too easy to select up/down/left/right when we meant to select action, and vice-versa, especially when navigating the smaller context-menus. Giving the navigation pad some degree of movement - or even some sort of haptic feedback - would make the Q1 an easier and more pleasant device to use.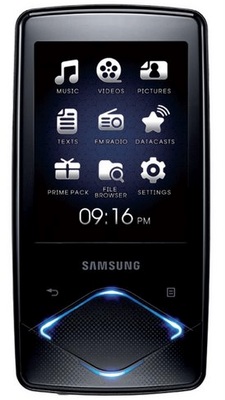 The familiar Samsung main menu layout
Above the left and right points of the diamond are controls to move back to the previous screen and to open up the relevant contextual menu. Again, these controls are solid and offer no tactile feedback whatsoever. And for some reason they're not backlit like the surround of the diamond, so tapping them is a curiously unsatisfying and uncertain undertaking.
When you actually touch the right control the Q1 responds quickly. Scanning through media is particularly effective, the scan speed ramping up quickly smoothly. But though the Q1 may look great, we prefer the controls on the latest Sony Walkman devices or the Sansa Fuze, all of which actually move when used.
The Q1 uses the now familiar Samsung menu layout, with nine icons giving access to your music, videos, pictures, text files, the RDS FM radio, datacasts, file browser, device settings and Prime Pack, the latter including a voice-recording facility, three games and colour maps of all the world's major underground railway networks.
Of all the major manufacturers, Samsung has long been among the more generous with out-of-the-box audio codec support. The Q1 is no exception, supporting MP3, Ogg Vorbis, Flac and WMA audio codecs. The Q1 can also handle TXT, JPEG, PNG, BMP and GIF files.
Video playback is limited to WMV9 and .SVI MPEG-4 files, the latter being nothing more than an AVI container modified by Samsung to "create" a proprietary video format that has no earthly benefit beyond ensuring that people have to use Samsung's bundled software to convert their videos.
Thankfully, the bundled Windows-only EmoDio media management package is a decent enough transcoding tool, and Samsung, unlike Sony, doesn't demand you pay extra for the benefit of using it as such.
While audio format support is comprehensive, everything is not quite sweetness and light. To start with when you try to drag and drop Flac files, Windows Explorer tells you the player won't support them. Assuming you ignore this and transfer the files anyway, you will then search in vain for them in the main menu folders as they can only be accessed via the file browser. So if you fill your Q1 with Flac files you can kiss good buy to searching via artist, album, genre and the like.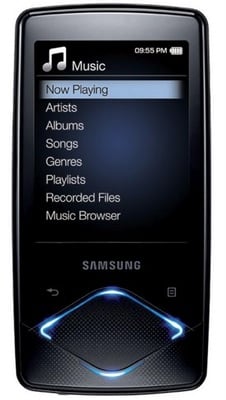 Some good music navigation options... unless you're a Flac fancier
This lapse is all the more a shame because the Q1 has some rather nice music library features, including the ability to set up playlists on the go and a handy little view that lets you scroll left and right to other albums by the same artist when you are in the album/track view, the artwork for the other albums showing up in miniature at the top of the screen.
EmoDio apart, Mac and Linux users have reason to be a little circumspect about the Q1. For starters, our Q1 refused to show up as a mass-storage device on either a MacBook Pro or a laptop running Ubuntu 8.10. A thorough search through the the Q1's menus and the user manual for some sort of MTP/MSC switch came up empty handed and so not surprisingly we had no luck getting the Linux laptop to recognise the player as an MTP device using Rhythmbox, even though a 30GB iPod and a Sansa Fuze that we had lying about the office both showed up without a hitch.
This all makes the Q1 about as much use as a one-legged man in an arse-kicking contest to Mac and Linux users, and with Linux netbooks breeding like rabbits and Apple's laptop market share rising so fast it's making a sort of whooshing noise, that's a pretty major issue.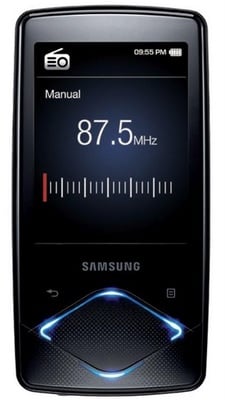 There's a decent RDS-capable FM radio on board
Thankfully, once you've loaded up some music, got to grips with the controls and replaced the Poundstretcher-class earphones, the Q1 is a fine-sounding player.
You get more sound modification technology than you can shake a stick at, including Street Mode – in effect a bass boost for use on the Underground and other loud urban environments - and Audio Upscaler, which is supposed to replace the higher frequencies that get chucked in the bin when audio files are compressed. It should make the sound a little brighter, though we were never able to tell if it was turned off or on without looking.
Of more use are the 13 pre-set DNSe 3.0 (Digital Natural Sound engine) equaliser settings that include Café and Church alongside the more usual Jazz, Rock, Pop etc. If you like to tinker, you can also set and save three personal sound profiles. If you want to spend your time listening to your music rather than messing with menus, you can set the thing to Auto and have done.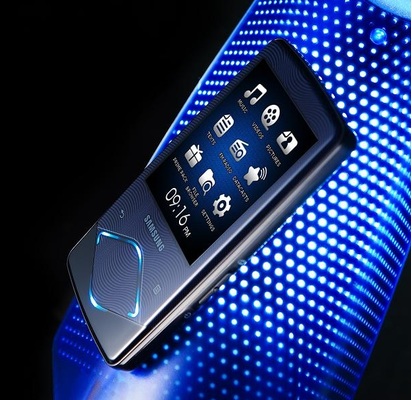 Sleek and svelte
Switching Street Mode and Upscaler off and setting the DNSe to Auto, we ran through several of our current favourite albums. At the end of it all, we don't have a bad word to say about the Q1's music reproduction. Bass was solid, stereo separation excellent, and the sense of space and definition without fault. OK, there was no way we could find of making the gaps between the tracks in Otello vanish, but if you want gapless album playback you've probably already bought an iPod.
Video playback is above par for what is essentially a music-orientated player with a 320 x 240 screen. We watched an hour-long BBC Four documentary about Russian conductor Valery Gergiev – downloaded as a DRM-protected WMV file from iPlayer – without any problems. Video playback was smooth, colourful and well defined, while the sound – which included large chunks of Stravinsky's The Rite of Spring - was full and balanced.
Samsung claims a full charge is good for 30 hours of music playback or four of video. We found both those numbers a little optimistic, only managing 26 and three-and-a-quarter, respectively.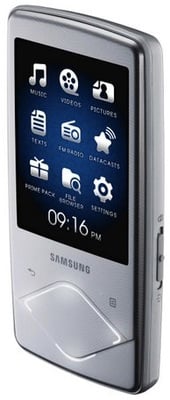 Nicely priced
Since Samsung doesn't issue RRP's we took a quick look on the net and found the 4GB player for a reasonable £50, the 8GB for £70 and the 16GB for £100. Good value in a world were Apple wants £109 for an 8GB iPod Nano.
Verdict
The Q1 continues the Samsung tradition of turning out MP3 players that produce a really top-notch sound. This really is one of the best-sounding players about, at least once you've bought a decent pair of earphones. Unfortunately, far too much attention has been given to appearance and aesthetics and not enough to the mundane matter of functionality. The Q1 looks lovely but can be a bit of a pain to use on a day-to-day basis.
More MP3 players...
| | | | |
| --- | --- | --- | --- |
| Sony Walkman E | iPod Nano | Creative Zen Mosaic | Sansa Clip |