Original URL: https://www.theregister.co.uk/2008/11/25/fedora_10_review/
Rock-solid Fedora 10 brings salvation to Ubuntu weary
Next RHEL looking good
Posted in The Channel, 25th November 2008 15:02 GMT
Review Fedora might not be getting a complete makeover or flashy new features in version 10, out today, but some welcome enhancements under-the-hood make this a worthwhile upgrade.
If you've never given Fedora a try, now is a great time. The tenth revision slick and stable and it has a rock solid feel to it that, for our money, trumps even Ubuntu's latest release.
Fedora 10 has many of the features we loved in Ubuntu - the latest version of GNOME and the new NetworkManager utility, for instance. As a bonus you also get the always excellent RPM package system, the new Empathy instant messenger framework, PackageKit and host of other Fedora-specific tools.
Something for everyone
For long-time Fedora fans, two noteworthy changes in this releaseshould be welcome news. The first is the new "glitch-free" version of PulseAudio, the underlying audio system in Fedora. So what is this glitch-free version of PulseAudio? The details are quite complex, but essentially what you'll notice is better, smoother sound output.
PulseAudio itself is not new and offers a number of advantages over other audio subsystems. Unfortunately, the version that shipped with Fedora 9, which we a reviewed earlier this year, had some performance and reliability issues. The new version is designed to solve those problems and also improves PulseAudio's integration with other system tools and applications.
The glitch-free part refers to the timer-based scheduling system that, according to its creators, minimizes latency problems, reduces dropped audio, and also uses a bit less power to run.
The most obvious thing you'll notice in version 10 is how much faster and smoother Fedora boots than before. This is thanks to several things, notably the new Plymouth graphical boot tool (which replaces the old Red Hat graphical boot - RHGB) and the new flicker-free X server.
The absence of a flicker between when the boot screen exists and X loads is the result of Fedora's decision to move X from virtual terminal seven to virtual terminal one. It sounds like a small, unimportant change, but the results are worth it our opinion. There are those, however, that think the performance gain isn't worth deviating from how the rest of the Linux world does things. But so far as we can tell there aren't any major consequences to doing things differently and the results - faster boots and very solid feel for Fedora 10 - seem worth it.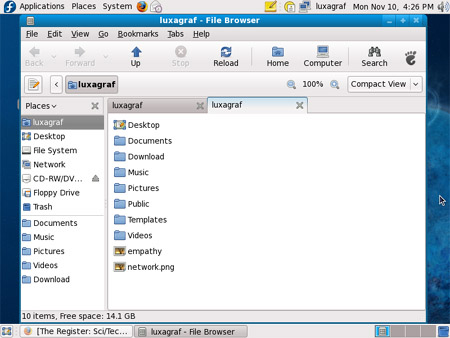 A minimalist and classy desktop with Fedora 10
Most Linux users we know tend to customize their desktops to suit their whims, but those that don't will notice the Fedora has a very nice new Echo icon theme (in the GNOME version of Fedora anyway).
Echo works well with Fedora's overall default look - minimalist and, dare we say, classy. Of course if you're a custom theme fan the new icons probably won't be around for long.
As for our experience with Fedora 10, we tested the first release candidate and found it remarkably stable and solid, which boded well for the final product.
We opted to use a live CD install and the process was perhaps slightly longer than Ubuntu's, but certainly every bit as easy. Even Linux newcomers should have any trouble getting Fedora 10 installed and running.
Once installed, we booted into GNOME where, as always, Fedora opts for a more minimal package collection than most other distros. We prefer it this way since a fresh Ubuntu install generally requires about 20 minutes of package deleting before we feel at home. With Fedora's approach you can simply head to the RPMs and install what you'd like.
The Package Collection
That said, there are obviously some familiar defaults - this version of Fedora ships with GNOME 2.24, which includes notable improvements such as tabbed file browser windows, some updated panels and other changes.
If you've been following GNOME development you'll know that the latest version features a new instant messaging framework by the name of Empathy. While Ubuntu chose to skip on Empathy, Fedora has taken the plunge to include it in this release.
Overall Empathy works quite well. It's a bit of a change if you're used to Pidgin, the old GNOME standby, but Empathy gets the job done. The only quirk we encountered was that, out of the box, Empathy didn't seem to like IRC. Installing the telepathy-idle package solved the issue.
Other system utility updates include the new NetworkManager that we saw in Ubuntu. As in Ubuntu, Fedora now allows you to manage all your network connections - wired, wireless and 3G from a single panel. It's very slick and, for the record, most of the work comes upstream from the Fedora team, not the Ubuntu devs.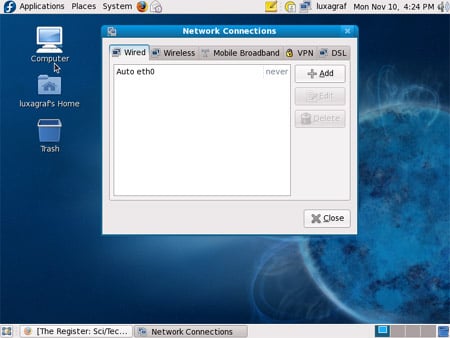 Manage all your network connections from one location
As with its predecessor, Fedora 10 features PackageKit with its very nice on-demand software for default apps. PackageKit makes Linux a bit more user-friendly. For example, if you download a PDF file, but don't have a PDF viewer installed, PackageKit notices that and offers to install the software you need. It makes for a much smoother Linux experience.
Of course PackageKit really only works for files that have a Linux-compatible app available - download a .flv movie and PackageKit will ignore it.
Speaking of proprietary things like Flash files, Fedora 10 includes the latest stable version of X.Org, which means no more support for proprietary nVidia drivers. The free driver will work for those systems, but you'll lose 3-D support, which is a shame.
As for the applications, Fedora includes Firefox 3.0, the latest release of OpenOffice - also version 3.0 - Rhythmbox and a few of the other GNOME usual suspects like GIMP. Other GNOME favorites like the F-Spot photo manager will need to be installed through the repositories.
Fast relief
Fedora 10 is plenty snappy, performance-wise, though of course the speed will vary greatly according to your PC's specs. We installed Fedora on an older machine with 1GB of RAM and found it to be on par with the new Ubuntu 8.10 in terms of speed.
But Fedora beats Ubuntu in some less easily described ways - something about Fedora 10 just feels very solid in a way that other distros don't. Despite being a preview release we didn't encounter any bugs, glitches or crashes.
We recommend Fedora 10 to anyone using version nine, and we also think it could be a nice alternative for those growing tired of Ubuntu or just looking to play around with a new Linux distro.
And of course Fedora isn't just a community project, it's also an incubator and testing ground for Red Hat's Enterprise Linux. While RHEL recently put out a beta version of 5.3, the next major release is slated to arrive in early 2010, after the features in Fedora have had a chance to iron out the kinks.
If Fedora 10 is any indicator, there shouldn't be too many to find. The latest release is fast, stable and definitely worth the upgrade. ®