Original URL: http://www.theregister.co.uk/2008/11/24/review_video_glasses_vuzix_av320_x/
Vuzix iWear AV230 XL video glasses
Give your iPod or games console specs appeal
Posted in Personal Tech, 24th November 2008 09:02 GMT
Review Today, we're looking at - literally - the Vuzix AV230 XL headset, a set of video specs that create a picture that's the equivalent of a 44in screen 2.7m away. Yet the goggles are small and light enough they'll slip into your pocket, begging the question – is that a 44in telly in your pocket, or are you just pleased to see me?
Vuzix develops eye wear for the military, so it should know what it's about. Making decent video specs means more than just working on the displays - it's the optics and the casing surrounding it all too. Vuzix likes to feel it has all the pieces to complete the puzzle.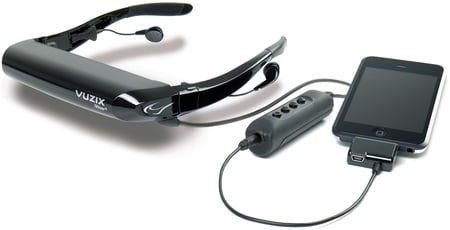 Vuzix's AV230 XL: military-grade tech?
The AV230 XL is the company's most basic model. The £130 unit uses two 320 x 240 OLED displays, one for each eye, with independent focus, should you have less than perfect vision.
Included with the glasses, is a carry bag, plus cables for the Nokia N95 and N96, iPod and a generic composite-video and audio input - yellow, red and white RCA jacks. The glasses themselves only support a composite-video source, so you get all the associated issues that you are used to seeing with TV-out from computers: blurry text, ill defined edges, poor colours and colour-bleeding.
We did most of our testing using an N95, and we even had issues with flickering and poor colour saturation, but we consider this to be mostly down to the N95 itself as other devices didn't show this problem to anywhere near the same extent.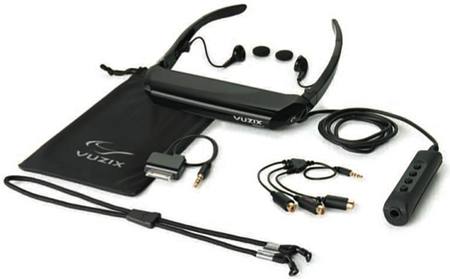 Plenty of bits in the box
One of the great aspects of using OLED displays is that the power consumption is really low. The AV230 XL runs off a single AA battery, and using the included alkaline battery you'll get up to seven hours of playback, Vuzix claims. Stick a Lithium Ion rechargeable battery in there and you can expect more like 17 hours. That's not bad at all, and using a standard like AA means it pretty easy to swap single-use batteries out for rechargeables, or buy them whilst out and about.
Earphones are included, but they aren't anything special. Each bud plugs into the arms of the glasses using a two-pin connector, so removing them is simple, if you find you don't use them. This is where our first complaint lies: the supplied N95 cable uses the phone's 3.5mm jack, so you have no choice but to use the supplied earphones. Vuzix should have built a 3.5mm jack into the AV230 XL's controller box.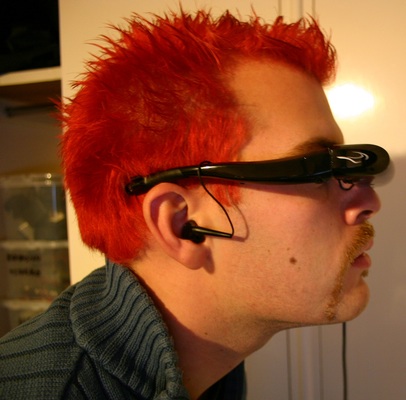 Colour bleed can be a problem...
You'd maybe expect such a cool device to be more complex, but once you've plugged the cables in and adjusted the focus to your eyes - which you only need to do once - you're ready to start enjoying video. The arms are on double hinges allowing for up to 15° of movement up and down to help you find the most comfortable position.
That's really where these video specs shine – comfort. They are perhaps a little odd to get used to, especially if you're not used to wearing glasses, but it's more the comfort of the rest of your body. You're not being forced to hold a 2.5in screen to your face, or stare down at an awkward angle to your netbook screen and give yourself neck ache – you position yourself where you want and the screen is always there for you. Inside the home, this works very well for watching videos in bed, or if you're a console gamer, you can be lying down on the sofa giving your back plenty of support.
Looking through the glasses is surprisingly natural. Rather than completely engulfing your vision, it has the effect of a physical TV floating at what appears to be a couple of metres in front of you. It really is like a portable TV screen – albeit at a lower resolution.
However, perhaps due to the OLED technology in use, a slight movement of your head gave a certain amount of multi-coloured distortion that was really noticeable, even for the slightest of movements. After a while, you do mentally block it out, but don't expect perfection.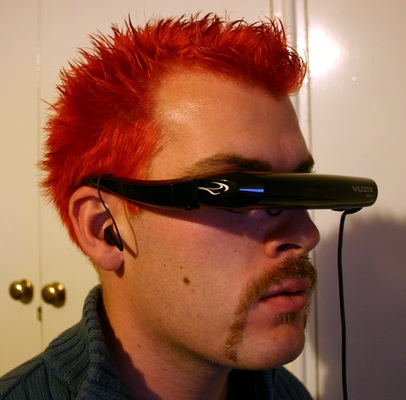 Watchoo lookin' at?
Speaking of movement, when you look at a normal TV screen, you naturally move your head around, or even tilt it and your brain will compensate well. That's why we can watch TV at 90° or even 180°. With the Vuzix eye wear, it's a different experienced that takes a little mental adjustment, as every time you move your head it moves with it - of course - even though you naturally expect it to stay in the same place.
The quality of the screen is still pretty good, but it feels more like you're watching an old CRT display, rather than a shiny new plasma. Because of the sheer size of what you're viewing, you very quickly start to notice issues with quality in the encoding. Anyone who has ever watched a DVD rip on a data projector, will know what we're talking about.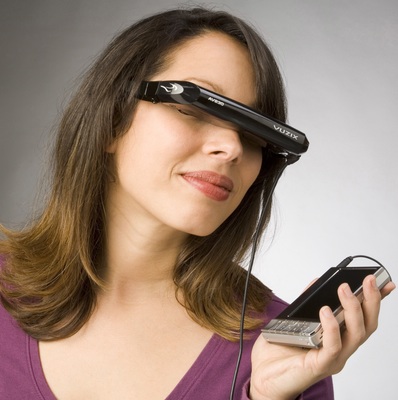 The Nana Mouskouri revival starts here
As an optional extra, you can buy a rubber eye shield, that blocks out all external light for that fully immersed experience. Without this, it's quite possible to have a notebook on your lap and peer down and type, so you can happily watch a film and use instant messaging clients at the same time.
Looking up isn't quite as easy, which can be annoying if, say, you're on a train and you want to check what station is coming up next – you have no choice but to dislodge the glasses, which can be annoying if you have found that comfort sweet spot.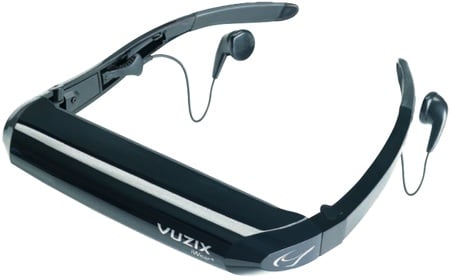 The earbuds can be removed
Using these at the gym was made impractical, partly due to this accentuated movement, but also due to them slowly moving down your nose during exercise. We also wouldn't advise their use for driving, walking or operating heavy machinery.
Verdict
It's easy to brush these off as a gimmick, but for £130 they offer a lot of value that any commuter or flat-sharer will enjoy. The low resolution isn't as detrimental as you might think, but you can always spring for one of the better models if you want a higher one. The distortion and composite-only input is disappointing, but the Vuzix AV230 XL set is well worthy of consideration for your Christmas stocking.