Original URL: https://www.theregister.co.uk/2008/11/24/review_desktop_pc_shuttle_sg45h7/
Shuttle SG45H7
Fly me to the moon
Posted in Personal Tech, 24th November 2008 13:02 GMT
Review In appearance, the Shuttle SG45H7 is very similar to the SN68PTG6 that we reviewed earlier this year. But, under the skin, it could hardly be more different.
The SN68PTG6 supports an AMD processor with an Nvidia chipset and graphics, while the new model is Intel all the way. The CPU socket is LGA775 for Core 2 Duo or Quad, or, should you prefer, an older Pentium D. The chipset is Intel's G45, which uses a GMA X4500HD integrated graphics core.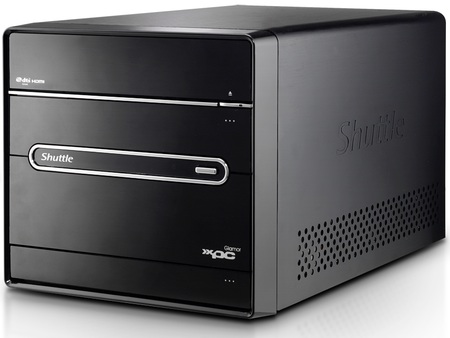 Shuttle's SG45H7 barebones: Intel all the way
This is a revision of the DirectX 10 GMA X3500 core from G35 chipset with a 65nm die shrink and an increase in unified shader count from eight to ten. The X4500 core has an HD suffix to reflect the improved high-def support in G45. Specifically, Intel has added Motion Compensation and Inverse Transform for the H.264 codec, as G35 already included these features for the VC1 and MPEG 2 video encoding technologies. The new part also gains Variable Length Decode support for all three codecs along with some post-processing features.
Intel previously supported HDMI with SDVO (Serial Digital Video Out) connection, which is based on PCI Express (PCIe), but the G45 now has integrated support for DisplayPort and HDMI. The chipset is capable of handling two digital outputs, but the Shuttle has a VGA port and a single HDMI port - there's an HDMI-to-DVI adapter in the box. During our testing we found that the analogue VGA output was indistinct and blurred so we stuck to the digital connection, which was crystal clear.
The layout of the SG45H7 is instantly familiar from previous models. Indeed, the photo of the ports and connectors on the back of the Shuttle is actually from the SN68PTG6 as it looks identical to the SG45H7. A flap on the front of the Shuttle conceals jacks for a headset, two USB ports and one eSATA connector.
The main cover is retained by two thumbscrews, and the drive bay is fixed with two more. Once that's out of the way you have full access to the innards of the barebones and it is quite simple to install your processor, memory and drives in less than 15 minutes.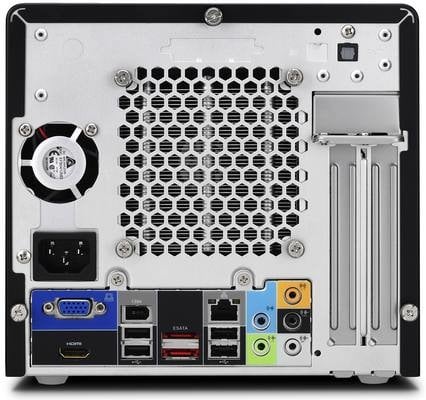 Same port array as the SN68PTG6
Perhaps you should allow a couple of extra minutes if you choose to install a graphics card as this can get a bit fiddly. The tiny power supply includes a six-pin PCIe connector so you have plenty of scope for adding a graphics card. But it's easy to get into a vicious cycle of heat, cooling and noise if you get too ambitious.
In the Bios settings, you can configure the cooling fan in the ICE (Integrated Cooling Engine) to run in either Manual or Auto mode. In Auto mode there are five further options: Smart Fan (variable speed), Ultra-low (1400rpm), Low (2100rpm), Mid (3400rpm) and Full (3800rpm). We left the system on the default setting of Auto mode with Smart Fan enabled and it kept our 3.16GHz Core 2 Duo E8500 under control with barely a whisper of noise.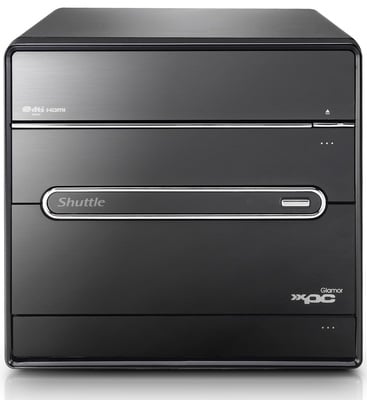 Barely a whisper of noise... with the right fan setting
We tried all the settings and found that Mid speed is noisy while Full speed is positively deafening. Should you have a penchant for a quad-core processor and a desire for a gaming graphics card then you may well have to crank up the cooling. In addition, you have to make an allowance for the chipset cooler fan, which runs at a steady 3800rpm. Though reasonably quiet, it's nonetheless still audible.
The most annoying noise during our testing came not from the cooling fans but from the Western Digital 1TB Caviar Black hard drive. This WD drive isn't especially quiet at the best of times but neither is it rackety, so we feel that the design of the Shuttle drive bay could be improved to dampen vibration.
Clearly this sort of concern will cease to be an issue when we use SSD technology but the time when prices drop to an acceptable level is surely still a few years away.
Once we had installed Windows Vista we found that the driver DVD is a touch on the clunky side as there is no all-in-one installer, forcing us to install drivers individually.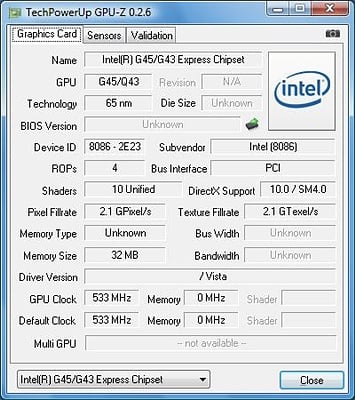 We noted that the Intel VGA driver on the DVD is version 15.9.8.1518 which is dated July 2008, so we also used the latest driver, 15.11.4.1591, in our testing. However, the change made no apparent difference but one. With the older driver, we were able to leave the Bios on its default setting, with 64MB of memory reserved for the graphics, but the later driver seemed happier on the maximum setting of 128MB.
PCMark05 Results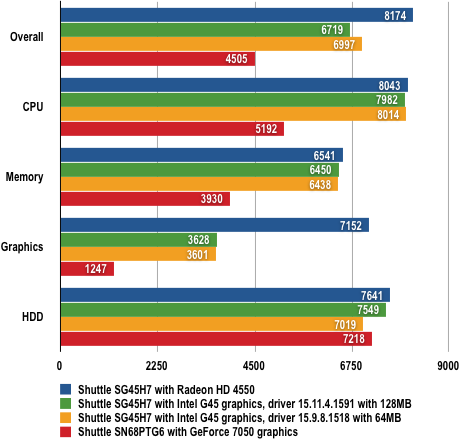 Longer bars are better
3DMark06 Results

Longer bars are better
Blu-ray Playback CPU Loading

Percentage CPU utilisation
Throughout our testing, we found the Intel chipset and graphics delivered the goods in almost every department, and there is no doubt in our mind that the GMA X4500HD is the best Intel graphics core by a considerable margin. During Blu-ray playback, our E8500 processor ran at a steady 20 per cent load which is low. However, when we installed an AMD ATI Radeon HD 4550 graphics card the CPU load dropped to five per cent.
Power Draw Results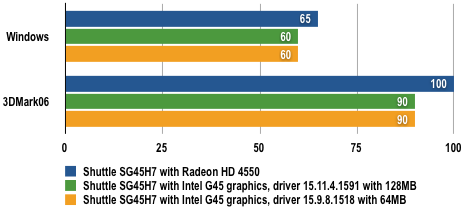 Power Draw in Watts (W)
We have a fundamental issue with the G45 chipset - and also with Nvidia's GeForce 9300, which has very similar performance. Although graphics performance is considerably improved, it still isn't up to the job of playing a game that is more advanced than Sims 2 as we found when we played Far Cry 2. On the default settings of 1440 x 900, DX10 and High Quality, the frame rate was an appalling 3f/s - although, at 16f/s, the Radeon HD 4550 wasn't much better.
Lowering the resolution to 1024 x 768 raised the frame rate to 4f/s - 21f/s with the Radeon - and switching to DirectX 9 settings raised the frame rate to 8f/s and 26f/s, respectively.
'But hang on,' we hear you cry, 'we Blu-ray aficionados don't care about games.'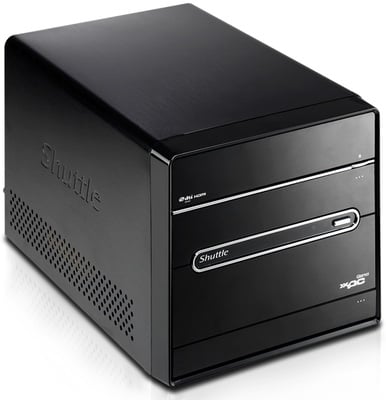 Media centre perfection?
That's fair comment, but you're paying a steep list price of £329 for the SG45H7 and for that sort of money we expect it to be capable of every task under the sun. We found the Shuttle on sale online for a little as £307, but that still seems like a high price to pay for a system that requires a CPU, memory, hard drive, DVD drive and operating system.
The problem is that you can buy a Radeon HD 4550 or 4650 for a mere £45. Either of these will transform any media centre PC, so while we admire the Intel G45 graphics in this model we have no interest in paying for them.
Verdict
Intel's GMA X4500HD graphics core delivers impressive multimedia playback, but Shuttle is asking far too much for this barebones.