Original URL: https://www.theregister.co.uk/2008/11/24/apple_report_card_part_two/
The Apple Armada - Still worthy of the Jolly Roger?
Steve gets his F
Posted in The Channel, 24th November 2008 23:00 GMT
Mac Report Card, Part Two In August 1983, Steve Capps of Apple's original Macintosh Division famously hoisted a pirate flag over his team's Cupertino building to embody Steve Jobs's dictum that "It's better to be a pirate than join the navy." From that day forward, members of the Mac community have been a little feistier, a little more insular, a little more picky, and a little more self-righteous than other computer users.
Five months after the flag went up, Jobs, Capps, and Co. unleashed the first Macintosh with that iconic "1984" Super Bowl ad, and after 25 years, their symbol of rule-breaking innovation is still on the market. The question is whether Apple is still the pirate it once was.
Last week, in honor of the Mac's upcoming quarter century anniversary, we unloaded Part One of our Apple Report Card, grading the company/cult on everything from sales to CEOs. Now, we give you Part Two, which dares to ask if today's Apple is just another money-hungry tech biz. How does it score on innovation? The environment? Corporate philanthropy?
Image is Everything
Over the last quarter century, books like The Cult of Mac and magazines like MacAddict spoke to Mac users' often-defensive fanaticism, and websites such as Mac Rumors, Apple Insider, SpyMac, LoopRumors, and Think Secret have reported, analyzed, and argued about even the smallest product gossip. Your Mac was your membership into an exclusive club that had its own rules, quests, and secret passwords. If you know that Clarus says "Moof!," you know what we mean. If you don't, well, fuggedaboutit.
Being a member of the Mac gang also meant defending your turf. The Ford versus Chevy arguments of the 50s and 60s were small potatoes compared to the Mac versus PC bickering of the 80s and 90s. Web discussion groups and user forums bristled with invective and trash talk. It was Sunnis versus Shi'ites sans IEDs and mortar rounds - with the Linux-using Kurds keeping a safe and peaceful distance.
But those scrappy days are drawing to a close. To be sure, Apple's current "Get a Mac" ad campaign produced by TBWA's Media Arts Lab plays on the old antagonism, but scruffy-but-adorable Justin Long as "Mac" and cuddly John Hodgman as "PC" are to the Mac/PC wars what Hogan and Klink were to World War II.
The platform wars are over. Windows won the office and the gamer's garret, and the Mac won the home and the content-creator's studio. Sure, there are plenty of infiltrations by one platform into the other's territory and plenty of scuffles on the borders, but the Balkans remained unsettled after WWII too.
Think Different
Apple's image as the rule-breaking innovator has also mutated. Between 1995 and 2000, for example, TBWA produced a series of ads exhorting us all to "Think Different," extolling "The misfits. The rebels. The troublemakers. The round pegs in the square holes. The ones who see things differently." If we proved our different thinking by buying a Mac, we could count ourselves among the "rebels" featured in these ads, such as Muhammad Ali, Bob Dylan, Amelia Earhart, Albert Einstein, Pablo Picasso, and many more. Since the days when those ads filled the airwaves and covered billboards around the world, the ubiquity of the iPod and the pervasive impact of Apple's design ethos have made any defense based on "difference" an absurdity.

Dare to be ungrammatical
But the change in Apple's "innovator" status is based on more than mere image. The company's pace of innovation has slowed in recent years. Recount the technologies that Apple either pioneered or brought to a mass market in its earlier years: the mouse, the 3.5-inch floppy, the graphical user interface, networkability as standard equipment, the all-in-one PC, WYSIWYG laser printing, CD drives in every model line, the PDA (Newton MessagePad), on-board digital audio, USB, wireless LANs, FireWire - the list goes on.
Around the turn of the century, however, Apple took a step back from its pioneer role and instead began to create products notable less for their unique capabilities than for being refinements of technologies first introduced by others. The iPod, for example, was preceded by many a pocketable MP3 player. The iSight by many a webcam. The iPhone by many a smartphone. Innovation remained in the details, but faded from core capabilities.
What's more, today's Apple isn't adopting cutting-edge technologies that are ready and waiting for it. For example, it's ignoring Intel's Turbo Memory with User Pinning, which supplements your hard drive with a good-sized chunk of flash memory and allows you to create and choose different sets of applications and data that you want to reside in that fast-access cache. And where's Blu-Ray? Not available on the Mac. How about eSATA? Nope. You get the idea.
It appears that Apple's modus operandi is shifting to one oft expressed by Paul Mandel, president of the erstwhile Mac-centric storage and clone vendor, APS: "Pioneers get the arrows. Settlers get the land."
Innovation: B
It's Not Easy Being Green
In October 2003, Greenpeace asked Apple for information about the company's use of toxic chemicals in its products and manufacturing processes. Apple didn't reply. It wasn't until August of 2004 that Apple and Greenpeace had their first meeting on Apple's chemicals policy.
Judging from that meeting's results - or, rather, the lack of results - the two sides were about as compatible as Joe the Plumber and Barack Obama. Steve Jobs's reported suggestion to Greenpeace protesters at Macworld Expo that they "get out of the computer business [and] go save some whales" was only marginally less tacky than the aforementioned Plumber's crack that Barack Obama "tap dance[d]...almost as good as Sammy Davis Jr."
More attempts at a meeting of the minds followed, but when Greenpeace introduced its first Guide to Greener Electronics ratings in August 2006, Apple garnered a dismal 2.7-out-of-10 rating, ranking it fourth from the bottom of 14 electronics companies.
Fast forward to October 14, 2008, when Apple introduced its new MacBook and MacBook Pro lines. Both not only earned the highest Electronic Product Environmental Assessment Tool (EPEAT) rating, Gold, but they also received praise from a Greenpeace spokesperson who was quoted by CNetas saying, "This is greener than what Apple has been putting out. It's welcome news and it is also in line with their commitment to phase out all PVC and BFRs from all their products by the end of the year."
That same day, Jobs released his "Apple 2008 Environmental Update." In response, Wood Turner, whose Climate Counts organization earlier this year ranked Apple dead last among a dozen top electronic companies in efforts to fight climate change, told The Reg: "Apple's long-awaited 2008 environmental update is a hopeful sign that the company may be poised to take a leadership role in the climate crisis. At ClimateCounts.org, we're glad to see the company finally coupling product innovation with substantive companywide action."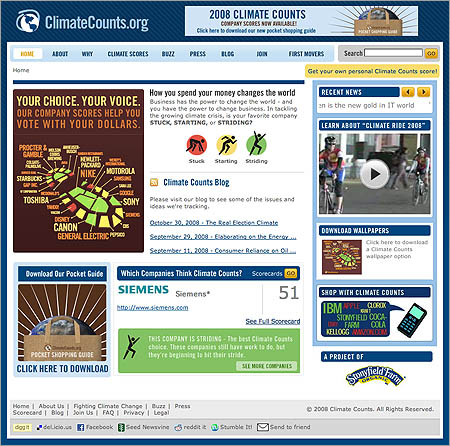 ClimateCounts.org
Forget the Tampa Bay Rays - Apple has engineered an even more impressive "worst to first" turnaround in regard to its environmental efforts. It's done so by focusing on four different areas:
Reducing its carbon footprint by studying and implementing improvements "from the earliest stages of product design through manufacturing to customer use and recycling," including publishing product line-specific environmental reports, available here .
Designing products to be constructed of non-toxic, environmentally friendly materials. With the help of its suppliers, Apple has already eliminated a host of heinous toxins such as lead and polychlorinated biphenyls (PCBs), and it's working to phase out the last nasty traces of polyvinyl chloride (PVC), brominated flame retardants (BFRs), and mercury. As a result, there may be fewer mutant ninja turtles, but we can live with that.
Reducing the power consumption of its product line by switching to such energy-saving technologies as LED-lit displays. Intel's fanatical effort to squeeze every watt until it cries "Uncle!" is helping in this effort, as well, along with the energy saved by creating smaller, lighter, smarter packaging.
Improving its recycling efforts - or, to use the latest industry buzzphrase, their "take-back programs." Apple now issues free shipping labels or packaging to recycle your old iPod or any manufacturer's cell phone (see here for details). They'll also recycle your old computer and display when you buy a new Mac, and its retail stores will cut you a 10 per cent discount on a new iPod if you bring in your old one for recycling.
One admittedly cynical caveat: You'll notice that many of Apple's discussions of its environmental efforts use squishy modifiers such as "studying," "working to...," "phasing out," and "improving." Nonetheless, although Apple hasn't gone fully green, the company's leadership appears to be taking environmental issues and global climate change seriously.
Environmental Efforts: A
Brother, Can You Spare a Dime?
Corporations provide financial support to their communities because they believe that doing so is both practical and altruistic. But apparently, Apple disagrees.
On the practical side, a company needs to attract the best employees possible, and top-notch prospects don't care to relocate in cultural, educational, or health-care backwaters. A smart company invests in ensuring that the home town of its home base remains enticing.
Another practical reason is what people in the fundraising biz call "cause-related marketing." If Kraft Foods visibly funds the atrium of the American Museum of Processed Cheese, Kraft will sell more Velveeta.
And although it may be hard to believe in these avaricious times, some corporations - or, at least, their leadership cadres - are simply altruistic folks who believe that it's the duty of the rich few to help the not-so-rich many. Andrew Carnegie built libraries. Bill Gates fights poverty and disease.
What about Apple? Well, divining the intent and extent of Apple's corporate philanthropy is no easy task. Unlike, say, HP and IBM, Apple's website is devoid of information about the company's philanthropic programs. And our repeated attempts to obtain information from Apple spokesfolks about the company's philanthropic policies and activities were unsuccessful.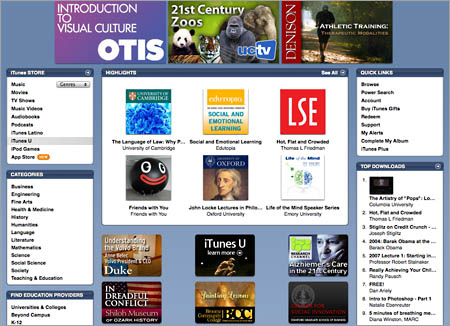 iTunes U: Is it enough?
So we went digging. We started with the San Francisco Business Times' annual Book of Lists, which tracks the "Top Corporate Philanthropists in the Greater Bay Area." The Greater Bay Area includes Apple's home town of Cupertino, but Apple is conspicuously absent from the list for three years running.
By comparison, the list's number-three donor is Intel, which gave $10,006,961 in the Bay Area ($1,491 per Bay Area employee) and $79,443,226 worldwide. Even Microsoft, which has its headquarters 800 miles north in Redmond WA gave $1,779,200 in the Bay Area ($1,288 per Bay Area employee) and $65,000,000 worldwide - a figure that doesn't include Bill's Gates Foundation.
Apple's Shame
Well, we thought, maybe Apple's just shy and would prefer to shun the limelight of recognition. So we talked with the San Francisco Business Times researcher who compiled the list, and he said that, yes, he had asked Apple for information about their charitable contributions, but no, they didn't supply any.
Fair enough, that's their right - but if Apple declined to list their philanthropic info in the Book of Lists, perhaps their largess would show up in the annual reports of local institutions that they'd naturally be expected to support. So we perused the donor rolls of The Tech Museum of Innovation in San Jose, which lists Microsoft, Intel, and Adobe as among its donors in the $100,000 to $249,999 category. Apple was nowhere to be found, and no corporate donors were listed as Anonymous.
Mountain View's smaller Computer History Museum includes HP, IBM, and NVIDIA among its $50,000 donors; Apple's not on their list either. Okay, so maybe Apple doesn't give cash. How about in-kind support, meaning hardware or software? Nope. Neither museum lists any help from Apple whatsoever.
Well, maybe Apple simply prefers to remain so anonymous that it doesn't even want to be listed as Anonymous. Could happen. But, if so, the top fundraising professionals of the Bay Area would still know of their good works. So we tracked down ten of the area's best-connected charitable consultants and asked what they knew of Apple's corporate philanthropy.
The answers ranged from "I've never heard of any cash grants" to "It's honestly something many folks in Silicon Valley ponder" to "Steve Jobs definitely does not have a reputation as being a philanthropist." None of these elymosenary experts had any knowledge of any financial support from Apple to any Bay Area institutions.
Since then, Apple has made a $100,000 political (as opposed to philanthropic) donation to fight Prop 8, the California constitution amendment that (successfully) sought to end gay marriage in the state. So maybe things are turning around. And to be scrupulously fair, some of the fundraising professionals we contacted spoke anecdotally of individual Apple-equipment donations to schools (though they didn't cite any specifics, just that they had "heard of" them).
Apple also sponsors a handful of education-related events such as student film festivals, and the company's education-support efforts such as the Apple Learning Interchange and the marvelous free iTunes U are laudable. And then there's Apple's participation in (PRODUCT) RED, which donates a portion of the proceeds from special edition iPods and gift cards to the Global Fund to fight AIDS in Africa - but Apple wouldn't tell The Reg how much it has contributed to that effort.
But unless Apple is unusually modest about good works, its philanthropic activities have been almost non-existent. For a company with $25 billion cash in the bank, that's nothing less than shameful.
Corporate Philanthropy: F
Rik Myslewski is the former editor in chief of MacAddict and former executive editor of MacUser. He joins The Reg full-time on December 1.
Coming Soon: Part Three - The Products