Original URL: http://www.theregister.co.uk/2008/11/22/review_mobile_phone_nokia_5320_xpressmusic/
Nokia 5320 XpressMusic mobile phone
Turn on, tune in... and your calls won't drop out
Posted in Personal Tech, 22nd November 2008 09:02 GMT
Review Nokia has cranked up the volume of its mobile music message recently with the debut of its Comes With Music download service and the unveiling of its touchscreen 5800 XpressMusic handset.
At the same time, Nokia has also been reinforcing its band of XpressMusic devices with the release of some tidy if relatively low-key music-majoring handsets. Step up, the Nokia 5320 XpressMusic, the smarter brother to the asymmetrically-aligned 5220 XpressMusic.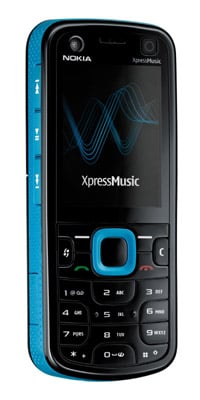 Nokia's 5320 XpressMusic: MoR rather than Alternative
The 5320 is more middle-of-the-road sized and less angular than the skinny-bodied 5220, but its conventionally-shaped bodywork has a typically eye-catching XpressMusic paint job – glossy black with electric blue or red side panels and detailing – and dedicated music player buttons are lined up on the side in familiar XpressMusic style.
Music player performance is naturally at the core of this phone's appeal, but this particular XpressMusic mobile has a bit more below the surface than simply a decent audio chip and music software. It's built on the Symbian S60 smartphone platfor, giving it a good base of pre-loaded applications and scope for adding a whole bunch more. It's one of Nokia's more affordable S60 handsets, too, as Nokia continues to spread smartphone functionality lower down its range.
With smartphone gadgetry comes HSDPA high-speed data connectivity, providing fast 3G links for browsing, downloading, streaming, and for the web-based applications Nokia has squeezed in. Alas, there's no Wi-Fi to go with it, reflecting the more cost-conscious construction of this handset. Nokia's Music Store track download service is available on this handset, although initially at least, this isn't one of Nokia's Comes With Music-sporting devices.
There is a touch of musical novelty introduced here though. Nokia has included a "Say and Play" option, a piece of voice-control tech that enables you to call up a song by pressing a button and saying its title, or the name of an artist, album or playlist.
The 5320 XpressMusic is no stand-out looker. Its 108 x 46 x 15mm dimensions and 90g weight gives it an average candybar appearance, while the glossy black face and keypad are plasticky and a bit downmarket. As glossy plastic tends to be, it's also a smudge-magnet.
Adding a hint more variety to the design, the numberpad buttons are moulded within an elliptical pattern with certain keys separate and others joined. But it's OK for texting and number-punching.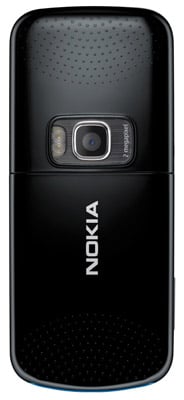 Smudge magnet
More awkward is the cramped control-key arrangement around the navpad. The smooth, glossy panel has minimal surface delineation, so the oddly shaped soft-menu keys are squashed in and can be fiddly to press, particularly if you're short of nails. You have to be equally precise pressing the similarly shaped Call and End key, which can be tricky in low-light situations.
The display is average for Nokia's lower middle-class phones: a 2in, 240 x 320, 16m-colour screen. It's clear and bright and does its job adequately, though a larger one would've been much better for making the most of the phone's multimedia and gaming capabilities.
Above the display, across from the video-call camera, sits a small button that's the key for activating Say and Play. Press and hold it, and you're asked on screen to say the name. With a short press, the same button can also be used to activate a shortcut for one user-defined app or function.
It's a responsive handset. Applications open quickly and the phone can keep multiple open apps without it visibly impeding performance. So you can listen to the music player, for instance, while playing N-Gage games, browsing or downloading content.
Any XpressMusic phone buyer is going to zero straight in on the music player. Nokia hasn't introduced any radical user interface changes - you get a familiar list of track categories to browse through and select, and as usual playlists can be compiled, equaliser settings applied and cover art viewed. MP3, M4A, eAAC+, and WMA files are supported, and you can copy music from a PC using the supplied Nokia software, or sync tracks directly with Windows Media Player. You can use Bluetooth or USB - drag-and-dropping in mass-storage mode is another option.
The standard music player controls on the side work effectively, doing a similar control job to the navpad when the player is on screen, but also enabling you to operate the device while the player's on in the background, with track details shown in a small bar on screen.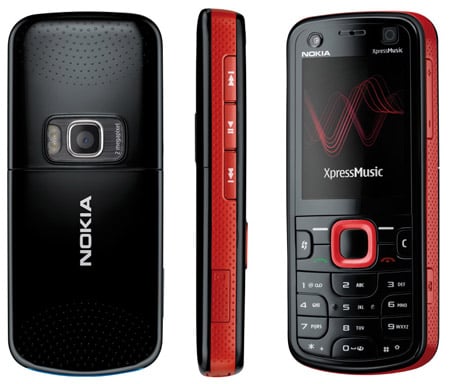 Effective music player controls
We found the Say and Play voice control option to be more a fun gimmick than a brilliant new way to select tracks. If it worked every time, it would be very impressive, but in practice it's hit and miss. It's clever when it works and recognises what track you've said – and is the kind of gadgetry you'll show off to friends – but we found that it played the right tunes only some of the time. The random nature of what it brought up had its own quirky appeal, though.
As we like to see on any aspiring music phone, the 5320 has a 3.5mm earphone socket. The music player is capable of an excellent, rich and detailed audio performance – though you'll need to add better quality earphones than those supplied to really appreciate it.
The boxed set are average-quality Nokia earphones: a two-piece set giving you the option of listening with a handsfree headset or just the cans. You can try Bluetooth stereo headphones too, or use the loudspeaker, which can be loud but is typically harsh on the ears. An FM radio is included too, which works well.
Nokia has linked this phone up to its Nokia Music Store, so you can download full tracks over the air - watch out for extra data costs though. The HSDPA connectivity - up to 3.6Mb/s - means songs or video clips can be received in just a few seconds. A podcasting application also enables you to search for, subscribe to, and download podcasts quickly over the air.
Nokia hasn't included a huge amount of on=board storage - 140MB of user memory. But it includes a 1GB Micro SD memory card in the box. High capacity Micro SDHC cards are supported too. Slip in a new card loaded with music, and the music player will quickly auto update the track listings with no fuss.
The 5320 may not be as slick as some touchscreen smartphones we could mention, but the S60 browsing experience is brisk and effective enough for a mid-tier mobile. You can get a sideways full-screen view - there's no accelerometer for auto-switching - page overviews, zoom options and a handy navigation toolbar to help you negotiate full websites. You can also subscribe to RSS feeds.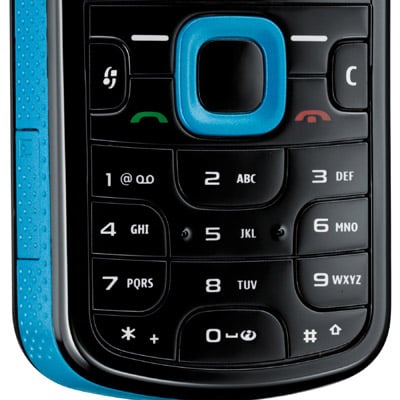 There's an eight-way control for gaming
Nokia hasn't paid the same attention to imaging here as it has to music. While the twin-LED flash on the outside is promising, the underwhelming two-megapixel camera is just a run-of-the-mill effort, with some standard-issue cameraphone settings adjustments for white balance, colour effects, multiple-shots and so on.
But there's no autofocus system, and image quality is unremarkable – shots taken in normal sunlight are soft, and colour rendition is lacklustre. Indoors, images are grainy and of generally poor quality. The flash does add some illumination in darker conditions, but doesn't improve quality in detail or colour.
Video shooting quality is distinctly limited too, capturing at maximum 320 x 240 (QVGA) resolution at 15f/s for typically ordinary phone footage. It's not all bad news on the video front: RealPlayer lets you watch video you've downloaded or copied onto the phone smoothly at good quality in full-screen mode - even if the display isn't that huge.
As well as the flexible eight-way navpad, several of the other buttons can be co-opted for the sophisticated N-Gage games you can download to the 5320. The gaming controls feel good to use and responsive in action.
Nokia Maps software is among the decent selection of other applications pre-loaded onto the 5320, but there's no built in GPS, so to get precise location finding functionality out of it you'll need to connect an optional Bluetooth GPS receiver. You can do location finding and route planning, however, with map data downloaded over the air.
Nokia has also included its web-based staples, Yahoo! Go and WidSets, which pull together a wide range of useful info, from email and news updates to content sharing and mapping.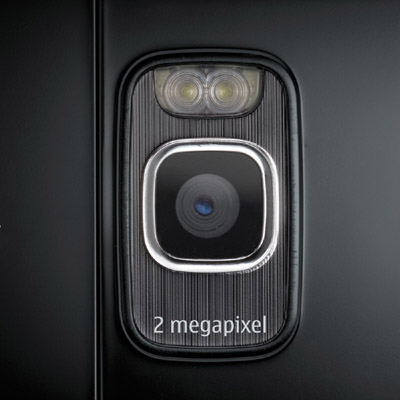 Imaging is not the XpressMusic's strong point
QuickOffice and PDF document readers can be used to view email attachments and documents copied over to the 5320. Calendar, calculator, notes, converter and dictionary/translation functions are included too, as is a voice recorder and message reader apps. With the flexibility of an S60 smartphone, plenty more software can be downloaded - Nokia's Download! tool enables you to browse what's on offer.
Nokia estimates that on standby the 5320 XpressMusic can run for up to 300 hours, or give up to 2.5 hours of talktime on 3G networks or up to 4 hours in GSM-only coverage. Nokia figures that you can get 24 hours of tune-playing using the music player alone, and up to 4.5 hours of gaming. With average amounts of calling and a little music playing we managed around two to three days between charges, which is reasonable.
It's a solid performer on the basics too. Voice calling can't be faulted, with clear audio and fine network handling for call connections, downloading and streaming.
Verdict
Currently the best-specified XpressMusic phone – at least until the 5800 arrives – the 5320 has a generous helping of features for a mid-priced handset. N-Gage gaming is likely to appeal to the target audience, and HSDPA makes this handset a lively online proposition. But music is the headline act, and when it comes to tune-playing this phone is capable of excellent audio performance.