Original URL: http://www.theregister.co.uk/2008/11/21/airship_ventures_names_zeppelin/
NASA celebrates return of the Zeppelin
Eureka! We'll call it...
Posted in Science, 21st November 2008 23:31 GMT
NASA got a great big balloon for the 75th anniversary of its iconic Moffett airfield in the heart of Silicon Valley.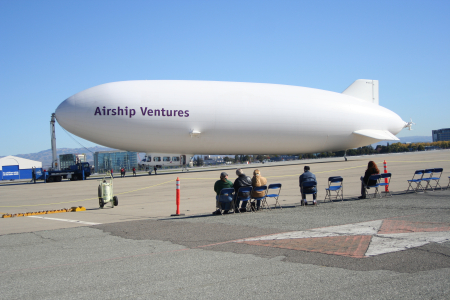 The space agency on Friday celebrated the landmark occasion with the dedication of the world's largest airship, a 246-foot Zeppelin owned by the private company Airship Ventures. The lighter-than-air craft now calls Moffett Field's enormous Hanger Two home, arriving roughly seven decades after the US Navy's Airship Macon was at the historic airfield.
At the event, Airship Ventures unveiled the craft's name, "Eureka," a nod to both California's state motto and the spirit of scientific pursuit. Eureka will be used to carry paying sightseers around the Bay Area - and occasionally operate as a floating platform for NASA research. [Ed: unless that's just lip-service like Google's Gulfstreams]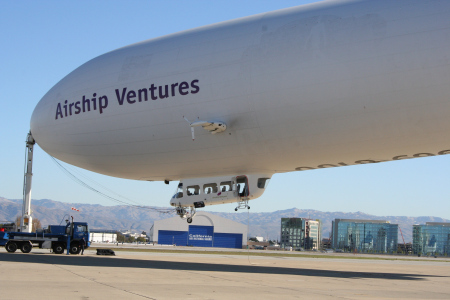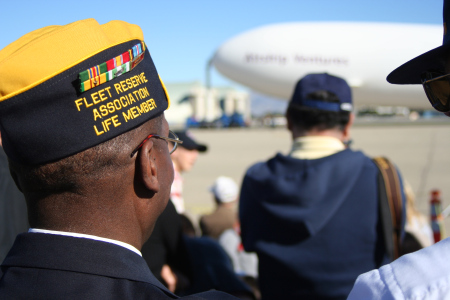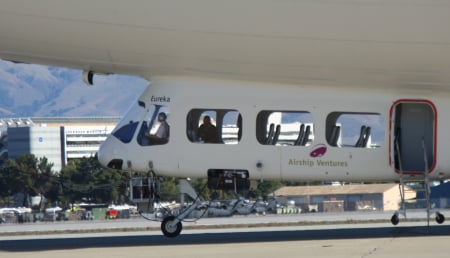 The craft is one of only three Zeppelins currently in operation in the world. It's also the first to touch down on US soil since the ill-fated Hindenburg crashed in 1937. Of course, Eureka is filled with helium, a considerably less "Oh, the humanity!" combustible gas than hydrogen.
Semi rigid
The semi-rigid frame of the German-made Zeppelin is about twice the length of (flaccid) blimps that Goodyear flies. It's operated by a crew of three, carries up to 12 passengers, and flies at an average speed of 35mph. Airship Ventures said it will charge passengers about $500 for an hour's ride.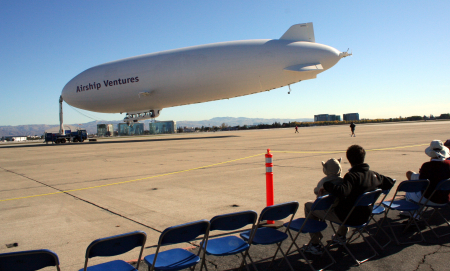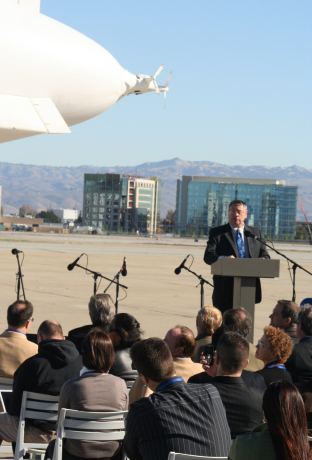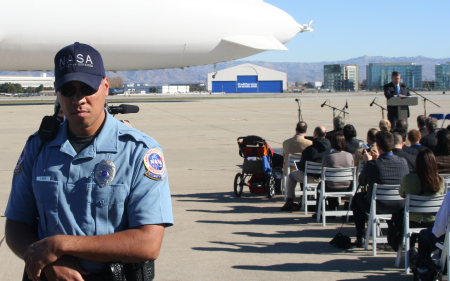 NASA's Ames Center director Pete Wordon congratulated the company for bringing "airship flight back home where it belongs." He said lighter-than-air flying still offers fresh applications, like cleaner transportation, an ability to lift heavy loads, and a good vehicle to make climate and water quality observations.
Name that Zeppelin
Airship Ventures co-founder Brian Bell said the previously company held a naming contest for the Zeppelin that received over 1,500 submissions – five of which "correctly" were for "Eureka," a title the firm was already using as a project name.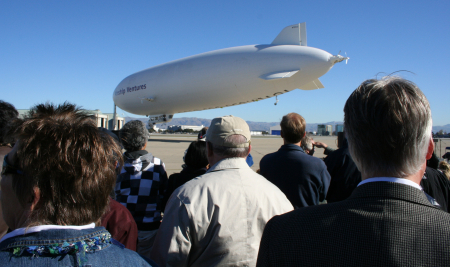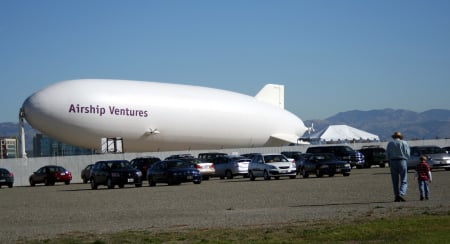 The unveiling was also attended by California Congresswoman Zoe Lofgren and Colonel William Moffett III, the grandson of Admiral William Moffett, for whom the airfield is named. Also speaking were several local officials from the cities of Mountain View and Sunnyvale, who shared proclamations along with a disagreement over which city the beautiful weather can be attributed to (the airfield is almost smack-dab on the border.) ®