Original URL: https://www.theregister.co.uk/2008/11/20/review_netbook_asus_eee_pc_s101/
Asus Eee PC S101 luxury netbook
An Eee to truly challenge thin'n'light laptops
Posted in Personal Tech, 20th November 2008 09:02 GMT
Review Asus pretty much started the whole Small, Cheap Computer ball rolling with its first Eee PC just over a year ago. But now there are hundreds of the darn things, from every manufacturer imaginable, so how does Asus ensure it stays at the forefront of the market?
By going high end, it seems - which is what it has done with its latest offering, the Eee PC S101. While it's still certainly small - and indeed a computer - it may stretch the limits of anyone definition of 'cheap' thanks to a £449 price tag that's pushing right up against the £500 psychological barrier.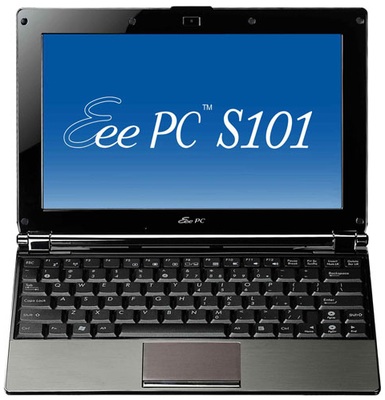 Asus' Eee PC S101: small, yes; cheap, no
However, while it may cost twice as much as the original Eee PC, you could still get at least two, possibly three, S101s for the same money as something equally small and light from Apple, Sony or Toshiba.
Asus has used the extra money in the budget not just to make the S101 look super special - from its glittery metallic brown lid and silver trim to the brushed-metal effect palm rest and crystal-adorned hinges, no less - but also to kit it out with some serious components. Cut down laptop, this certainly isn't.
The 1.6GHz Intel Atom N270 processor and 1GB of DDR 2 memory are no surprise, but when it comes to internal storage the S101 is practically bulging at the seams. The internal SSD already runs to a healthy 16GB but in addition to that you'll also find a 16GB SD card in the box - effectively giving you 32GB in total, all solid state so you don't need to worry about bashes or bumps damaging your data. There's also an additional 20GB of secure online storage thrown in for free, although how much you'll actually use it is debatable - and it's only free for the first 18 months. Once your year and half is up, you'll need to fork out to keep it going.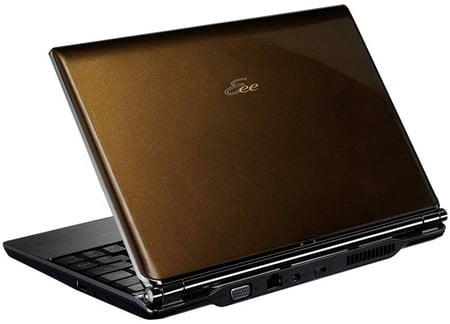 Yes, but did it have to be... brown
The 10.2in LED backlit screen supports the SCC-standard 1024 x 600 resolution and the obligatory 0.3-megapixel webcam at the top. You'll find 802.11n Wi-Fi on board plus Bluetooth for back-up. There are three USB sockets to stick things in - two on the left, one on the right - with 3.5mm analogue headphone and microphone sockets also nestling on the right edge. Round the back, there's an SDHC memory card slot, security socket, and VGA, Ethernet and power ports.
When the S101 first arrives, everything about it looks fantastic - from even the carefully designed box to its shiny gloss finish. However, after about an hour or so of pawing it soon starts to show greasy finger marks. In addition to a plush slip case, Asus has thoughtfully included a cloth so you can at least give it a good polish if the paw marks get too much to take.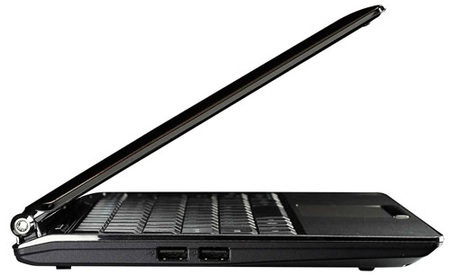 Ports on the left...
Unlike other SCC models, where the screen slides down behind the main body when you open it up, the S101 rises up making it a little bit higher when you're working. The keys are a touch on the small side - especially if you've got sausages for fingers - but with a little care and practice it's not that difficult to type on. The keys also glisten slightly, as they're embedded with glitter - which may or may not appeal, depending on your personal preference.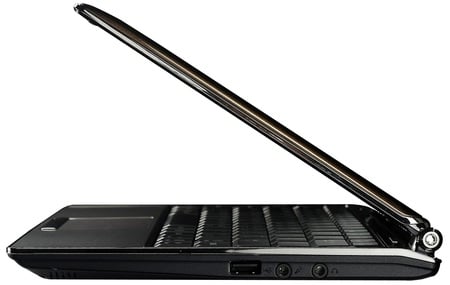 ...ports on the right
You get the full complement of Function keys along the top, and the keyboard is packed with Fn-based shortcuts for things like volume, screen brightness and wireless. At the top, above the keyboard, you'll find two further buttons - the one on the left cycles through power modes while the other powers the laptop on and off.
The touchpad is surprisingly large for such a small machine, with the left and right buttons combined into a single switch that runs the entire width of the touchpad.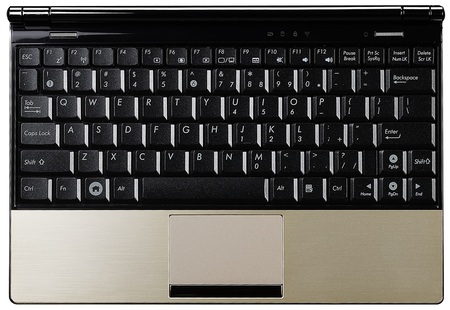 The keys glisten, but at least the trackpad's large
So far, you could be forgiven for thinking that the S101 - as attractive as it is - is simply a regular SCC, albeit in a very pretty case. Running it through our standard set of tests, however, you can see where the rest of the money has gone.
The PCMark05 results were what you would expect for a netbook based on a 1.6GHz Atom chip and equipped with 1GB of memory, placing it on par with the competition.
PCMark05 Results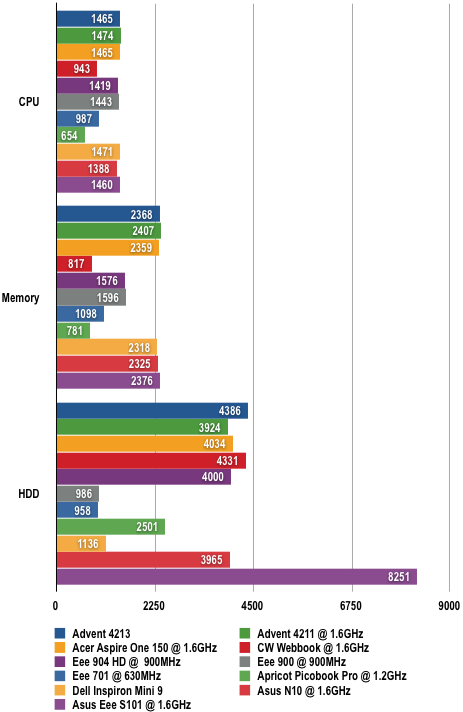 Longer bars are better
However, hard drive performance was astonishing, with it coming in at almost twice as fast as the closest contender. We ran the test half a dozen times to ensure this wasn't a one-off fluke. If you're frequently juggling lots of files and like working with loads of windows open, then this is one machine that won't be phased by that. This is all the more surprising because the S101 has an SSD and netbook SSDs rarely come close to the performance of HDDs in benchmarks like PCMark05.
Moving onto the Gimp Gaussian Blur test, the S101 ploughed through the task in a more than respectable 4.9 seconds - matching the best result we've seen so far.
The Gimp Results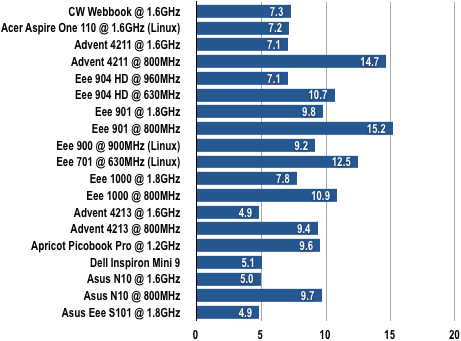 Time in seconds
Shorter bars are better
The good news doesn't end there, however, as the new Asus' battery results are also pretty impressive. Even in Super Performance mode - it's actually called that; it ups the CPU speed to 1.8GHz - it managed to keep going for 178 minutes playing our standard-definition test video full screen on repeat.
Switching down to High Performance mode - the stock 1.6GHz CPU speed - only eked out a further two minutes battery life, but dropping all the way down to Power Saving mode - the Atom runs at 800MHz - kept it running for a full 208 minutes - three and three-quarter hours.
Battery Life Results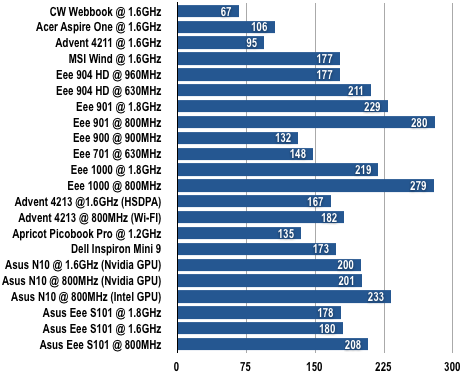 Time in minutes
Longer bars are better
This is a harsh test because we keep the screen on maximum brightness and the CPU's doing a lot of work decoding the H.264 video stream. We'd say that 208 minutes of video testing amounts to a good five or six hours of more typical netbook usage.
That's still not quite up there with the likes of Asus' own Eee PC 901 and 1000, but it's better than a fair few netbooks on the market today.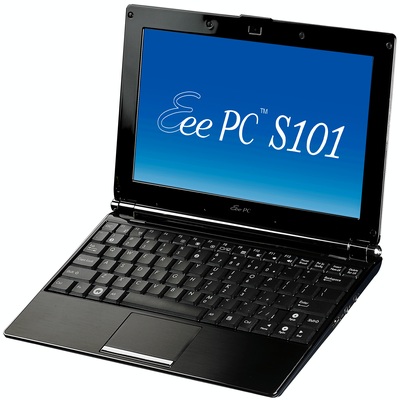 Decent - but not exceptional - performance
The S101 comes pre-loaded with Windows XP Home Edition, but Asus is also expected to launch a Linux version based on Xandros, as per other Eee PCs. The Linux version packs in a 64GB SSD and 2GB of memory.
When it's folded flat, the S101's footprint measures a tiny 264 x 182mm. Height-wise, it starts at 18mm rising to 25mm at its highest point. Slip it in your bag and you'll hardly notice it's there, thanks to its lighter-than-MacBook-Air 1.06kg weight. Flip it over and you're just one screw turn away from easy access to the wireless card and memory bank, which are hidden away underneath a user accessible hatch.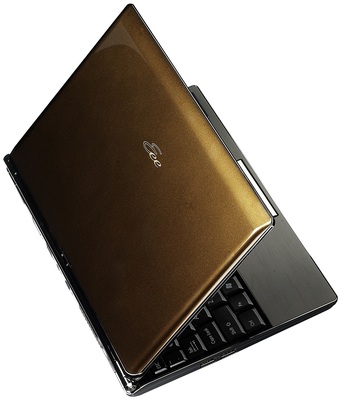 Not a netbook alternative but a notebook rival?
All good stuff, but we come back to the price. Apart from that hard drive benchmark, there's nothing to the S101's performance that lifts it above, say, the Asus Eee PC 1000 or the MSI Wind, both 10.2in netbooks too. The 1000 has a better battery life, but doesn't look as good. It's chunkier, too, and that's really what the S101 is all about svelte good looks.
Unless you're desperate for your netbook to reveal to the world you're particularly well-heeled, we can't see a solid reason to pay £449 for a netbook that's, give or take, no better than one that costs £369.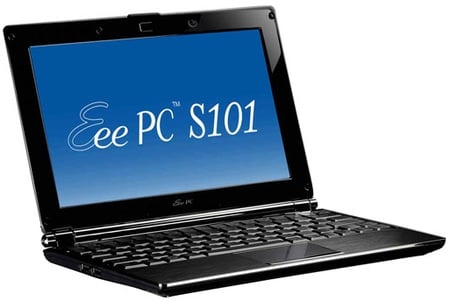 Nicely portable
But let's not dismiss folk willing to pay more for styling. Until very recently, they'd have had to fork out the best part of a grand for a slim'n'light laptop. Sony's new Vaio TT, for example, kicks off at £1399. By comparison, pricey though it might be for a netbook, the S101 is an complete bargain.
Verdict
There's no denying that the S101 is expensive compared to other SCCs - but when you compare it to small and light models from the big names it's an absolute steal. It also looks fantastic and if a 1024 x 600 screen is large enough for you to work on then it's an ideal travel companion. Throw in its glittering performance - especially when it comes to the hard drive - not to mention the massive 32GB of solid state storage and it's a very attractive proposition indeed.