Original URL: https://www.theregister.co.uk/2008/11/19/review_compact_camera_nikon_coolpix_s710/
Nikon Coolpix S710 compact camera
Ridiculously easy to use
Posted in Personal Tech, 19th November 2008 13:02 GMT
Review The Coolpix S710 was one of four new compacts released by Nikon this autumn. It's the top-of-the-range model, so the person likely to buy this camera is someone looking for more than a basic compact but less than an entry-level DSLR. Will they be delighted or disappointed?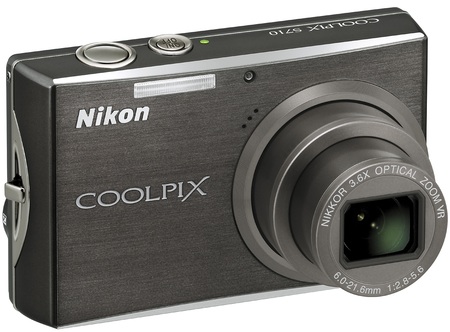 Nikon's Coolpix S710: clean and uncluttered
First impressions are good: the S710 looks very smart, with a brushed stainless steel body - plus a little plastic. It also feels light to hold yet is reassuringly solid. At the top are a large shutter button and small power button. Around the back is a nice large, 3in LCD which takes up roughly three quarters of the camera's back. To its right are the zoom rocker; Mode, playback, Menu and delete buttons; and a multi-control dial.
The result is a clean, uncluttered camera, but this often comes at the expense of having to navigate endless menus. However, Nikon has done a good job in this department.
At the bottom of the camera is a flap covering the battery compartment and memory card slot – the S710 takes both SD and SDHC cards, but also comes with a handy 42MB of internal memory.
In terms of size and weight, the S710 measures 92.5 x 57.5 x 24mm and weighs around 180g with battery and card. Alongside something like Sony's super-slim DSC-T77, the S710 looks like it ate all the pies, but it's nonetheless a highly pocketable camera.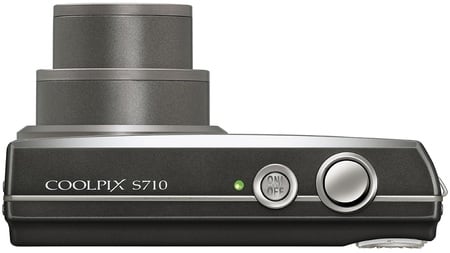 The optical zoom extends to 3.6x
When it comes to features, you get a 1/1.72in CCD with 14.5 million pixels (effective); an f/2.8-5.6, 3.6x optical zoom with a 6-21.6mm focal length equivalent to a 28-101mm lens on a 35mm camera; an electronic vibration reduction system; and a motion detection system which increases the shutter speed when the camera detects your subject is moving or the camera is shaking. Both of these last two features can be switched off and are automatically disabled in several shooting modes.
There's also a face-detection system, red-eye reduction and a smart smile mode which we'll return to later. You get a choice of 16 scene modes, including night, sport, panorama and food. If you can't be bothered deciding which of these to select, the camera can do so for you, although it's probably easier to just put it in auto mode.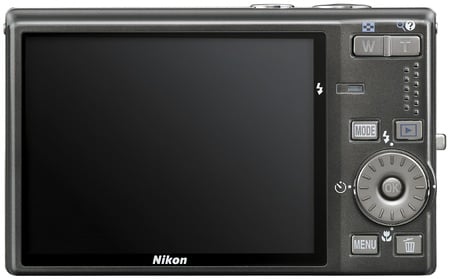 The LCD's big and easy to view in bright light
There's a wide range of control options that will suit both the pick-up-and-shoot photographer and the person who likes making their own adjustments. The options are: auto, programmed auto, shutter priority, aperture priority, manual - for adjusting shutter speed, aperture and ISO, though there's no manual focus - high-speed continuous, voice recording and movie - it can record 320 x 240 and 640 x 480 resolutions at 30f/s or 15 f/s. There are also a number of editing features including "D-Lighting" - which is designed for correcting underexposed images - cropping and the ability to scale images by several steps down to 160 x 120, for web pages and email attachments.
Yes, you can do all of this with editing software, but it's nice to have the in-camera option. Talking of software, you're provided with Nikon Transfer photo management software and ArcSoft Panorama Maker 4.
It's no surprise that with a 14.5-megapixel CCD, there's a wide range of image resolutions, ranging from 4352 x 3264 pixels to VGA. At the highest resolution, the file size is around 5.5MB. The shutter speed range is 1/2000s to 8s, although if you use the high-speed continuous mode, the range changes to 1/4000s to 1/15s. The normal ISO range is 100-3200, although there are options for 6400 and 12,800 if you select certain scene modes.
When it comes to handling, the S710 does it in style. Switching on takes a little over two seconds and shutter lag is minimal. The control dial makes it quick and easy to alter flash, macro and exposure compensation settings, but if you want to do more, it's not a problem. Switching between modes simply involves pressing the Mode button and then turning the control dial to select the function you want. As you scroll through the options, a text display informs you about each function. Press the OK button and it's done. If you want to adjust a shooting parameter, then press the Menu button and scroll down the shooting menu. It's dead simple.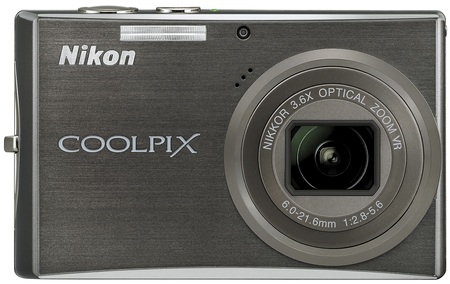 Macro mode could do better
Likewise, switch to manual mode and the values for ISO, shutter speed and aperture can all be seen together at the bottom of the screen. You just flip between each setting and make your adjustment using the control dial. The LCD screen has an anti-reflective coating and it's easy to view in bright light. During playback, you can view, 9, 16 or 25 thumbnail images for fast image selection.
Sample Shots
Click for full-size images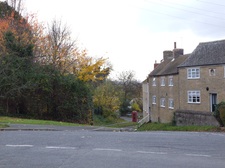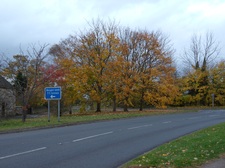 The Coolpix S710 can produce good, clean images, although at ISO 400 and above, noise can become noticeable

The panorama mode worked really well and it's easy to set-up the three shots that are stitched together in your PC. The supplied software is very simple to use and does a good job.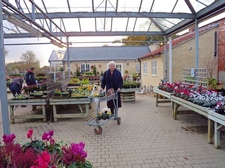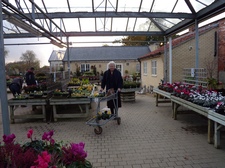 D-Lighting (left) and normal.
The D-Lighting system is useful for bringing out detail in underexposed shots, such as those taken against a backlight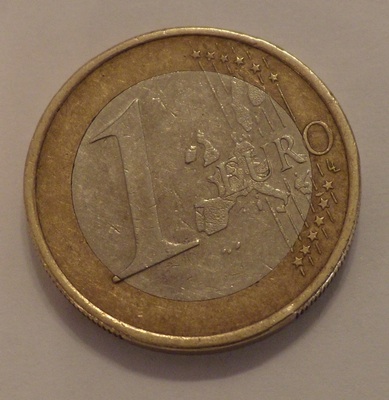 The macro mode isn't bad, but we've used compacts that let you get even closer to the subject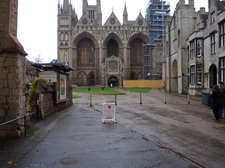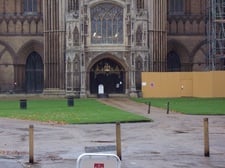 The camera's 3.6 optical zoom (right) offers a 6-21.6mm focal length, equivalent to a 28-101mm lens on a 35mm camera, so it's quite handy for shooting at the wide angle setting (left).
Sample Shots
Click for full-size images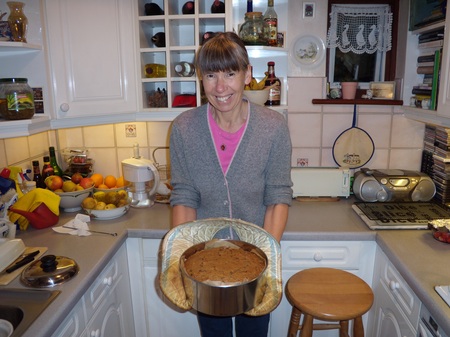 We know this feature isn't essential, but amaze your friends by activating the smile mode, pointing it a smiling person and watch the Coolpix S710 automatically take a shot!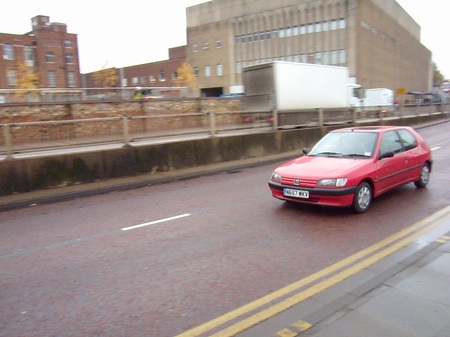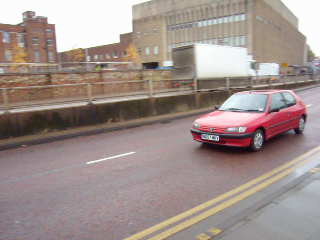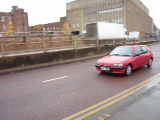 You can reduce the image size in-camera for emailing or posting pictures online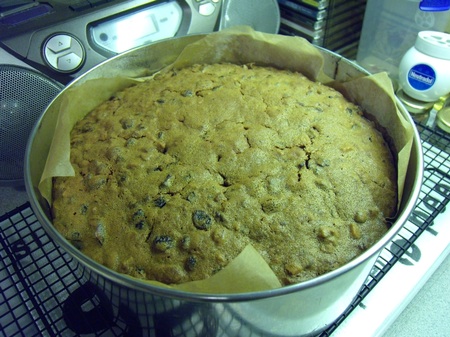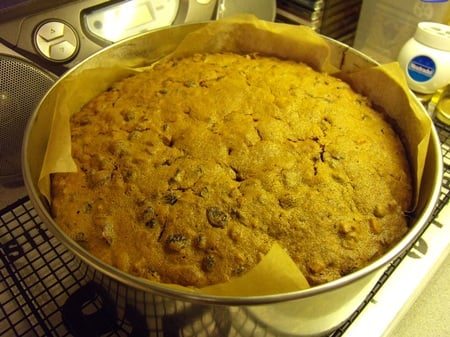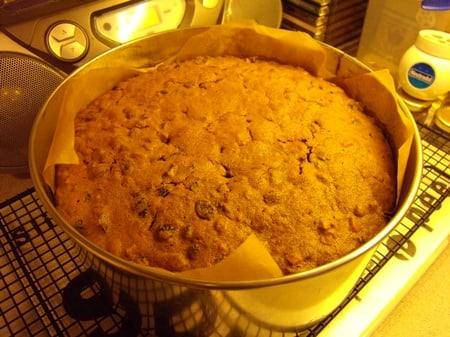 The food mode lets you adjust the white balance. These shots show the extreme blue (top) and red (bottom) settings, plus the centre setting. With a little tweaking, your food can look as good as Gordon Ramsay's – or perhaps not...
In terms of performance, the Coolpix S710 did well, although to be honest, the leap in quality from a ten-megapixel camera to a 14.5-megapixel model isn't that significant. Sure, if you want to produce very large printouts, it'll help improve quality, but for on-screen viewing or normal-size prints, it's not a big deal.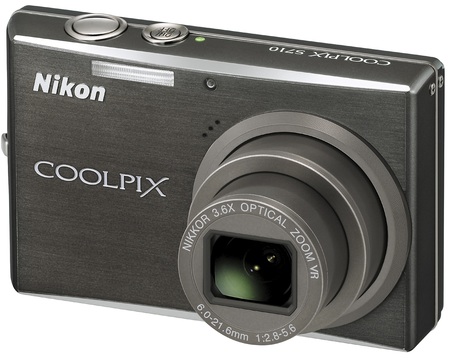 Not a huge step forward in picture quality
That said, colour, contrast and detail were good and we got very pleasing results. The zoom offers a nice range, both at the wide angle and telephoto setting. The D-Lighting system really does help improve contrast and detail with underexposed images. In a word, we were 'D-Lighted' with the performance. Ouch.
Another thing we liked was the smile mode. Activate this, point the camera at a smiling subject and the S710 will automatically take a shot without you having to press the shutter! Yes, it's a bit silly, but it all adds to the fun of using this camera.
The panorama mode is superb and the software does a great job in stitching three images together. The food mode even lets you make adjustments to the white balance to get your grub looking at its finest, while the high-speed continuous shooting mode is good for tracking fast-moving objects.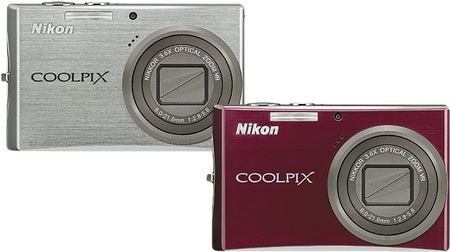 Also available in silver and red
Nikon says the battery life is 250 shots, and we still had lots of power after firing off close to 200 frames. Not that everything else was perfect. We were a little disappointed with the macro mode, as cheaper models we've tested have managed to get even closer to an object. Picture noise is noticeable from ISO 400 upwards, a price you pay for packing in so many pixels onto a small CCD. For that reason, the higher ISO modes were not worth bothering with.
Verdict
We were very impressed with this little camera. It's a nice size and weight, offers a good set of features, is easy to use, performs well and it has some useful playback and editing features. If you're in the market for a compact that's a cut above the rest, you should certainly check out this model.