Original URL: https://www.theregister.co.uk/2008/11/18/teddyphone/
Mobe firm gives birth to pair of kid tracking phones
I can't sleep without Teddy Phone
Posted in Networks, 18th November 2008 14:50 GMT
Not in the least discouraged by the abject failure of the last two attempts, Mobile Please has announced two new handsets aimed at paranoid parents while styled for their kiddies.
The Teddyphone is aimed at the very young, while the G-Phone targets a slightly older demographic. Both handsets offer remote tracking and pre-defined numbers that can be called. The G-Phone can also send pre-defined texts to pre-defined numbers - everything the cool teenager needs in a handset.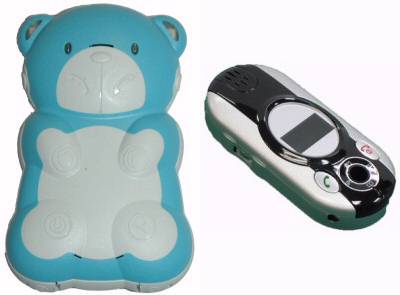 The Teddyphone is the one on the left
Normally this would lead to the usual rant about overprotective parenting and over-reliance on technology, but this time we really can't be bothered. A quick check of the last two attempts to exploit the fearful, the Omego and the i-Kids, reveals both are no longer generally available (though the i-Kids lives on in Germany).
So it seems parents aren't as paranoid as we feared, or perhaps they're more scared of electromagnetic radiation than they are about child catchers. Either way it's hard to see why Mobile Please thinks it can succeed where everyone else has failed and find parents willing to stump up 150 quid for the G-Phone, or even 70 quid for a handset that looks like a teddy bear. ®