Original URL: https://www.theregister.co.uk/2008/11/18/apple_25_year_report_card/
25 years of Macintosh - the Apple Computer report card
What Steve hath wrought (from A to F)
Posted in The Channel, 18th November 2008 00:43 GMT
Part One In two short months, Apple's Macintosh will turn 25 years old. My, how tempus doth fugit.
To mark the awesome inevitability of January 24, 2009 following January 24, 1984 after exactly one quarter-century, tech pundits will bloviate, Apple-bashers will execrate, and Jobsian fanboyz will venerate the munificence that flows unabated from The Great Steve. The din will be deafening.
To avoid the crowds, we at The Reg decided to go first.
Follow along as we run the rule over Apple Inc. (née Apple Computer, Inc.). We'll examine how the company has transformed itself in recent years, how its products stack up against the rest, and what lurks beneath its outward display of iconic style, forward-looking rectitude, and edgy innovation.
We'll also give Apple its report card, slicing and dicing the 25-five-year operation into bite-sized letter grades. Just so you can easily tell your friends. Our goal is a noble one: To arm you, dear reader, against the slings and arrows of outrageous commentary that will assault you from all corners come January.
Don't say we didn't warn you.
The Rise and Fall and Rise of Steve
Apple's last quarter century is best divided into a trio of Jobsian epochs: Steve I, No Steve, and Steve II. We're most concerned with the ongoing Steve II era and its ever-expanding worldwide cult, but first, a look back at the company's earlier incarnations.
Steve I - or Steves I, if you consider co-founder Steve Wozniak - saw the breakthrough of the Apple II (thanks, VisiCalc!), the embarrassment of the Apple III, the overreach of the Lisa, and the beginning of the Mac era. And towards the end there was Steve Jobs famously (and possibly apocryphally) asking PepsiCo's John Scully "Do you want to spend the rest of your life selling sugared water or do you want a chance to change the world?"
Scully said he'd forgo the sweetness, joined Apple as President and CEO, soon forced Jobs out, then nearly ran Apple into the ground by subdividing its offerings into multiple competing product lines and confusing wishful thinking with vision.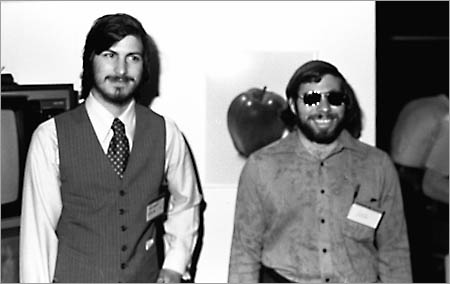 Jobs and Woz
Although the No Steve era began on Scully's watch, it dragged on through the reigns of Michael Spindler (1993-1996) and Gil Amelio (1996-1997). It was characterized by bumbling attempts to revive Scully's failing Newton MessagePad, further muddying the product-line waters with Macintosh Performas, Centrises, Quadras, and more. Then there was the operating-system licensing program that allowed clone-making competitors such as Power Computing to skim the cream off the top of the high-end/high-margin market by repeatedly offering faster machines at lower prices than the mothership was capable of.
During this period, Apple went from being respected for its innovation to derided for its rudderlessness. Financial losses mounted, market share tanked, and developers moved from Apple to Windows 3.0 in 1990 and to Windows 95 in, well, 1995. The Apple Death Watch, always a popular parlor game, kicked up a notch or three.
The worst public presentation ever given by a sentient being…
The No Steve era ended on January 7, 1997. That morning, in his keynote address at the then-biannual gathering of the Mac faithful, Macworld Expo, Amelio delivered what could generously and compassionately be described as the worst public presentation ever given by a sentient being. For two hours, Amelio's breathtaking imitation of a random phrase generator elicited only the sound of 2,000 attendees' jaws dropping onto the carpeted convention-ballroom floor.
Then Steve Jobs took the stage. Apple had recently acquired Steve's NeXT Software, and he was there to explain how it was going to save Apple. He did, and the crowd went wild. It had been eleven years since Jobs had been tossed onto the streets of Cupertino by Apple's board of directors, but he remained a hero to Mac enthusiasts, developers, and vendors. Amelio may not have known it that morning, but he had just made himself redundant.
Months of feints, fits, financial failures, and fractious fratricide followed, until in early July of 1997, Apple's board of directors suggested that Amelio might do well to fall on his sword. On July 9, Gil submitted his resignation. After two months of a little song, a little dance, and a little seltzer down the power-positioning pants, Steve Jobs became Interim CEO of Apple on September 16.
In short order, the OS-licensing program was strangled in its crib and the Newton MessagePad was assassinated. Apple also opened its own online store - a daring move in the 90s - based on the WebObjects software that it had acquired from NeXT Software along with the company's operating system and development environment, NEXTSTEP (aka NextStep, NeXTstep, and NeXTSTEP).
Steve then began the slow, painful, but ultimately wildly successful process of bringing Apple back from the brink of insolvency and transformed it into the consumer electronics juggernaut that it has since become - not a perfect juggernaut, mind you, but a resoundingly healthy one.
Steve I Era: B+
No Steve Era: D-
The 'Very Painful and Expensive Mistake'
So how well has Apple done since the second coming of His Steveness? Quite well indeed, quite well indeed. One simple and direct way of analyzing a company's health is simply by counting heads. As the daily media has drummed into our brains since the onset of the great worldwide financial meltdown of 2008: When a company is in trouble, heads roll.
So, check out Apple's employment numbers since 1998. Not only are they steadily rising, but these jobs are real, full-time positions, and not the part-time McJobs and temp support so popular among many non-union corporations.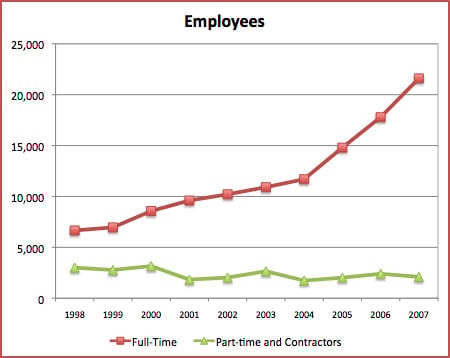 Apple heads
These new workers aren't all engineers, coders, corporate sales-folks, and support staff. On May 19, 2001, Apple opened its first bricks-and-mortar retail stores in McLean, Virginia and Glendale, California - a risk, by the way, that prompted BusinessWeek to give David Goldstein, president of Channel Marketing, a platform to predict "I give them two years before they're turning out the lights on a very painful and expensive mistake."
Six years later, Fortune declared Apple "America's best retailer" and on November 14th of this year, Apple opened its 250th retail store in Modesto, California. Swami Goldstein, by the way, is nowhere to be found.
Jobsian Head Growth: A
The Apple Matterhorn
A second, and more traditional way to gauge a company's health is by examining its net sales and its net profits. In this chart, you can observe the slippage in Apple's net sales during the last few years of the No Steve era, and the parallel submersion of its net profits into negative territory: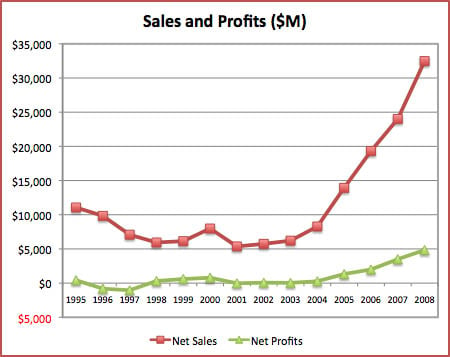 Apple dough
When the Steve II era began, both lines rose, only to be dope-slapped by the bursting of the Internet bubble in 2001, when art directors and Web developers stopped buying Power Macs and starting learning to say "Do you want fries with that?" in Spanish, Mandarin, and Hindi.
Since that dip, however, net sales have had a wild ride, with Apple raking in a cool $32.47bn in its just-ended 2008 fiscal year (which wrapped up on September 30). Net profits have experienced a healthy rise as well - but since much of the increased sales volume was of lower-margin products such as the ubiquitous iPod, the slope of the profit curve is less Matterhorny.
Jobsian Dough Growth: A-
The iPod Blankets Western World and Super Bowl
Speaking of the iPod, this next chart is a doozy. If you've ever wondered why just about everybody you see on your bus or subway commute route seems to have white wires hanging out of their ears, it's because just about everybody owns an iPod. Since these petite Walkman-killers were introduced as 2001 drew to a close, Apple has sold 174.1 million of them.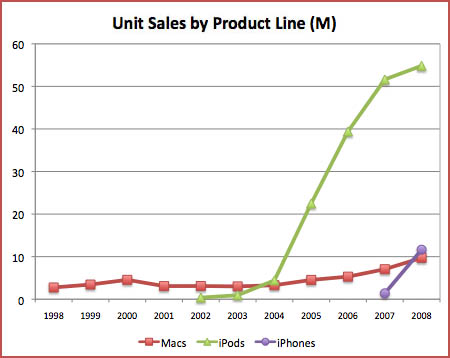 Apple stuffs
To put that number into perspective, enough iPods have been sold to provide a personal 'Pod to every man, woman, and child in the United Kingdom, Australia, the Netherlands, Greece, Israel, Sweden, Austria, Chile, Denmark, Ireland, Switzerland, New Zealand, and Greenland. And you'd still have enough leftover to give one to each fan attending Super Bowl XLIII eight days after the Mac turns 25.
You'll also notice that the iPod's phenomenal growth rate is flattening a bit. Don't sell your Apple stock just yet, however. Take a look instead at the streaking purple line in the lower right corner that charts iPhone sales. The Jesus Phone is one helluva popular Son of 'Pod. Apple recently reported that iPhone sales have passed sales of the former top phone, the Motorola RAZR. Although the iPhone has a long, long way to go before it reaches iPod territory - if, indeed, it ever does - early returns are impressive.
What's even more impressive to many analysts is the rise in Mac sales, which have nearly doubled since 2006. Although it's a safe bet that the Mac will never again have as high a market share as it did during the Steve I era, a doubling of unit sales in three years ain't exactly chopped fiscal liver, especially when the rest of the personal computer market is flat-lining.
Walkman-Killer Growth: A
iTunes and the Halo Effect
Here's our final excursion into Excel's charting capabilities. Up to this point we've ignored Apple's non-hardware sales. Now we take a look at what we call "Other Music Sales" and what Apple calls in its 10-K filings "Other music related products and services" and defines as "iTunes Store sales, iPod services, and Apple-branded and third-party iPod accessories."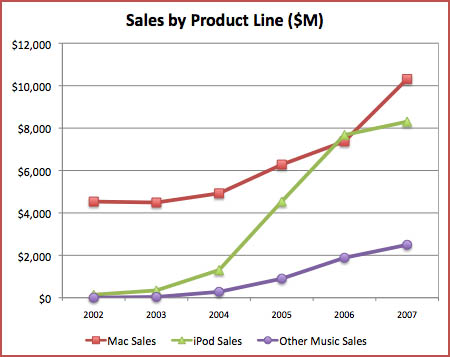 Apple other
Although Apple's financial reports don't break this figure out in any more detail, we aver that the iTunes Store accounts for the overwhelming majority of these sales. After all, the iTunes Store sold its 5 billionth song on June 19th of this year - it wouldn't have required a lot of help from "Apple-branded and third-party iPod accessories" to reach $2.5 billion in "Other music related products and services" in 2007. (Break-out product-line figures for 2008 will not be released by Apple until it files its 2008 Form 10-K at the end of this year).
Notice also that in 2006 iPod net sales passed Mac net sales before beginning their inevitable market-saturation plateauification in 2007. Apple gambled that the iPod's much-vaunted "halo effect" would begin to drive Mac sales upward before the iPod climbed atop its sales-growth mesa. They won that gamble.
Jobsian Other Growth: A-
One final thought about these metrics: Although the world economy is swiftly flushing itself down the crapper, Apple's impressive $25bn in cash reserves will help it weather the reduced consumer and business spending during the expanding fiscal hideousness. When the current economic tsunami finally recedes, Apple should be in a far better position than many of its washed-out-to-sea competitors, especially in the music-download and smartphone spheres. ®
Rik Myslewski is the former editor in chief of MacAddict and former executive editor of MacUser. He joins The Reg full-time on December 1.
Coming Soon: Part Two - The Jobsian Cult