Original URL: https://www.theregister.co.uk/2008/11/17/review_desktop_pc_dell_studio_hybrid/
Dell Studio Hybrid mini desktop PC
Curvy, slim and sexy
Posted in Personal Tech, 17th November 2008 09:53 GMT
Review For years, laptops have relied on desktop computer technology hand-me-downs, so it's only fair that Dell's Studio Hybrid is a desktop that makes use of laptop parts.
It's done so in the name of miniaturisation. Using Intel's mobile technology, with its greater power efficiency, means Dell can shrink the Studio Hybrid down to a box that's barely bigger than our Western Digital MyBook external hard drive. Indeed, one Reg Hardware staffer, glancing across the office at the unit being unpacked, thought that's what it was.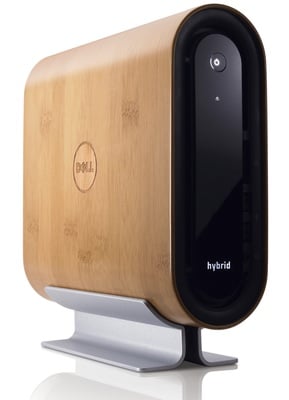 Dell's Studio Hybrid: tubular belle?
The Studio Hybrid measures 211.5 x 71.5 x 196.5mm, and it's Dell's Tube to Apple's Mac Cube. Like the ill-fated Apple desktop, the Studio Hybrid packs the internals into a unit that then slots into a clear plastic shell, an oblong-profile cylinder in this case. Undo a screw in the base and the gubbins slip out, though this is more because Dell wants to sell you alternative, different-colour sleeves than for practical, upgrade-oriented reasons.
Unlike the Asus Eee Box mini desktop we reviewed last month, the Studio Hybrid is designed to be mounted vertically or horizontally, and it comes with a clever multi-part stand that can be easily adjusted to support the desktop whichever way up you fancy it. There's no preferred orientation: the Studio Hybrid uses a SATA-connected slot-loading multi-format DVD rewriter that's happy to suck in and spit out your discs however it's positioned. Don't forget, though, that this means it's not happy with mini CDs and the like.
The drive slot's cunningly integrated into the front of the Studio Hybrid's venting, as are the front-facing 3.5mm headphone socket, two USB ports and umpteen-in-one memory card reader.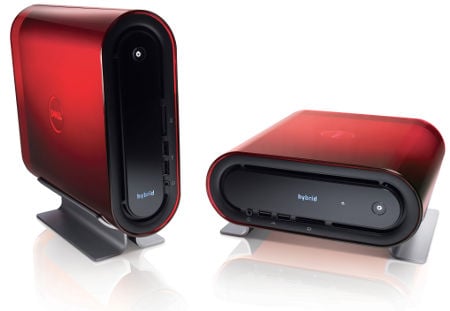 Keep it up or lay it down
Round the back, past backlit Dell logos on the sides, you'll find three more USB ports plus Ethernet, HDMI, DVI, four-pin Firewire, SPDIF and analogue audio connectors. There's the fan outlet too and a switch to pair the Studio Hybrid with the wireless keyboard and mouse Dell bundles with the machine. There's no Bluetooth on board, so we assume this is proprietary 2.4GHz wireless technology. Our review unit came with standard wired mouse and keyboard - ahem - so we couldn't check.
Since there's an emphasis on size, the Studio Hybrid's AC adaptor isn't built in. But the good news is that it's a slim brick of the kind Dell ships with its Latitude laptops rather than the bricks that usually come with compact PCs.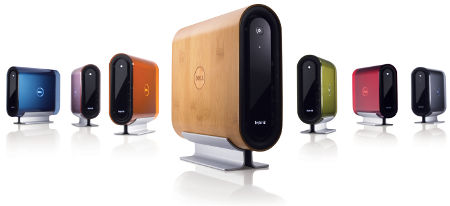 Plenty of sleeves to swap
The machine's internals are laptop-standard too. There's an Intel GM965 chipset that connects to between 512MB and 4GB of 667MHz DDR 2 memory on notebook-friendly SO-DIMM cards. It's also host to single- and dual-core Celeron, dual-core Pentium and Core 2 Duo CPUs to choose from on Dell's configuration page.
Unlike the Eee Box, there's no Wi-Fi on board, but there is a mini PCI slot inside in case you want to add one - the casing already has an antenna cable built in.
Internally, the Studio Hybrid is impressively well packed. Getting inside is easy: unscrew and slide off the sleeve then remove a second screw to take off the inspection plate. Undoing a third screw allows you to pull the hard disk and optical drive assembly out - a handle's provided - to reveal said mini PCI bay and the two memory slots.
Both were filled in our machine. And here's another laptop part: the hard drive, a 2.5in 250GB unit. Like other key components, it'll be easy to upgrade when the time comes.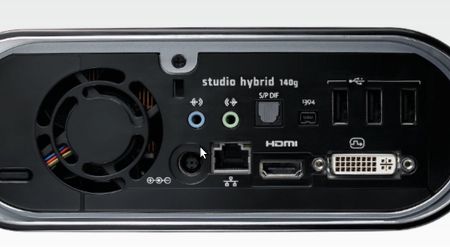 Ports a-plenty
Our review machine - kindly supplied by PC World owner DSGi - was a Core-derived Pentium Dual-Core T2300 model clocked to 2GHz and equipped with 2GB of Ram. The pre-loaded OS was Vista Home Premium so we checked how Vista rates the machine. It scores 3.5 based on its identical two graphics scores, with the memory rating 4.5, the CPU 4.9 and the hard drive 5.4.
For comparison, Dell's Core 2 Duo-based Latitude E6400 scored a Vista Experience Rating of 3.8, derived from CPU, memory, desktop graphics, 3D graphics and HDD scores of 5.2, 5.9, 4.1, 3.8 and 5.2, respectively. So laptop components mean laptop performance, but unless you're looking for a serious power system, that's unlikely to be a problem - the Studio Hybrid has sufficient horsepower for mainstream tasks.
The PCMark05 results below show how the Studio Hybrid compares with Dell's Centrino 2-based E6400. The Latitude's CPU is clocked just 13 per cent higher than the Studio Hybrid's but the latest Core 2 Duo architecture makes a difference too, and the laptop shows better performance than the laptop-based desktop across the board. It's also beaten - by a lesser margin - by the earlier-generation 2GHz Core 2 Duo in the Acer Aspire 2920 we tested earlier this year
PCMark05 Results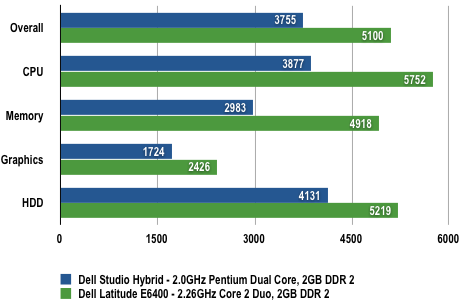 Longer bars are better
Mind you, look back at our review of Asus' N10 laptop, which although it too runs Vista is based on a 1.6GHz Atom processor, and you'll see the Studio Hybrid soundly thrashes it - and, indeed, the similarly sized but also Atom based Eee Box.
The Eee Box can be picked up for around £200. The reviewed Dell retails for around £379, while the reviewed E6400 costs £860. You pays your money, you takes your choice on performance.
3DMark06 Results

Tested at 1024 x 768
Longer bars are better
Incidentally, while PCMark05 and 3DMark06 were doing their stuff and thrashing the CPU, memory and hard drive, the Studio Hybrid remained nice and quiet. Yes, the fan was going, but with more of a blow than a roar. We don't see this one interrupting anyone's viewing if they stick it next to their telly as a media centre. The unit itself didn't feel particularly warm, either.
You'll see from the 3DMark06 score that the Studio Hybrid's Intel GMA 3100 GPU core, built into the 965GM chipset, isn't exactly a graphics powerhouse. Unfortunately, you're stuck with it. While Dell offers a range of processors to pick from, the better to balance price and performance, the Intel GMA 3100 is the only graphics option.
So the Studio Hybrid's unlikely to appeal to a serious PC gamer, but if it's just the Lego games you or your kids want to play, it's not going to cause you much pain.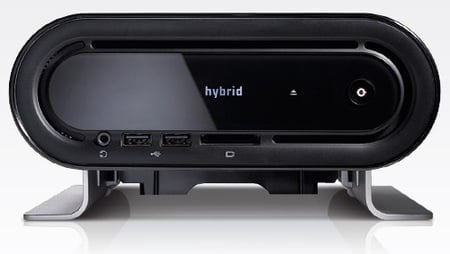 The slot-loading drive is integrated into the vents
Just to check, we loaded up Crysis and were entirely unsurprised by its utterly dismal framerate at 1024 x 768. We also tried some 720p and 1080p movie trailers encoded in H.264 and they played just fine. So media centre, yes; top-line 3D shoot-'em-up system, no.
Dell offers a Studio Hybrid configured with an integrated Blu-ray Disc drive, so pumping out 1080p and audio out via HDMI to an HD TV shouldn't be a problem. Yes, the CPU is doing a lot of the decoding work a modern GPU would do, but as we say, this is not a noisy machine. If you're sitting back enjoying a movie, who cares what's doing the playback as long as the playback is smooth?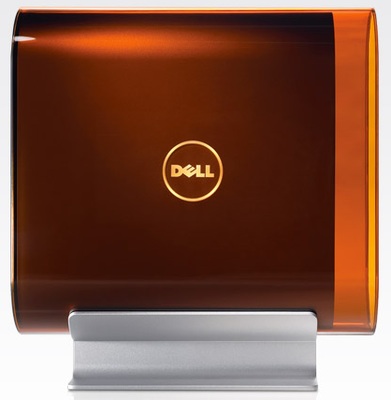 The future's orange
Dell's provided the customary software bundle: Microsoft Works - the ad-free version, thank goodness - an anti-virus trial - McAfee this time round - Acrobat Reader and Google Desktop. Stardock's Dock utility is present to bring a little of Mac OS X's light to Vista, but Dell loses points for bundling a video chat utility and not including a webcam.
Verdict
There's no question that the Studio Hybrid looks good. That, plus its compact size, make it an obvious rival to Apple's aging Mac Mini and the likes of Asus' Eee Box. It's more powerful than both of these and looks better too. It's no powerhouse, even on the highest available spec, but it is a decent desktop that'll suit anyone after a mainstream machine that's not a big, black box.