Original URL: https://www.theregister.co.uk/2008/11/14/review_smartphone_htc_touch_hd/
HTC Touch HD Windows Mobile smartphone
Beautiful big screen
Posted in Personal Tech, 14th November 2008 13:02 GMT
Review Has the discussion about what might be the 'iPhone killer' become irrelevant yet? Yes, the iPhone is a great multimedia device, but it's easily beaten in other, now traditional, phone feature categories.
It's horses for courses. So where is the device that can beat it at its own game - in other words, it's great screen and multimedia capabilities? HTC has consistently come close, but with the Touch HD, has it finally nailed its rival?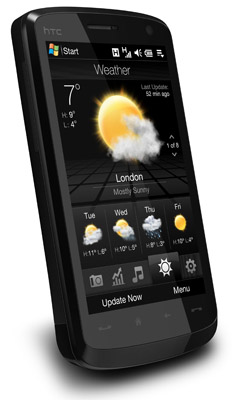 HTC's Touch HD: slim and smooth
For many iPhans, of course, the only thing that can possibly 'beat' the iPhone 3G is a new iPhone, and for them the Touch HD won't even be a contender. That's not to say that it doesn't have a darn good try. It has almost the same dimensions as the iPhone - it's 115 x 63 x 12mm - though it feels a bit chunkier, mainly because it's 14g heavier and has less-rounded edges.
Even so, the impression is of a slim and smooth device with a minimum of side-mounted features - just an outsized volume rocker on one side and the stylus slot on the other. The screen starts up automatically when you take the stylus out, and like HTC's Touch Diamond and Touch Pro it's magnetic and clicks satisfyingly into place when you're done.
At the bottom of the phone is a single USB 2.0 port, and on top is the large start/stop button and a 3.5mm socket for headphones. The rubber-plastic back would be more effective in preventing it slipping around when placed on a table except that the phone actually rests on the protruding glossy plastic boss at one end and the metallic surround of the camera lens at the other.
Below the screen are four buttons that are touch-sensitive and flush with the face. They're for call start and end, home and back. Each pulses gently with haptic feedback when you press them.
And so to the screen, easily the most impressive we've yet seen on a Windows Mobile device. At 3.8in, it's 0.3in larger than the iPhone and its 480 x 800 resolution - apparently the maximum that Windows Mobile can currently be used for - is two-and-a-half times as big as the iPhone's 320 x 480. It's big, bright and clear.
Although HTC hasn't completely dispensed with the stylus, of all its Windows Mobile devices this is the one that comes closest to being fingers-only.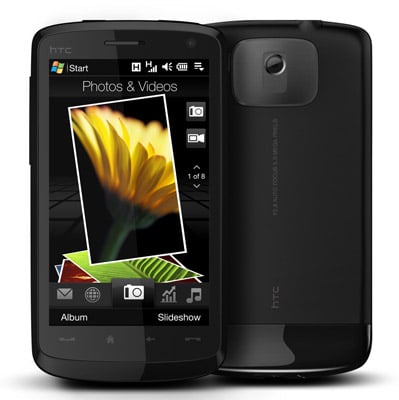 The most impressive screen on any Windows Mobile device
The screen is certainly sharp but don't let the HD moniker fool you – this isn't high definition in the way we've become to used to from 720p and 1080i TV screens, just a sharper-than-most smartphone screen.
It does make a decent fist of offering a palm-sized widescreen experience, but playing back HD movie trailers wasn't as smooth as it could have been. Standard or low-definition material actually tends to fare better, especially in full-screen mode.
To further justify the screen upgrade, the camera is also the best we've seen so far on a Windows Mobile device, boasting a five-megapixel resolution and autofocus, though there's no flash. While the lack of flash reduces its value for nighttime snaps, in reality there's little loss, since the flash on most phones is of very little use anyway.
Unfortunately, HTC still has a few problems with imaging, not least the time it takes to get the camera up and running. There's no dedicated camera button, so finding the right app on the menu and accessing it takes about six seconds, which pretty much rules out quick snaps, as does the slow shutter action, which takes another four seconds.
There's an option to take a photo by either pressing and holding the shutter button on the screen or just by touching it - the shutter takes a while to operate, so you're better off with the latter. You can also set the focal point of the picture by pressing a point on the screen – so if you want the bottom left-hand corner to be the main point of focus rather than the centre, you can.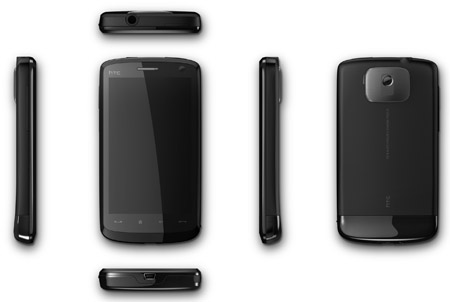 Almost the same dimensions as the iPhone, but it feels chunkier
The panorama feature is worth mentioning. You can set it up to take between three and six pics which it will stitch together into a panoramic view of up to 180°. Each time you take a pic you see a transparent view of it which you can superimpose over the subject to help you line up your next shot.
You can record video in either MPEG 4 or H.263 formats and the results are okay rather than great. There's a fair degree of lag when you move the screen around and fast movement tends to blur a little too easily. There's an option to upload your footage directly to YouTube, though.
Viewing pics in your album with an HTC Touch device is always fun, since you can zoom in or out by twirling your finger on the screen, and brush across to bring on the next pic. What's more, thanks to the extended screen acreage, is that if you twirl in a corner of your pic, the device will zoom into that corner and make it the centre of the image – very cool.
Browsing on the Touch HD is generally very good. Opera is pre-loaded as the browser of choice, and you can take advantage of the HSDPA 3G connection - there's also a 0.3-megapixel camera on the front for video calling - or you can hook up to broadband over a Wi-Fi network.
The on-board accelerometer switches the orientation to landscape when you turn the device on its side, and in the bottom left-hand corner is a zoom button. Pressing this reveals a slider you can use to adjust the pages to your heart's content. Not quite as neat as the iPhone's pinch-and-pull zooming, but more intuitive.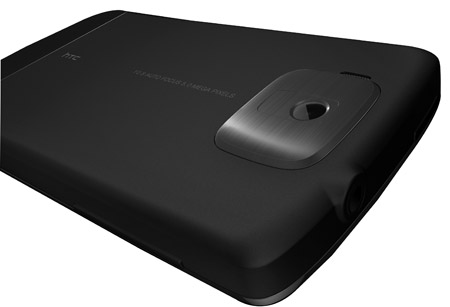 The 5Mp autofocus snapper is impressive, but there's no flash
The music player is the one on other HTC Touch devices, showing cover art that you can browse by brushing with your finger, and offering a decent sound through the supplied, dock-connected headphones, though now you can upgrade them with a pair that use a standard 3.5mm jack. There's also an FM radio with 20 station presets, and a built-in GPS pick-up that's linked to Google Maps. It works just as well as on HTC's other Windows Mobile GPS facilities, ie. very well.
Battery life proved to be quite decent, a full charge giving us two days and more of moderate use, though there are plenty of options to extend it further by dimming the screen and switching off Wi-Fi, GPS and Bluetooth when you're not using them.
Verdict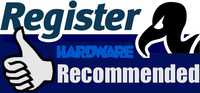 It's a similar size and shape to the iPhone and its screen looks glorious, but the Touch HD is misnamed – this is simply a better and bigger smartphone screen than you'll find elsewhere. It's an HTC touch-screen you can use one-handed, and with all the third-party apps that run on Windows Mobile, this is a worthy business-oriented alternative to the iPhone.