Original URL: https://www.theregister.co.uk/2008/11/14/piaggio_unveils_plug_in_hybrid/
Piaggio MP3 to beat Chevy Volt to plug-on mass production
Bella
Posted in Science, 14th November 2008 11:53 GMT
'Leccy Tech Looks like the Chevy Volt may be pipped to the post as the first mass-produced plug-in hybrid by, well, a motor scooter.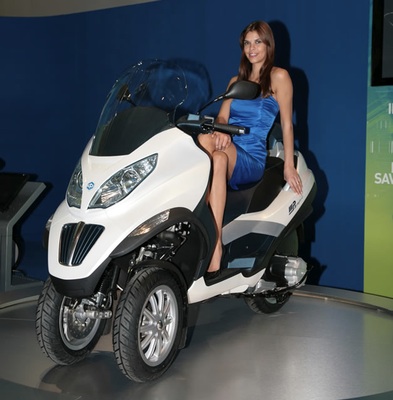 Piaggio's MP3 Hybrid and friend
It's the plug-in hybrid version of Piaggio's MP3 recently unveiled at the EICMA motorcycle show in Milan.
The regular MP3 currently comes with a choice of 125, 250 or 400cc petrol engines. The MP3 Hybrid couples the 125cc four-stroke engine with a generator and some batteries that will be stuffed under the seat – still leaving room to lock away a full-face crash helmet.
The MP3 Hybrid is designed to operate in one of four modes: electric only or three hybrid modes designed to maximise performance, minimise fuel consumption, or recharge the batteries as quickly as possible through the regenerative braking system.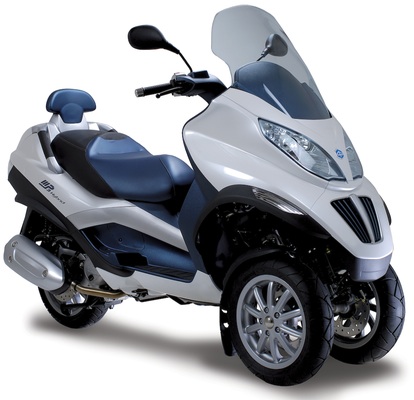 Ciaaaaoooooo
In "performance" mode, the batteries are said to increase acceleration by up to 85 per cent making the Hybrid scoot along in a manner more akin to its 250cc sibling, and that can hit 60mph in around five seconds. In fuel-sipping mode, the MP3 is able to do, Piaggio says, 60km to the litre, or about 170 miles to the gallon in old money.
Battery-only range is quoted as 20km (12 miles). Plug the machine into a standard wall socket and it should be fully recharged in about three hours.
No news on prices, though as the current range starts at £4000 for the 125 and rises to £5150 for the 400cc model, it shouldn't brake the bank. The MP3 Hybrid should be available in the first half of 2009.