Original URL: https://www.theregister.co.uk/2008/11/12/nokia_e63_launch/
Nokia E63 smartphone to separate work, play
Balancing act
Posted in Personal Tech, 12th November 2008 11:14 GMT
Details of the Nokia E63 were first leaked almost a month ago, but the Finnish phone giant has now confirmed that the handset is real and coming soon.
The E63 is designed for people who need to manage their business and personal lives equally, Nokia gushed. So the it's equipped the handset with a "mode switch" for flicking from your corporate email and work calendar to your personal inbox and diary.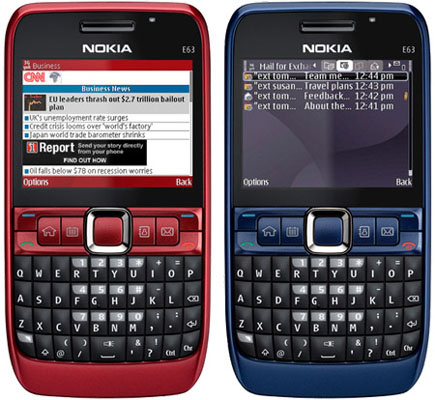 Nokia's E63: quickly switch between work and play
"Our research shows that people want a device that deals with both their personal and professional lives, but helps them to separate the two," said Nokia senior VP Soren Petersen.
With the E63 you'll be able to fire off emails over Wi-Fi and surf the web using its 3G connection - or just make an old fashioned telephone call over quad-band GSM.
In personal mode, you may want to take some pictures, so a two-megapixel snapper's built into the phone. The talker supports Micro SD memory cards, but also comes with free access to 1GB of online storage.
Elsewhere on the 113 x 59 x 13mm talker, you'll find a 3.5mm headphone jack and Bluetooth connectivity.
Nokia's E63 will be able in a couple of weeks in a choice of "ruby red" and "ultramarine blue" colour schemes. It'll cost somewhere in the region of €200 (£163/$250).
Nokia phone reviews
E66
E71
7310 Supernova
6600
6210 Navigator