Original URL: https://www.theregister.co.uk/2008/11/11/review_pmp_hauppauge_mytv/
Hauppauge myTV Pocket Freeview PMP
Media player with built-in digital telly tuner
Posted in Personal Tech, 11th November 2008 09:02 GMT
Review Pocket TVs have thankfully come on a ways since the world went 'er.. what?' at the unveiling of the Sinclair MTV1 back in 1977.
The myTV Player from TV tuner specialist Hauppauge is a fresh attempt to bring you telly on the move, this time wrapping a DVB-T receiver - Freeview, basically - and a PMP into a single, affordable unit.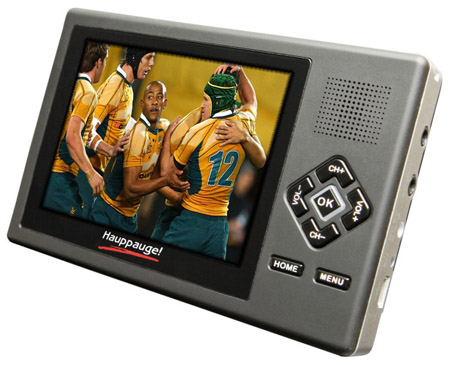 Hauppauge's myTV: underwhelming design
From the outside, the myTV is underwhelming, having a touch of the old kitchen transistor radio about it. Still, the 200g, 122 x 78 x 18.4mm device feels well built and solid, with the exception of the flip-out plastic stand on the back, which is rather flimsy and can be effortlessly pulled out of its hinge housing.
The 3.6in, 320 x 240 screen certainly won't cause the folk at Archos or Cowon to lose any sleep, but it's crisp, clear and bright enough for the job in hand. Those pixel dimensions will tell you this is a 4:3 ratio display, so 2.4:1 widescreen videos appear just a little on the small side, but this is less of a problem with 16:9 widescreen broadcasts.
Telly reception in west Manchester and north London - the two areas we in which we tested the device - was well up to par, the device's auto tuner quickly locking on to all the available Freeview TV and radio stations. Reception was a little variable depending on exactly where the device was placed but we found we were able to get most of the major channels, most of the time.
The hinge on the built-in aerial leaves a bit to be desired: it's happy to sit either vertically or horizontally but not at points between.
Hauppauge supplies an external magnetic aerial to supplement the devices' built-in telescopic antenna - presumably the exact same one it supplies with their various TV cards – and while using this does improve reception it doesn't do so by as huge a margin as you might expect by doubling the number of aerials. That said, it does insulate reception from changes caused by altering the position you're holding the device in.
One thing the Hauppauge lacks is a re-set button. Should the operating system go tits up, you'll need to reach for a screwdriver, undo the back cover and disconnect the otherwise non-removable battery. Fortunately, during our time with the myTV, it never once required this kind of remedial action.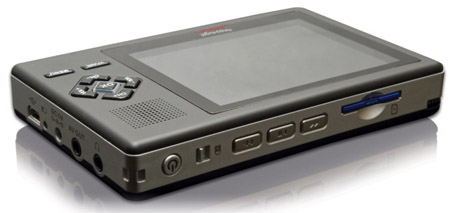 There's no built-in memory, but myTV does have a SDHC slot
Navigating around the myTV is simplicity itself. The main controls on the front let you change channel, alter the volume, open a context-sensitive menu or return to the main menu. On top of the player are fast forward, rewind and play/pause keys for recorded media, along with a lock slider and the on/off key. A basic programme guide can be called up using the TV menu.
The on-screen menu is nothing more than a list of media types – TV, radio, movies, music, pictures, games – and settings. Just scroll up and down and select.
We've not much to say about internal memory because myTV doesn't have any. What it does have is an SDHC slot at the top that's certainly good for 8GB cards and will presumably also work with 16GB and 32GB cards. The myTV's mini USB port lets the device act as a host so you can access content from any self-powered USB storage devices.
At some point, Hauppauge must have planned on shipping the myTV with a cable with a mini USB connector on one end and a full-size USB slot on the other because it was blanked out on the list of package contents that came with our review device.
Reading files from SD cards proved to be basic but reliable. The menu just shows the files and folders present. It's worth noting that you have to access the card from the correct main menu setting – movie, music or photo – in order for the player to recognise the relevant file types. Pop a card in with a mixture of AVI video, MP3 audio and JPEG image files and open the card via the movie view and all you'll be able to see are the AVI files. To play the MP3 files you need to navigate back to the main menu and click on the music icon.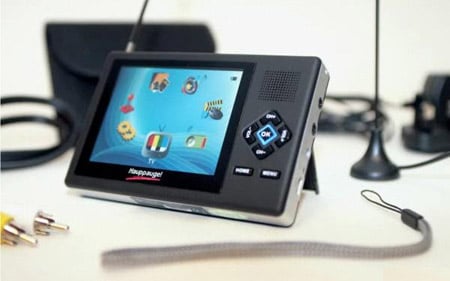 Navigation around the myTV player is simplicity itself
File support can best be described as adequate. The myTV runs to MP3 and WAV audio files; JPEG image files; and MPEG 1, 2 and 4/ISO, MP4, DivX 4/5, and XviD, but no further. Frankly, we think it would have been worth Hauppauge's while to have included support for both WMV and H.264 video, and Flac audio.
The video player handles .SRT subtitle files, though, and while ID3 audio file tags are supported, album art is not.
Hauppauge doesn't appear to supply any earphones. We don't think this is such a big deal as bundled phones are usually hopeless and, more to the point, the two speakers – one on the front, one on the left side – produce a very fine sound indeed. So long as you're in a tolerably quiet environment, the Hauppauge is quite usable without headphones. If you need 'em, there's a 3.5mm socket.
Sound quality through a good pair of headphones isn't quite up to the standard of the best MP3 players but with the aid of the graphic equalizer and sound tweaking pre-sets we always found it possible to come up something we could live with.
Next to the 'phones jack is a TV output port and for this Hauppauge does supply composite-video cables. You also get a robust nylon carry case.
The manufacturer-quoted battery run-times are four hours of TV, six of video and eight of music playback. These proved not far of the mark - we got 3h 50m of TV before the lights went out, and 5h 40m of video. Good rather than impressive, we'd say.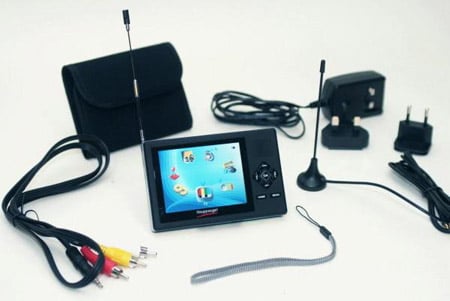 Antenna, video cable and carry case supplied - but not earphones
But it's price not battery life or functionality that's Hauppauge's trump card. Hunt around and you can find the myTV Player for just £130 mark, down from an RRP of around £150. That is pretty good value in our book.
Verdict
Assuming you live in an area with decent Freeview reception watching TV on the Hauppauge is a pleasant experience. Either off air or from a memory card video and audio playback are more than acceptable while the external speakers are particularly fine for a device of this size. A higher resolution screen and more comprehensive file support would been nice but as it is first and foremost and mini telly rather than a fully blown media player we can't beat it over the head too ferociously on that front.