Original URL: https://www.theregister.co.uk/2008/11/10/youtube_signs_with_mgm_for_feature_films_tv/
YouTube goes spandex with MGM movie deal
The lion meows tonight
Posted in Policy, 10th November 2008 23:11 GMT
YouTube's position that full-length features have no place on the website is now nothing but a memory.
The Google-owned operation has now inked a deal with MGM Studios to upload entire television shows and feature films to YouTube.
Judging by MGM's initial offering, however, we'd say the lion isn't putting much faith into the arrangement.
Those residing outside the US should know the drill by now. No love here for you.
The deal follows YouTube's similar partnership made in October with US broadcast giant CBS for full-length television fare. MGM being added to the arsenal is another step towards making peace with Hollywood in light of the impressive growth of Hulu and other commercial video websites.
The MGM YouTube channel kicks off with episodes of the first season of the original "American Gladiators."
For those not familiar with the show, it's a late '80s/early '90s competitive "athletics" TV program where retired American football players and bodybuilders sporting names like "Tank," "Nitro," and "Lace" swing on ropes and smack semi-athletic office workers from Georgia with oversized foam staves.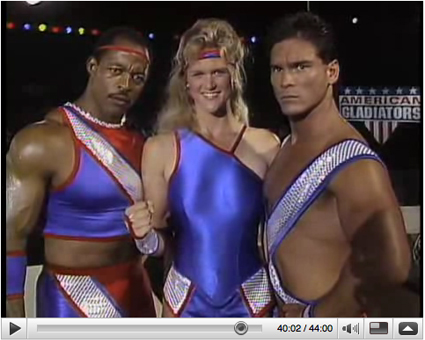 When men could unashamedly wear tiny headbands.
It's also launched a separate channel called "Impact" that hosts feature films, "Lone Wolf McQuade" and "Bulletproof Monk," along with oddly miscellaneous short clips.
As per the deal with CBS, the movies and episodes have several non-skippable commercial interruptions included within the showing. YouTube also earlier gussied-up its video player to compliment extended, non-cat-playing-piano videos.
"We're looking to mine the breadth and depth of the MGM library to build out and promote branded, multi-platform opportunities on demand, online and wherever viewers consume their entertainment," said MGM Worldwide Television co-president Jim Packer.
That's probably the first and only time you'll hear the words breadth and depth used in correlation with "American Gladiators."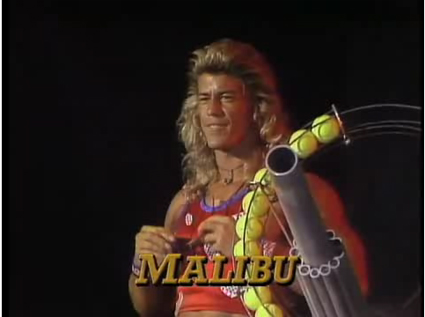 Savor it, dear reader. Savor it like Malibu savors shooting tennis balls at people for a living. ®