Original URL: https://www.theregister.co.uk/2008/11/10/review_notebook_asus_n10/
Asus N10 notebook-not-netbook
Best of both worlds - or the worst?
Posted in Personal Tech, 10th November 2008 13:02 GMT
Review How do you approach the Asus N10? With its 1.6GHz Intel Atom N270 processor and 10.2in screen, it's a netbook. But it's not small, it's not cheap and it runs Windows Vista Business. So is it a notebook?
There's no question, however, that this notebook-not-netbook is a very sexy laptop that has 'premium product' stamped all over it, even though it's not priced like one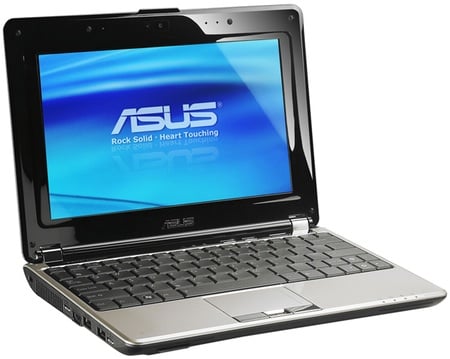 Asus' N10: notebook or netbook?
Fresh out of the box and unwrapped, the N10 immediately appeals with its glossy gunmetal-look lid, a covering that's used to deck out the wrist-rest area and keyboard surround too. Between this is the chrome hinge - the trackpad buttons and, between them, the fingerprint reader are chrome too. The sides and base of the machine are clad in matte black plastic, while the screen bezel is gloss black.
The N10's sides are home to the usual array of netbook ports: VGA, Ethernet, a USB 2.0 trio and 3.5mm audio sockets - one of which doubles up as an SPDIF port - but they're joined by an HDMI port and an ExpressCard 54 slot. The front of the laptop's base curves sharply away from the edge but is where you'll find the SDHC memory card bay and two slotlike speaker ports.
The curves at the front and back give the N10 a profile not unlike that of the MSI Wind, but this is a larger laptop than that one. It feels more like a 12.1in machine than one of the bigger netbooks, but while Asus has taken advantage of that to equip the N10 with a good-sized keyboard, it's a real shame it didn't do the same with the screen. You'll have to look to other machines in the N series for that.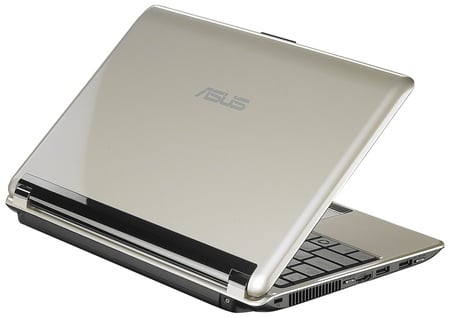 Nice 'n' shiny
It's a 10.2in panel with the usual 1024 x 600 netbook resolution. But there's at least an inch of bezel all the way round it, room enough for a 12in, 1280 x 800 display. As it is, the screen looks a little lost among all the piano-black gloss, and the overall effect is to make the display seem smaller than it is. For those with weak eyes, the N10 has a key that pops up an on-screen magnifying glass that zooms to 2x with the first click, 3x with the second then magnifies the entire image with a third.
But it's a nice-looking, bright screen nonetheless, and one that, while glossy, isn't overly reflective. And it's no slouch - no mere integrated graphics for the N10 but a full GPU: Nvidia's GeForce 9300M GS with 256MB of video memory. There's 2GB of regular DDR 2 memory on board too.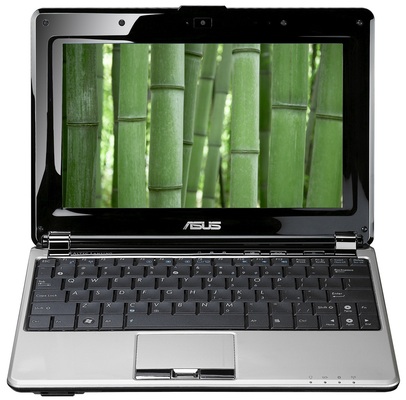 The N10 sports a bright, clear display
The keyboard's nice too, with decent-sized keys and a solidity absent from Asus' smaller Eee PC netbooks. But it's the trackpad that's the stand-out feature: as smooth as the proverbial baby's behind, fingertips positively glide across it, making it the first trackpad ever that would persuade us to leave our mouse at home.
It's a Synaptics pad and so has plenty of personalisation options, including virtual scrolling. The only thing it lacks is multi-touch, which is surprising since that's a feature of the Eee PC 901 and 1000.
Like those Eee PCs, the N10 offers a set of performance modes, here named Entertainment, Quiet Office, Battery Saving and High Performance. The first two allow the CPU to adjust its maximum frequency dynamically, between 1GHz and 1.6GHz, and 800-1GHz, respectively. Battery Saving underclocks it to 800MHz. High Performance mode sets it at 1.6GHz.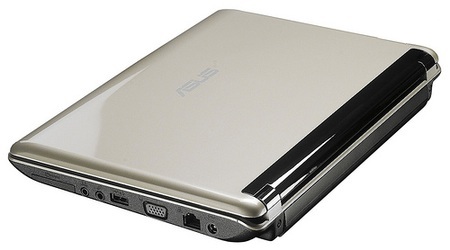 Plenty of ports - plus ExpressCard
The N10 incorporates a 160GB hard drive for storage, and that plus the GPU give the Atom the lift it needs to run Vista. The operating system itself rates the N10 with an Vista Experience score of 3.0, with scores of 3.0, 4.5, 5.9, 4.6 and 5.5 for the CPU, memory, desktop graphics, gaming graphics and HDD, respectively.
Apart from the processor scores, those are largely better numbers than Dell's Core 2 Duo and DDR 3-based Latitude E6400 notebook produced: 5.2, 5.9, 4.1, 3.8 and 5.2, for an overall rating of 3.8. The N10 doesn't fare as badly as we might have thought.
Asus has anticipated the folk who don't want Vista anyway - there's a second recovery DVD in the box that includes a copy of Windows XP. The installer tucks Vista away into a hidden partition, so it's available for re-installation at a future date.
There's even Linux on this thing, courtesy of SlashTop's ExpressGate, into which you can quickly boot from a powered-off state to surf the web, play online games, Skype, IM, play music and look at your photos - all after an 11s start-up time. It's not as quick as Asus makes out, but it takes a fraction of the time load and use that Vista does.
Speaking of bundles, the N10 also comes with a slimline, metal-clad multi-format DVD burner in the box. It's a little clunky, but since it's free, we can't complain. Asus has shipped it with a dual power and data cable that terminates in two USB connectors.
PCMark 05 Results
Notebook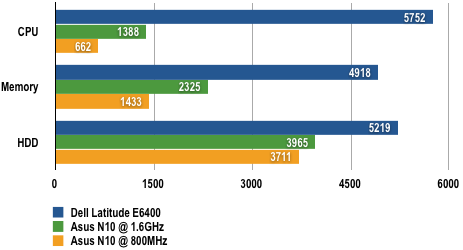 Longer bars are better
PCMark05's graphics test won't run on a 1024 x 768 screen, so we focused on the CPU, Memory and HDD tests. As you can see, up against a Core 2 Duo based machine like Dell's Latitude E6400, the N10 is completely outclassed.
PCMark 05 Results
Netbook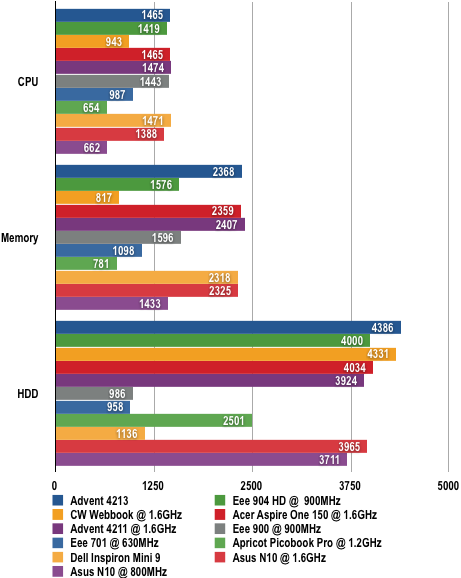 Longer bars are better
Compare the N10 to netbooks, and the contest is more even, though it's by no means the pick of the crop. Our real-word Gimp test, however, shows it's no slouch when compared to other netbooks.
The Gimp Results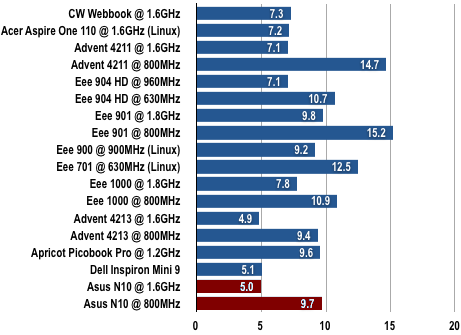 Time in seconds
Shorter bars are better
We don't usually run 3DMark on netbooks but we tried it with the N10 and were surprised to see it shoot ahead of the Dell Latitude by a factor of around 50 per cent. We also put in a run using the N10's integrated GPU, just to show you why we don't run this benchmark on netbooks.
3DMark06 Results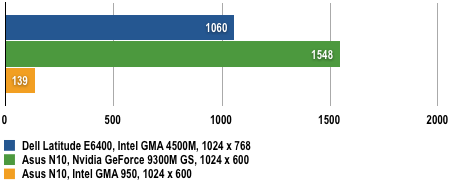 Longer bars are better
The N10 comes with a two-year worldwide warranty, though that doesn't apply to the battery, we suspect, which here is a six-cell, 4800mAh job that clips onto the back of the laptop. Being a six-cell unit rather than a three-cell one, it pokes out but not so much that it spoils the N10's lines.
The combination of a six-cell battery, power-saving modes and the Atom CPU should make for a good off-the-mains runtime. Countering these is the use of a hard drive and a discrete GPU. But here's a bonus: a small switch on the N10's side switches off the GPU and activates the integrated graphics instead.
We ran our customary netbook-oriented battery life test: keep Wi-Fi on, set the screen to maximum brightness and run a standard-definition H.264 movie full-screen until the screen goes dead. The N10 goes into Battery Saving mode as soon as the power cable's pulled, and we tested the machine at that setting and in High Performance mode. We also tried it using the integrated GPU rather than the Nvidia chip.
Battery Life Results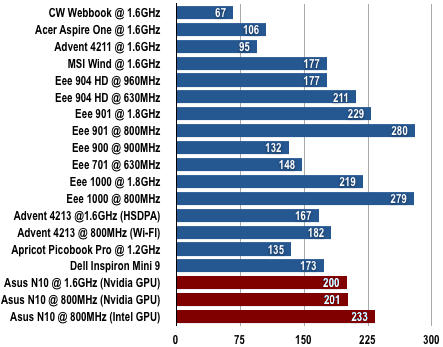 Battery life in minutes
Longer bars are better
The change in CPU speed made little difference when the Nvidia GPU was enabled - the graphics chip and the screen dominating the power draw. But the time of three hours 20 minutes isn't bad for a netbook. Switching to the integrated GPU saw the runtime leap just shy of four hours. Compared to other netbooks, the N10 delivers a very respectable performance.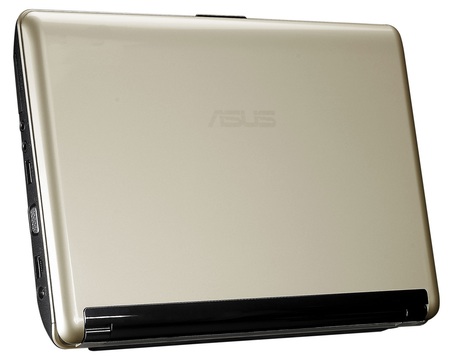 The luxury-lover's netbook?
Asus has made it easy to get to the N10's memory, hard drive and wireless card: just unscrew the large hatch on the base of the machine, and you're ready to start upgrading.
Verdict
It's hard not to like the N10 when it's sitting in front of you, but we can't help coming back to its neither-fish-nor-fowl nature. Think of it as a notebook, and its performance and low screen size and resolution will disappoint. Consider it a netbook, and it's expensive and bulky. This is a shame, because the N10 packs in a heck of a lot of technology for the price and it looks great. But it sits right between two stools, and we think most buyers will opt for either a smaller netbook or a larger, more powerful notebook.