Original URL: https://www.theregister.co.uk/2008/11/08/review_mobile_phone_nokia_7310_supernova/
Nokia 7310 Supernova candybar phone
Swappable covers make a comeback
Posted in Personal Tech, 8th November 2008 09:02 GMT
Review Nokia is re-introducing the once-popular exchangeable Xpress-On cover concept to a new generation of impressionable mobile buyer with its Supernova range of budget mobiles.
The 7310 Supernova is one of a trio of blast-from-the-past cover-swapping mobiles aimed at cash-strapped phone users. It angles for a bit of low-cost style using a mirrored screen and chrome numberpad. Available in "steel blue" or white, it's boxed with a clip-on alternative, either "candy pink" or "wasabi green". Others, including create-your-own designs, can be bought separately.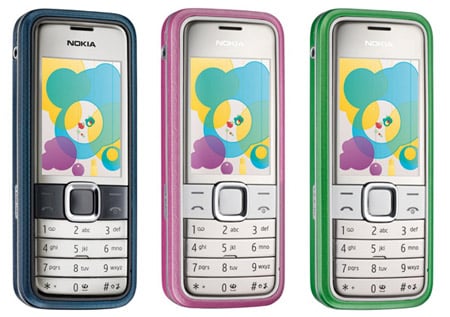 Nokia's 7310 Supernova: not exactly a stellar feature line-up
Despite its name, the 7310 Supernova doesn't exactly have a stellar line-up of features. There's no 3G, but it does have a two-megapixel camera, a music player, FM radio, and video record and playback options.
The 7310's slim-ish candybar casing measures 106.5 x 45.4 x 11.95mm, and is pocketable and comfortable in your hand. Its light 83g bodyweight is evident in the feel of the bodywork, though the Xpress-On covers actually look decent enough - for bright pink and green, that is - with a bit of patterned detailing added to the finishes. They're no hassle to swap, either.
The low-budget chrome finish on the numberpad is cheap-looking, however. Still, the buttons are reasonably responsive for texting, and the navpad and soft-menu keys are perfectly serviceable. At rest, the display hides behind a large slab of mirrored screen, which is quite striking out of the box – and handy for checking make-up.
The 2in, 320 x 240, 16m-colour display that appears from behind it is fine for this level of handset. The out-of-the-box screen theme is less so. It's a messy mix of pastel blue, green, magenta and yellow circles that form a distracting background to the menus. Thankfully, it's easy enough to swap themes to something that works better.
The controls around the phone's sides are limited to the volume rocker – there are no dedicated camera or music player keys. There is a earphone socket, usefully placed on the top of the phone next to the micro USB connector, but it's a 2.5mm job, so to use your own headphones rather than the average in-box set, you'll need to get an adaptor. This socket can also be used for a TV-out option – though there's no cable supplied with the phone.
The phone's menu and control arrays are classic Nokia Series 40. The home screen presents an Active Standby layout including a five-icon row of shortcuts on the top of the display, all of which can be changed.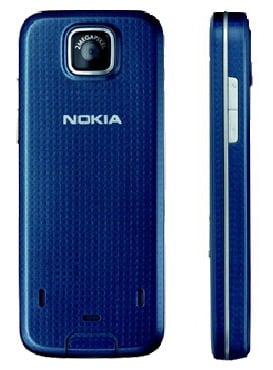 Photo quality is disappointing, even for this grade of phone
The two-megapixel camera isn't a stunner. There's no autofocus system or flash, and when shooting on the highest resolution setting, the camera can take around 15 seconds to finish processing images after you've pressed the capture key - not impressive.
Image quality is generally disappointing, even for this grade of phone. Shots are soft, with grain and noise evident. Colours are bright but can be oversaturated in strong light. Auto metering doesn't seem to cope particularly responsively to changing lighting situations, and images can have colour tints or look washed out.
Nokia has included its usual array of settings to adjust, plus basic on-phone editing tools, but the results you can achieve with this camera are very limited. The 7310's video capture abilities aren't up to much either. Shooting in maximum 176 x 144 resolution, you get pretty low quality footage.
The music player is reasonable, though. The 32MB of on-board storage can be boosted with Micro SD cards of up to 4GB, though Nokia hasn't included one in the standard package.
The player's user interface is straightforward, with all the usual listing headings. The navpad takes care of the controls, and all the standard music file-formats are supported.
Getting tracks onto the phone is more of a hassle than you'd normally find with a Nokia phone, as there's no USB cable or Nokia PC Suite software included. Tunes can be dragged and dropped over to a memory card and slipped into the phone, or you can download PC Suite from Nokia's website and sync over Bluetooth.
The audio performance is disappointing too - the supplied earphones are harsh and bass-light. If you can find a 2.5-3.5mm adaptor, you'll notice the improved sound quality with decent headphones. The FM radio is a doddle to use, and can be fired up straight from the home screen once the earphones, of whatever type, are plugged in.
Additional features aren't bare-bones basic. There's email and instant messaging support, plus a roster of apps that are now regularly appearing on Nokia Series 40 phones. Besides the standard Nokia own-brand browser, Opera is included too, and it's an excellent alternative that works well even on the 7310's GPRS/Edge data connections.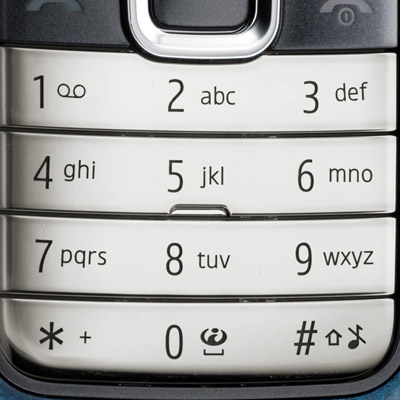 The chrome-coloured keys are cheap looking
Other web-based applications loaded up include Yahoo! Go which pulls together various services, including email, news and weather feeds, onto one screen. Nokia's own WidSets widgets application, which can pull in feeds from numerous websites and blogs, is available too. A selection of routine Nokia organiser functions are to hand: calendar, to-do lists, notes, calculator, timer, stopwatch plus a voice recorder. Again, you'll have to download PC Suite separately to make the most of them.
The 7310's call performance is very respectable. Its audio reception is clear and natural, and there's no creaky-casing problems with those swappable covers. Battery life is reasonable: Nokia reckons on four hours talktime or up to 300 hours on standby, and with few power-guzzling features, our tests gave us just over three days of power with average usage.
Verdict
Swapping phone covers may be a bit old-school, but Nokia is banking on a new wave of young phone buyers getting into Xpress-On swappable covers to personalise their handsets. Under the covers, though, the Nokia 7310 Supernova is an unexceptional phone. It has a good level of functionality, but its camera is disappointing and its music performance limited by the poor in-box bundle. Unless you've been pining for exchangeable covers, there are plenty of better-equipped budget phones available.