Original URL: http://www.theregister.co.uk/2008/11/07/review_bluetooth_headphones_sony_ericsson_hbh_is800/
Sony Ericsson HBH-IS800 Bluetooth stereo headphones
Wireless earphones the way they should be
Posted in Personal Tech, 7th November 2008 09:02 GMT
Review Sony Ericsson has a lot riding on these tiny wireless headphones. Barely bigger than wired earbuds, they're a flagship product for a company known for its quality peripherals, and SE wants these boys to cement its reputation.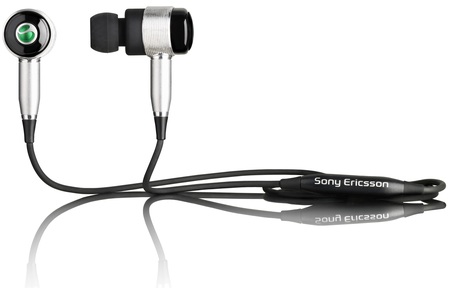 Sony Ericsson's HBH-IS800: tiny 'phones
As Bluetooth stereo 'phones really are very small. The buds fit into the ear canal and stick about 1.5cm out of it, so each headphone is about twice the length of a regular bud earphone and slightly bulkier towards the back. In use, you wouldn't get a motorcycle helmet on over them, but you're not going to look like Uhura, either.
The sticking-out bits house the electronics - the battery on one side, the Bluetooth circuits on the other - and the bulge in the wire holds the microphone, the single control button and an LED that isn't used much. One of the earpieces conceals a hard-to-remove cover - decent nails are needed - behind which lurks a proprietary power connector unlike anything previously seen. Don't expect to be able to charge this set up using your existing transformers.
Once charged, the headphones need to be paired with a phone - the HBH-IS800 supports auto-pairing, which means that the device automatically goes into pairing mode when powered on, so you turn on the headphones and then search for them using your cellphone or Bluetooth-enabled music player. If your player supports auto-pairing then the connection is instant, otherwise you'll have to enter the passcode.
We tried both, and while connecting with a Sony Ericsson handset was smoother, pressing zero four times wasn't too taxing.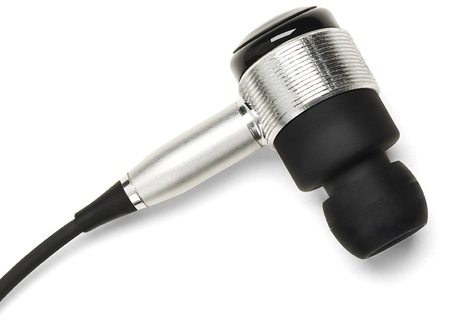 Barely bigger than wired ear-buds
When paired, the earphones reconnect to the last-used device each time they're powered on. They worked seamlessly with a range marginally superior to other Bluetooth earphones we've used, though not by much.
The HBH-IS800's single button is held down for a couple of seconds to switch it on and off, with a shorter press answering - or making - calls.
The HBH-IS800 comes with three separate rubber sleeves, to suit a variety of ears, and once fitted they feel snug enough, which is important as the friction against the ear is the only thing that stops these earphones ending up in the gutter.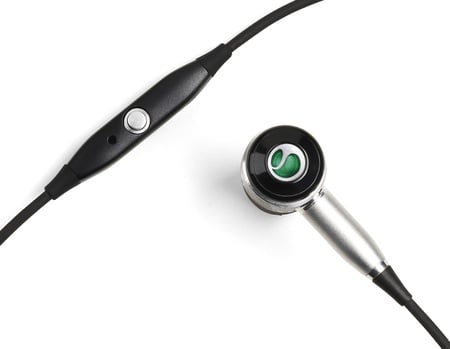 Still needs a cable, for the mic and the control key
The chaps at Sony Ericsson, who are all sporting HBH-IS800s these days, have a nice clip in the middle of the wire for attaching the set to shirt collars, but our model lacked that, and it would only be useful if you were wearing a collar anyway. If your workout is rowing or cycling then you should be fine, but anyone planning to jog might want to invest in a cloths peg or risk extending their run as they return to collect their earphones every now and then.
But if your exercise features fewer impacts then the sound you'll get over the HBH-IS800s is very good. Bluetooth stereo is, of course, dependent on both the headset and the handset supporting the same codecs - the standard only mandates a very basic wireless stereo coding, so manufacturers tend to implement their own but are generally reluctant to talk about it for fear of confusing consumers.
The difference was audible when we tested the HBH-IS800s with a Sony Ericsson Walkman handset and with out, non-SE phones, but the quality was very acceptable with Nokia and Samsiung handsets we used.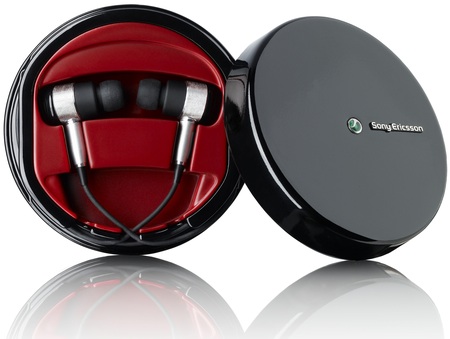 A premium product in a natty black case
SE claims the set's battery life is around four hours for playback or 11 days on standby. We found those numbers to be slightly conservative, achieving four-and-a-half hours continuous playback before the 'phones shut down after giving several audible warnings. During phone calls, the microphone faired well - it tends to hang near the mouth so call quality wasn't a problem.
Verdict
The HBH-IS800 is close to perfect - if you want wireless stereo then there's little reason to chose any other product. The only drawbacks emerge if you're planning to go jogging, or are very cost sensitive. (final price is still unknown, but this will be a premium product). Everyone else will be happy to see wireless headphones as they ought to be seen: compact, comfortable to wear and as user-friendly as wired 'phones.