Original URL: https://www.theregister.co.uk/2008/11/05/review_soundcard_creative_sound_blaster_x_fi/
Creative Sound Blaster X-Fi ExpressCard and Wireless Receiver
Film fans and game buffs, rejoice
Posted in Personal Tech, 5th November 2008 09:02 GMT
Review Creative's X-Fi sound cards have been around for a while, but with the Sound Blaster X-Fi Notebook we have the first ExpressCard 34 iteration of the breed.
That's not to say laptops with ExpressCard 54 slots have been ignored - the Sound Blaster comes with a suitable adaptor. Whichever of these slots you use, the card's all about bringing high-quality multi-channel audio to laptops. It also doubles up as a wireless music streamer, though only to Creative's new Wireless Receiver. But more about that later.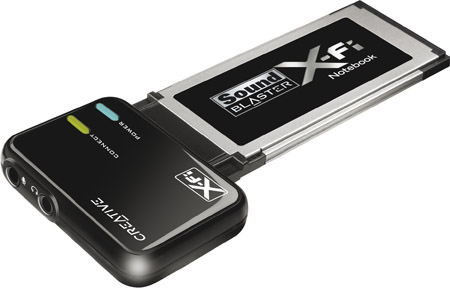 Creative's Sound Blaster X-Fi Notebook: multi-channel output for laptop-based gamers
The card is straightforward enough. It has lights to indicate power and wireless connectivity, and two 3.5mm jacks at the end, one for audio out and one for microphone in. When in place the card pokes some 40mm out from the side of your notebook.
Creative's claim that its X-Fi technology radically improves the quality of compressed music files depends upon your definition of "improvement". As our recent test of Edifier's MP300 2.1 speaker system demonstrated, a cheap, no-name USB audio adaptor and a decent powered speaker rig is capable of pumping out a more-than-decent sound from a laptop.
Once loaded, Creative's software suite allows you to modify the card's audio output in a plethora of interesting ways. The EAX settings can be used to emulate various venues, the 3D settings give you ersatz surround sound, while the X-Fi Crystalizer beefs up certain frequencies to give an enhanced feeling of clarity. You also get Smart Volume Management, which lessens the gap between the quiet parts and the loud bits of a song, plus a ten-bar graphic equaliser with ten pre-sets and the option to set and save your own custom profiles.
There is also a handy master default switch to put everything back the way it was to start with if you manage to tie yourself into an audio knot.
Whether or not all this user choice is worth the effort depends on how you like your music. For instance, the CMSS-3D software allows you to move a singer's voice either more to the front or more to the rear, but we quickly came to the conclusion that the best place for Seth Lakeman's vocals was just where the producer had put them to start with. Ditto the differences between the loud and quiet bits of La Traviata. Verdi scored it that way for a reason.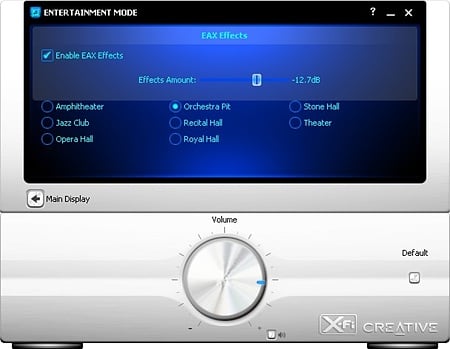 Tweak the sound like you're in the Royal Albert Hall
For film and games buffs, the card makes far more sense. You can download a free copy CyberLink's PowerDVD application complete with Dolby Digital and DTS decoding. Allied to CMSS-3D, it makes watching a DVD on your laptop with headphones quite a bit more entertaining from a purely audio point of view.
CMSS-3D also makes for great positional sound effects during gameplay, while Creative's EAX Advanced HD makes things that go bang go with a bigger bang if a quick romp around Red Faction 2 was anything to go by.
Of course, all these modifiers work better with headphones than speakers – though you can set the X-Fi control panel to favour either, and it has a handy set up feature for standalone surround sound speaker systems. Creative reckons a pair of its Aurvana X-Fi cans are what's needed to really blow your socks off, though at £150 a pair we would hope for nothing less.
The PC card's integral wireless transmitter allows you to stream music to Creative's Wireless Receiver, a 95 x 60 x 25mm black box with RCA and 3.5mm audio out jacks at the back. The receiver comes with a handy little remote that allows you to alter the volume, change track, and enable or disable the various X-Fi sound modifiers. There are also a few wholly useless buttons as it's the same remote that ships with other Creative products, such as the Xdock.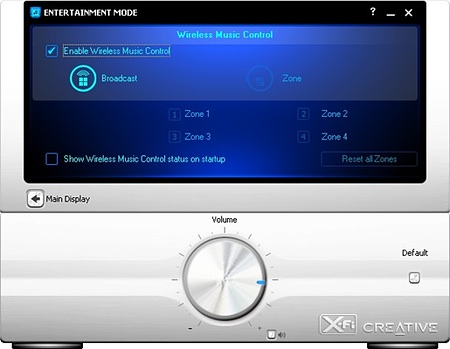 Stream music to four zones
Set up of the Wireless Receiver couldn't be more simple. Plug it in, connect it up, switch on and wait for it to pick up the signal from the Sound Blaster X-Fi Notebook. Sound quality is not at all bad. We hooked our unit up to the Edifier speakers and to an LG 5.1 home cinema system and the resulting sound from both showed little if anything in the way of distortion or degradation.
But - and it's a big but - signal drop-out is simply appalling.
Case in point. We plugged the card into a laptop on the first floor of a 1950s brick-built semi, and the receiver into the LG 5.1 home cinema system in the room below. The slightest movement by us in the room with the PC or in the vicinity of the receiver caused the signal to drop. Sometimes the signal dropped or degraded no matter where or how still we stood.
Creative says the Wireless Receiver is great for parties. We can only assume that at Creative gatherings everyone remains utterly motionless.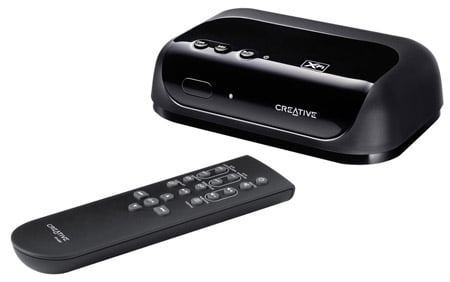 Suffered from appalling signal drop-out
According to spec sheet, the system "works" over the 2.4GHz band, so just to be on the safe side we turned our wireless network off, switched off Bluetooth phones and unplugged the microwave, but to no effect. In a final act of desperation, we even took our belt off in case it was an issue with the metal buckle. The only effect that had was that our pants fell down and the girl from accounts got the shock of her life when she walked in. Signal reception remained the same.
The only way we could get a continuous and reliable signal was to place the receiver more or less in line of sight and not much more than three or four metres from the transmitter - a set up that defeats the whole point of the system.
The Sound Blaster X-Fi Notebook can support up to four receivers around the house, but judging by our experiences any hope of setting up an effective house-wide wireless music system using this pick-up would be optimistic in the extreme.
Verdict
The Sound Blaster X-Fi Notebook is a great add-on for gamers and film buffs – though we suspect either group will be using a desktop PC rather than a laptop to get their jollies. At £60, it's reasonably priced too.
As for the Wireless Receiver, our advice would be to save the 60 quid Creative wants for it and buy a real Wi-Fi music streamer or just invest in a long cable.