Original URL: https://www.theregister.co.uk/2008/11/04/review_agps_locator_zoombak_portable/
Zoombak Universal portable A-GPS locator
You need never lose anything ever again
Posted in Science, 4th November 2008 09:02 GMT
Review The Zoombak personal GPS locator is designed to be used for a wide range of applications, whether it's keeping an eye on an elderly relative, a teenage driver, a bike or even your dog.
Zoombak comes in three different flavours: there's a dog locator, complete with a pouch that clips onto the dog collar; a car locator that includes an installation kit a 12V charger; and a universal locator which, as the name suggests, can be used for locating a wide variety of objects/animals/persons. We tested the latter.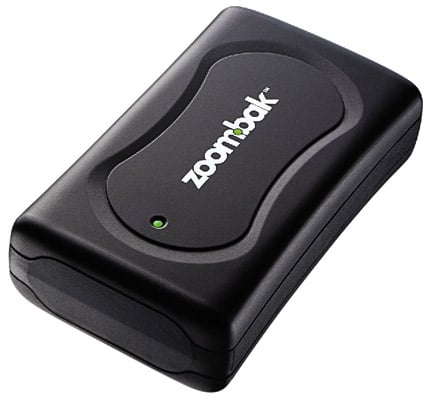 Zoombak's portable locator: matchbox sized
The locator is a small black box about the size of a largish matchbox. It's made of hard plastic, water resistant and claimed to be able to operate at extremes of temperature. There's really not much to the Zoombak, save a small rubber button for switching it on and off, and a rubber lug that hides the battery charging port. When the Zoombak is operating, a small green light flashes on and off at the front. The light turns to amber when the battery power is running low.
Zoombak uses an assisted GPS (A-GPS) system. This utilises a series of servers to help improve location speed and accuracy. Zoombak says that accuracy is between five and 25 metres, and coverage is UK-wide. Inside the Zoombak is a SIM card which works with Vodafone's GPRS network, and a lithium-ion battery. Sadly, Zoombak has opted for the Apple iPod approach to battery replacement: you have to take the device to an authorised dealer to get a new one put in.
The idea behind Zombak is that you put the locator on or in the object you want to keep tabs on. Then, when you want to find its location, you can either log onto the Zoombak website, send a text request from your mobile phone or call Zoombak's 24x6 customer service line. What it's not designed to be is a kind of bug that tracks something continuously, 24 hours a day.
Zoombak does offer a continuous tracking mode which provides location updates every five minutes, but this is limited to one hour's duration, although if you're sitting in front of a PC, you can manually extend it whenever the hour elapses. The limitation is designed to preserve battery power. Talking of which, Zoombak says that the locator can operate for up to five days in standby mode, and gives up to 150 location requests when in active tracking mode.
The whole thing operates through the web. The first thing you need to do is to activate the device which involves logging onto the Zoombak website, creating a login profile - this includes user name, password, PIN and secret security question - and then entering the locator device ID number, which is on the packaging so for heaven's sake, don't throw it away. After that you set-up a payment plan and activation is complete.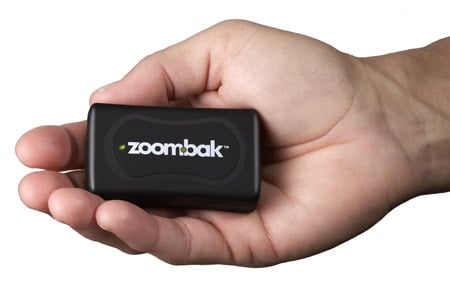 Handy
Locating the device for the first time involves placing it near a window or outside and then clicking the on-screen Connect button. Connection can take a minute or two. Once your Zoombak is logged by the network, you can then set about customising it for your requirements.
The Zoombak website includes five tabbed menus for this purpose. If you want to receive mobile phone or email alerts for low battery or power off, you enter your mobile phone number and email address in the settings section. The Zone menu lets you set up zones or boundaries ranging from 100-500m in size - there are pre-set distances of an eighth, a quarter and half a kilometre, or you can set your own distance within those limits.
This is handy, for example, if you want to keep tabs on your dog. If it wanders away from home and leaves the zone, you can receive a warning and then track down Fido. Likewise, if you wanted to check that a child or an elderly relative had reached home safely, you could set-up an automatic alert for your phone or PC. Zoombak lets you set up to ten zones with five operating at any one time, which we think is rather good. We set up a 500m boundary and put it to the test.
We tried using the Zoombak in various modes, including walking around with it in a pocket and putting it in the glove compartment of a car. We also activated the continuous tracking mode before going on a bike ride. The simplest way to find Zoombak's location is to sit in front of your PC and click the Find Now button.
Once the locator has been found, you can view the results on a map, which gives the location as a blue pin. Move your mouse over the pin and you can read the location. Zoombak also uses Microsoft Virtual Earth, allowing you to view Zoombak's location as a photographic image for a bird's eye view. There's also a historical tracking mode which lets you see where a locator has been taken.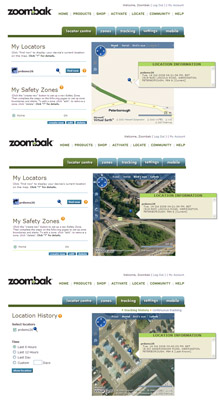 The tracking can be monitored on the Zoombak website
When the locator was being used out in the open, it didn't take too long to locate it, but when it was indoors, finding it was much slower or not possible at all. When this happens, Zoombak asks you to ensure that the locator is in clear view of the sky, which could be a bit of a problem if it's on the other side of the country...
That said, the zone alert system worked very well. In this mode, Zoombak automatically updates the location position every 15 minutes, and can send you a text or email warning whenever the device enters or leaves the zone. However, depending on where the locator is in the update cycle, this warning can arrive anywhere between two and 13 minutes after Zoombak has entered or left the zone. In our case, the alerts generally arrived within three minutes.
Verdict
Zoombak is compact, easy to set-up and simple to use. The web-based service means you can access the locator anywhere there's an internet connection – and you can also use your mobile. Like all GPS systems, it has its limitations, but we think it works fairly well for most general tracking applications. The question is, do you think it's worth paying £10 a month in addition to the up-front £100 price tag for the privilege of keeping tabs on things. If you do, we think you'll be pretty satisfied with the system.