Original URL: https://www.theregister.co.uk/2008/11/04/lacie_white_box_net_drive/
LaCie offers white-as-a-cloud net storage box
Posted in Personal Tech, 4th November 2008 16:45 GMT
We've heard of white goods, but this is ridiculous. Storage specialist LaCie has launched the ultimate white box, a blank-faced unit that turns out to be an internet-connectable network hard drive.
The Internet Space packs in a choice of 500GB or 1TB of raw storage capacity. There's an Ethernet port on the back for LAN linkage, and a USB connector so you can back-up the network drive.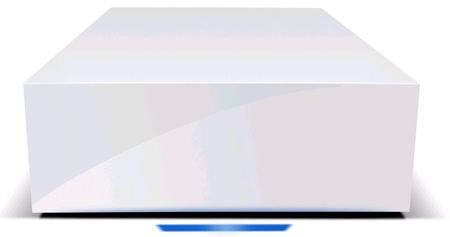 LaCie's Internet Space: cloud storage
The unit incorporates UPnP and DLNA server software, so you tune into content stored on the drive with any device compatible with those standards. It'll act as an iTunes share too.
LaCie also said the drive's contents can be shared on the internet, though - like Western Digital - you have to do this through an "exclusive web portal", which presents the drive's contents as a web page rather than a mounted hard drive.
The Internet Space goes on sale later this month. Prices start at £129 for the 500GB model.
Western Digital ShareSpace 4TB review