Original URL: https://www.theregister.co.uk/2008/11/03/tesla_model_s_spied/
Tesla Model S spied?
Day not spoiled at BMW, Jaguar etc
Posted in Science, 3rd November 2008 11:43 GMT
'Leccy Tech News out of Tesla is starting to read like the lyrics of the new Katy Perry single: you're hot then you're cold, you're yes then you're no, you're in then you're out, you're up then you're down.
To counter the recent slew of bad news, including lay-offs at the UK assembly operation run by Lotus at its Hethel factory and the fact that the company is said to be down to its last $9m, a picture has started to appear on the web of what purports to be the forthcoming Tesla Model S, the $60,000 four-door saloon Tesla hope will scare the willies out of the boys at Mercedes Benz, BMW and Lexus.
And here it is...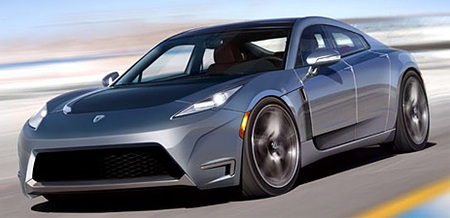 BMW worrier: Tesla's Model S?
Image courtesy Road and Track
It's tough to say if this matches up with the first sneak peek of the S, which showed only its BMW 7-ish rump peaking out from under a dust cover. But we reckon it's a fine looking piece of automotive design and certainly looks like competition for the BMW 5 and Jaguar XF.
Yes, but... it's not the Tesla S, at least so far as anyone outside Tesla's design department can say for sure. The shot comes from the December issue of Road and Track magazine, and it appears to be a Photoshop mock-up of what the mag thinks the Model S will look like.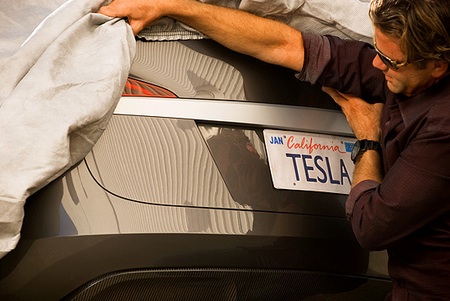 All we can say about the Tesla S
Technical details for the real S are expected to be very much as per the Roadster but with allowances made for the extra weight inherent in the larger body that will be made from metal – aluminium? - rather than the Roadster's carbon fibre.
Expect a 0-60 time of around six seconds, a top speed restricted to about 120mph and a range of 220 miles from a full charge.
Assuming Elon Musk and the US taxpayer - by way of hoped-for loans from the US Government - has deep enough pockets to get over the current economic hiccup, expect the see the Tesla S on the road in late 2010 or 2011.