Original URL: https://www.theregister.co.uk/2008/11/03/intel_prices_up_first_core_i7_cpus/
Intel prices up first Core i7 four-core CPUs
Still mum on the release date, though
Posted in The Channel, 3rd November 2008 05:02 GMT
Intel has priced up its upcoming initial quad-core Core i7 processors, all based on its new 45nm microarchitecture, 'Nehalem'.
The initial roll-out will centre, as expected, on three desktops CPUs: the 920, 940 and 965 Extreme. All three 'Bloomfield' chips contain 731m transistors in a die that measures 263mm²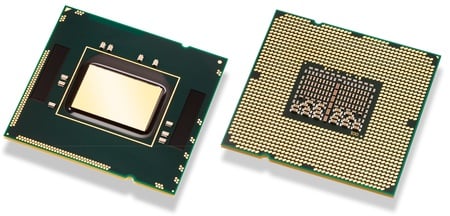 Intel's Core i7-965 Extreme: yours for a dollar less than a grand
The three new chips will set Intel's customers back $284, $562 and $999 when purchased in batches of 1000 CPUs - as expected.
Unfortunately, Intel's not saying exactly when the chips will ship beyond "later in November".
The Extreme part is set to clock at 3.2GHz and connect directly to 1333MHz DDR 3 memory though its integrated memory controller. The 920 and 940 will run at 2.66GHz and 2.93GHz, respectively, and connect to 1066MHz DDR 3. All three chips can link to three channels of memory.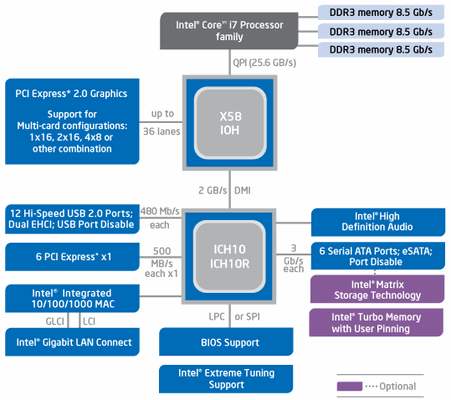 Intel's X58 chipset
They contain 8MB of L3 cache shared across all four cores - each core has its own complement of L1 and L2 cache, 256KB of the latter.
The CPUs connect to Intel's new X58 chipset across a 25.6GB/s QuickPath Interconnect (QPI) bus. The X58 hooks up to 36 PCI Express 2.0 lanes for a variety of graphics card configurations, and over a 2GB/s bus to Intel's ICH10 southbridge, which handles the usual array of USB, Gigabit Ethernet, HD audio and SATA ports.
Intel X58-based Asus P6T Deluxe Core i7 motherboard preview