Original URL: https://www.theregister.co.uk/2008/11/01/review_lcd_tv_32in_hitachi_ut32mh70/
Hitachi UT32MH70 32in LCD TV
Only 39mm thick? You'd better believe it
Posted in Personal Tech, 1st November 2008 09:02 GMT
Review When you're watching TV you want to be directly in front of it, right? So why should a manufacturer make a fuss about a TV's sides, specifically how thin they are?
Even more puzzling is the fact that greater thinness actually does make a difference, as this sleek TV from Hitachi proves.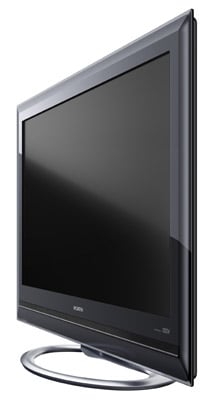 Hitachi's UT32MH70: only 39mm at its thickest point
If you're sitting almost anywhere except straight in front of Hitachi's UT - for "ultra-thin" - TV, the frame's lack of depth is pleasingly noticeable. So pleasing, in fact, that you might be tempted to angle the screen slightly so that when it's not switched on, visitors can't fail but notice your size-zero model.
It's 39mm at its thickest point, which is about a third of the thickness of a typical LCD TV. We know there are even more anorexic models on the way from manufacturers, like one at 9.9mm from Sony, but for now 39mm is still impressive, especially when mundane elements such as the power supply have had to be starved to fit them in.
Other items, such as the digital and analogue tuners, have been left out, supplied in a separate box, and that keeps the screen slim, too. It also has a happy knock-on effect in terms of weight – the Hitachi is under 11kg. And that means that if you want to hang your TV on the wall, you may not need to get the brickwork re-enforced first.
Before you worry that you won't be able to watch any broadcast programmes unless you have Freeview, Freesat or Sky set-top box, Hitachi has begun offering the external tuner box for free, and quite rightly too. Indeed, we've held off reviewing this set until now, until the free tuner became available.
But back the screen itself. The frame is simple enough – glossy and bevelled at the edges. It's smart and attractive without being intrusive. The curved silver stand underneath will be more divisive – it's noticeably cheaper-looking than the rest of the screen. The remote, however, is just not striking. A basic, black, plastic slab with silver circle in the middle. It looks more like a replacement remote rather than the sort you'd expect with a classy screen like this.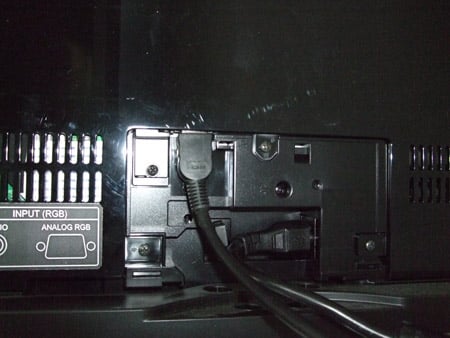 For more connectivity than the TV alone provides, you'll need the separate tuner box
As a result, you feel you only want to turn the volume up and down with the remote, change a setting or two, maybe, but otherwise use the remote for the input signal to do everything else. Enough already, it's the image on screen that matters with TV, as we'll see.
As you'll guess from such a basic remote, this TV's not exactly overflowing with features. Press the Menu key and the only changeable value in the set-up sub-menu is to turn the video power-saving on and off.
Others, such as RGB input and colour system are greyed out because without the tuner box, everything is handled automatically by the HDMI circuitry. So without the tuner, it's pretty easy to operate and once you've flicked through the Dynamic, Cinema and Natural picture modes or fiddled with the colour temperature a few times, you'll have had enough of the settings.
The HDMI and power cable ease into the main socket area at the back of the screen. Other than that, it's all pretty sparse: tucked away to the left are an analogue audio input and an RS232 computer connection. For more than this you need the optional tuner box. And that tuner box, given that it's free, is pretty spectacular. There are two digital tuners, three HDMI inputs which feed through to the single socket in the TV. Plus one Scart connector and a USB port. It's styled to match the slim look of the screen and it has a 250GB hard drive inside as well.
It's strange that a TV like this, which is all about the look, isn't a full HD screen. It manages just 1366 x 768 resolution for 720p support - 1080i and 1080p content is suitably downscaled. Most 32-inchers are sub-1080 like this one, of course, but this would have been a great place to raise the bar. As a result the image is crisp and clean, sharp and colourful but not mind-blowing. BBC HD's programming looks as gorgeous as ever, but the 1080p richness of Blu-ray content isn't quite as spectacular as full HD would make it.
Contrast is immaculate, though, and the Proms, taped inside the murky Royal Albert Hall shown again in the BBC HD Preview loop manage reasonably deep blacks. Nigel Kennedy's shiny black jacket - as he sweats furiously and frenetically plays his violin - looks rich and attractive.
The Spiderwick Chronicles, viewed in HD on Virgin's V+ on-demand service, didn't quite have the full detail in dark shadows one would hope for, but there's still plenty of richness.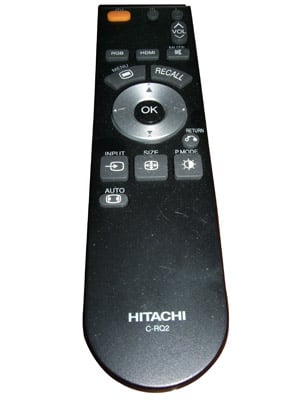 The remote is just a black plastic slab
The inevitable sepia of flashback scenes is well handled: warm and variegated. Even so, it's not as good at blacks as, say, the Philips Amblight Cineos 42PFL9603D and in brighter scenes the black top and bottom bars created by widescreen look decidedly grey. Fast motion is handled well, though, with no trace of smear or blurring in the busiest, most action-packed moments.
Verdict
If you need a new TV for the living room and you want to make a design statement, this is a subtle way to do so. It's true, you do keep catching sight of the frame's thinness and it's impressive. Go back to a regular-depth flatscreen and you'll really notice the difference – not as striking as when you switched from a traditional tube TV, but still a significant change.
Of course, for a 32in screen that doesn't have full HD resolution, you could argue you're paying a bit of a premium for this. The picture quality is certainly as good as you might expect from any screen of this size and resolution. But it's not outstanding, so you might be tempted by a full HD TV instead: Samsung has three such 32in models, which all cost less than £600. This model has already come down in cost, but it's still pricey. The addition of the hard-drive tuner box, available free by redeeming a voucher, goes some way to redressing this.