Original URL: http://www.theregister.co.uk/2008/10/31/review_mobile_phone_sony_ericsson_walkman_w595/
Sony Ericsson Walkman W595 music phone
Versatile slider that hits the right notes
Posted in Personal Tech, 31st October 2008 12:02 GMT
Review Flag-flying top-of-the-rangers like the Walkman W902 and C905 are all very well for grabbing headlines, but the really big sellers are usually further down the range.
And with the W595, Sony Ericsson might very well have a serious mid-tier box-shifter on its hands.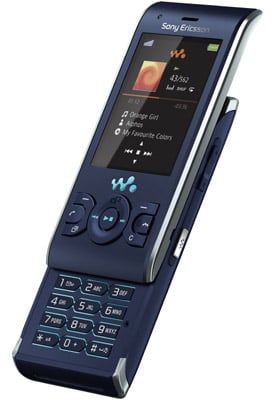 Sony Ericsson's W595: funky-looking HSDPA-enabled 3G phone
Taking care of business around the £150 pre-pay phone mark, the W595 packs in many of the features and attractive sliderphone design elements first seen on the more upmarket W910. There's a hint of W580 too, but the W595 is a far more capable handset than that predecessor.
The W595 is an 3.6Mb/s HSDPA-enabled 3G handset. It has the latest Walkman Player 3.0 software – including Shake Control gimmickry - and comes with a 2GB Memory Stick Micro card. Also in the carton is a set of earphones with a two-way splitter, so friends can listen in on their own headphones.
The W595's camera packs more pixels that Sony Ericsson's W910, with a 3.2-megapixel job slotted in the back panel. While it's a welcome upgrade, it doesn't deliver the full works of a Cyber-shot phone, with no autofocus or flash. Instead it sports a similar low-key shooter set-up to the W890 and W980.
The motion sensor set inside the phone not only enables Shake Control but also auto-rotates the display when the phone's turned round. And for those who rely on their phones to help keep them fit, motion control also feeds into Walk Mate, a pedometer application.
The W595 looks and feels good. It has an appealing W910-style curved edge design, and with tactile rubber-feel and metal materials used on the casing, its 104g weight feels reassuringly substantial in-hand. Whether the slider's up or down, handling is nicely balanced, and its modest 100 x 47 x 14mm body slip comfortably into pocket space. The slider is smoothly sprung, but solid, while the numberpad is interestingly patterned but nonetheless functionally well-aligned - the number buttons are prominent and large enough for no-hassle texting.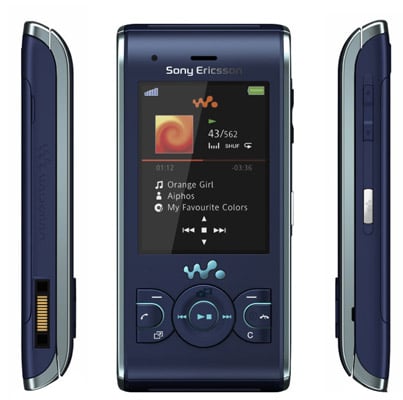 In addition to 40MB of memory, a 2GB Memory Stick Micro card is supplied
The display is a decent 2.2in, 240 x 320, 262,000-colour screen that's bright and clear for imaging and browsing. Under this are the main control keys, with a round navpad the centrepiece. The soft-menu keys and call and end buttons flank this in a horseshoe arrangement on either side. Despite their proximity to each other, the keys are defined just about well enough for error-free fingering.
The menu system is typical Sony Ericsson mid-tier. The main menu is set up as a grid of icons, while sub-menus can be scrolled and tabbed through. The navpad and control buttons add shortcut options – the top of the navpad pulls up the camera, for instance – while Sony Ericsson's handy Activity Menu key fast-tracks users into a list of oft-used functions and applications.
Notice of this phone's musical aspirations is given by a pair of thin speaker grilles running along the width of the curved top and bottom of the phone. Lying on its back or in-hand, this phone can play LOUD.
A key dedicated to the Walkman player sits on the side of the phone. When the music's playing, this doubles up as the Shake Control button – press and hold, and with a bit of appropriate wrist action you can change tracks or adjust the volume. It's a gimmick - in reality it's less practical and precise than using the regular music controls marked on the navpad.
The Walkman Player 3.0 software delivers a fine mobile music experience. The user interface is funky but straightforward to use and smooth to navigate. Within the media player options are the usual extensive mid-tier Walkman categories: albums, artists, tracks, playlists, genres, years, podcasts and audio books. You also get SensMe, the mood- and tempo-defined playlists you can compile from tracks copied from a PC, provided they have previously been assigned this information using Sony Ericsson's supplied Media Manager software.
The player itself works extremely well. Cover art is supported and the auto-flip screen works here too. Sound quality is extremely high for a mobile phone – Sony Ericsson does this music phone stuff very well.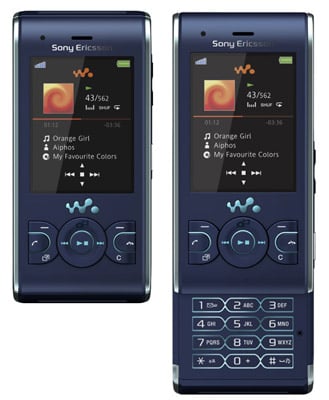 Whether the slider's up or down, handling is nicely balanced
The supplied earphones are mid-range grade, so are better than average rather than of stunning quality. Still, sound reproduction is satisfyingly rich and detailed. While the two-part headset plugs into the phone using an unwieldy proprietary all-purpose connector on the side rather than top, the headset has not one but two 3.5mm sockets midway. This splitter provides the option not only of adding your own higher quality headphones, but also of allowing a friend to listen in too.
You can also listen using the loudspeaker, which is a typically tinny when cranked up, but is capable of hitting surprisingly high volume levels.
To go with the basic 40MB of internal user memory, there's a 2GB Memory Stick Micro card supplied. Cards up to 8GB are supported if you want to expand your music collection. The card slot is under a rather flimsy back panel cover, but unless you're constantly swapping, this shouldn't be much of an issue.
Tune-loading is similar to other recent Walkman phones – using the supplied USB cable and Media Manager software, you can transfer tunes from a PC, or you can simply drag and drop in mass-storage mode. Alternatively, you can slip in a pre-loaded memory card or send songs over Bluetooth.
Browsing is fairly rapid and functional too, thanks to HSDPA - there's no Wi-Fi. The W595 uses the NetFront web browser, which displays mobile optimised Smart-Fit views of pages or full rendering, plus pan and zoom options for navigating pages.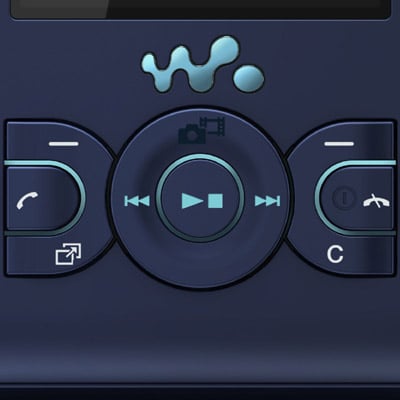 The control system is typical Sony Ericsson mid-tier affair
The W595 isn't geared up for GPS satellite navigation, but it does have Google Maps software pre-loaded for network-based location finding. Using automatic cell mast triangulation, you can find maps with your approximate position marked to within several hundred metres, and you can search for places of interest, locations, services and addresses – and find step-by-step directions from A to B. It's not satnav, but it's a very useful extra application to have in-phone.
Another web-based service likely to find favour is YouTube, tucked away in the phone's video menu. Again, it's one of those apps which could rack up data bills if you don't have an inclusive deal. You can also upload your own content directly from the phone.
Video capture quality is averagely ordinary for a phone, however, recording at maximum 320 x 240 resolution, so don't expect prize-winning footage from the phone's camera.
Stills imaging is reasonable, with the 3.2-megapixel camera capable of popping off some pleasant shots. It's not the most versatile of Sony Ericsson's shooters, though, with the absence of autofocus and flash restricting the precision of shot composition and the quality of low-light snapping.
Images tend to have well-balanced, zingy colour, and snaps can look acceptable enough. It's fine for casual shooting, but snapping plays second fiddle to music. Shooting tweakery is functional rather than comprehensive, checking the regular shot adjustments, multi-shot and colour effects options.
Both images and video clips can be snapped and immediately uploaded to Blogger accounts directly from the handset. Depending on which operator you bought the W959 from, you may find other online upload options supported too. Incidentally, unlike the W910, there's no forward-facing video call camera – though you can make and take video calls with the main camera, or use stored images as your outgoing pic when talking.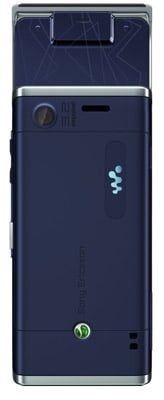 The 3.2Mp snapper is not the most versatile of shooters
A selection of extra entertainment applications, fun features and organiser tools make up a decent mix of additional functionality for this class of handset. It's bustling with useful and throwaway stuff: the excellent standard-issue TrackID automatic song identification software is included, as is stuff like Comeks Strips cartoon maker and Rock Bobblehead.
Sony Ericsson delivers the usual organiser staples. Walkman-regular Music Mate software is included for would-be musicians, while gamers can while away time with four games.
There's plenty to play with on this phone, but voice calling is still likely to be one of the most-used features – and this phone ticks all the right boxes with a solid, reliable performance. Sony Ericsson estimates the W595's battery can last up to 385 hours in standby - 365 hours on 3G networks - or give up to nine hours of calls on GSM networks or four-and-a-half hours on 3G networks. This should be sufficient for most users.
Regular music playing or online activity will, of course, shave off battery life. Sony Ericsson reckons that using the music player alone, the phone can run for up to 25 hours between charges. With our average level of usage, however, we managed a good three days before we needed to plug in the charger.
Verdict
It's easy to warm to this handset, with its appealing design and functionality. While the Walkman W595 doesn't break new ground for the music phone range, it offers a fine set of features for the price, including much of what the W910 previously offered. It has a pleasing usability about it too, while its headline music player package delivers a high quality tune-playing performance. It may not be a flagship phone, but the W595 is still an attractive and able addition to the Walkman fleet.