Original URL: http://www.theregister.co.uk/2008/10/28/windows_seven_review/
Windows 7 early promise: Passes the Vista test
Safe, solid - exciting?
Posted in The Channel, 28th October 2008 16:00 GMT
PDC Windows Vista is better than its reputation, but its reputation is pretty bad. During the press briefing for Windows 7 at Microsoft's Professional Developers Conference (PDC), corporate vice president for Windows product management Mike Nash insisted Microsoft had learned from the Vista experience.
Judging by early Windows 7 code released at PDC, the signs are that it really has.
Microsoft is making all the right noises: everything that works on Vista will also work on Windows 7, it will be faster on the same hardware, it will run longer on the same batteries, it will be more reliable.
In other words, whereas Vista was two steps forward and one step back from Windows XP, there should be no downside to Windows 7 over Windows Vista.
A day spent with a Windows 7 preview build - Milestone 3, running on a laptop loaned for the purpose (Dell XPS M1330, Core 2 Duo 2.3Ghz, with 3GB RAM) tends to confirm that view. Windows 7 feels more polished than Vista, even in the preview, and performance is good.
Unfortunately many of the new features in Windows 7 are absent from the build given to the press, presumably because they are not yet stable, so the following quick tour is partly based on first-hand experience, and partly on Microsoft's demos.
The first thing you notice is the revamped taskbar, with chunky thumbnail icons, full-screen application preview on mouse hover, and "jump lists" - pop-up menus that expose key features directly from the taskbar, provided that the application was coded to support them, and recently opened documents for any application.

First impressions: the revamped Windows 7 taskbar
The system tray area now has a customize option that allows the user to suppress notifications, annoying for developers but empowering for users. It is all about making Windows quieter and less annoying. The same principle is at play in the revised User Account Control (UAC), which offers a simple slider bar that lets the user decide the level of prompting it enforces.
Microsoft has also tried to improve the experience of managing open windows. You can make windows temporarily transparent, in order to see files on the desktop, and when you drag them to a screen border, they snap into place. Vista's sidebar has been scrapped, and gadgets now appear on the desktop itself. Windows Explorer has a new feature called Libraries, where a library is a group of folders which you can search as if it were one location.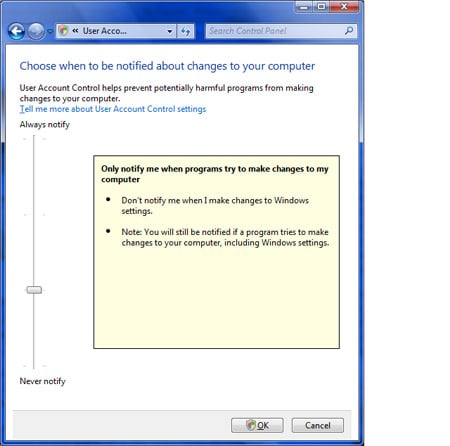 Set prompts using UAC's slider
Those few who have a multi-touch display can control Windows 7 with their fingers. Gestures like flicks and pinches perform actions like scrolling and zoom. Although this looked good in the demos, it was also apparent that many icons are too small to work well with finger control, including the close and maximize gadgets on every window.
Applications designed specifically for touch will work best. It is hard to see how Windows can be designed equally well for mouse, touch and stylus control, since each approach has different requirements.
Older versions of Windows throw up an autoplay dialog when you connect a device such as a camera, phone or external drive.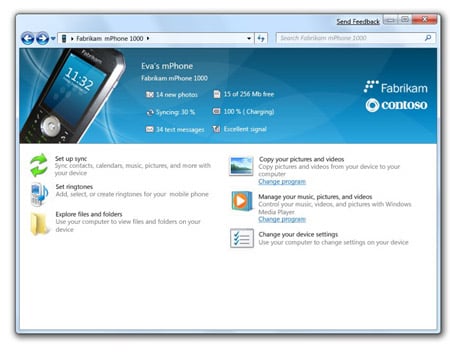 Device Stage is tailored for specific devices
In Windows 7 device vendors can customize what happens on connection, through the new Device Stage, a control center tailored for a specific device. Some Device Stage links can be advertising for add-ons and supplies, so there is a commercial aspect that may not always be welcome. The Device Stage is populated via a Windows metadata service, which means it can be updated at any time.
The ancient Windows applets Paint and WordPad have been refreshed with a ribbon UI in the style of Office 2007, and Calculator is more sophisticated though ribbon-free. There is no sign of Windows becoming deeply ribbon-driven in this preview.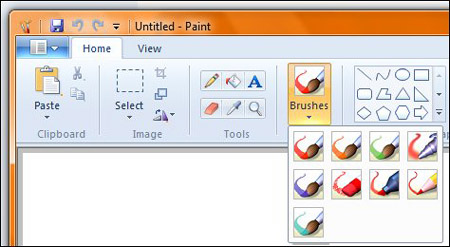 The Ribbon UI comes to Paint
Windows Media Player has the most significant changes, with support for new codecs including AAC, H.264, DivX and Xvid, and support for the Digital Living Network Alliance (DLNA) 1.5 media streaming standard, including transcoding where necessary. Under the covers lie more multimedia features, including a new animation framework and DirectX 11.
New features for business users include BitLocker to Go, which encrypts data written to removable drives such as USB keys, and Direct Access, a feature that requires Server 2008 R2, which enables users to access internal network shares over the Internet without using a VPN, secured with IPSec.
As for overall security, Microsoft has said little about it: it takes an approach similar to Vista, with UAC along with an Action Center that alerts the user to problems like expired anti-virus.
Windows 7 will be the first version overseen by Windows and Windows Live engineering group senior vice president Steven Sinofsky, who described the development process in some detail for us. He has a methodical and disciplined approach and I doubt we will see a repeat of the Vista debacle, in terms of slippage, bugs and massive code rewrites. Further, time has solved many of the problems with drivers and application compatibility that afflicted Vista.
This is shaping up to be a more robust and desirable release, though its conservative approach makes it seem uninteresting compared to Microsoft's new cloud efforts. ®