Original URL: https://www.theregister.co.uk/2008/10/28/asus_eee_1002ha_appears/
Asus' sexed-up Eee PC 1000-series netbook spied on web
Take S101 chassis, add 1000H internals
Posted in Personal Tech, 28th October 2008 09:59 GMT
Snaps of Asus' upcoming Eee PC 1002HA have popped up online, straight out of the manufacturer's marketing department, to confirm the new model looks exactly like the recently announced Eee PC S101.
The S101 marked a stylish departure for the Eee family, and the 1002HA essentially is an S101 with a 160GB hard drive on board instead of a 16GB solid-state drive.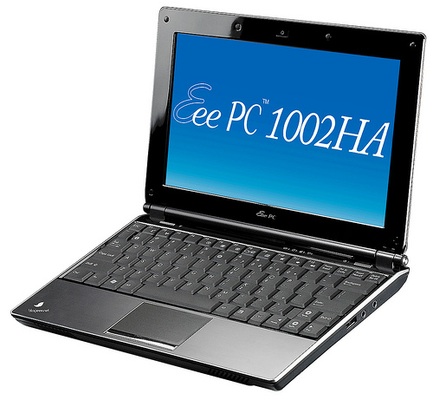 Asus' Eee PC 1002HA: S101 spitting image
Pics courtesy Blogeee.net
The two machines have a 10in, 1024 x 600 screen in common, along with 1GB of DDR 2 memory, 1.6GHz Atom N270 processor, VGA output, 802.11n Wi-Fi, Ethernet, three USB ports and a SDHC memory card reader.
The S101 has Bluetooth 2.0 on board, but it's not yet clear whether the 1002HA does. It does lack, the S101's glossy, bronze-hued lid, favouring a grainy black look instead.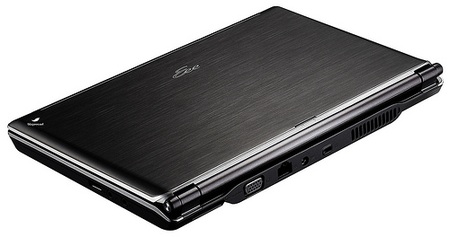 No bronze here
There's no official word on the specs, or the pricing, which French-language site Blogeee.net reckons will be €449 ($563/£358), which is less than Asus wants for the S101: €599 ($751/£478).
Both models measure 264 x 181 x 18-25mm, and weigh around a kilo.
Netbooks and Mini-laptops Buyer's Guide
Eee PC Reviews
Eee PC 1000H
Eee PC 904HD
Eee PC 901
Eee PC 900
Eee PC 701