Original URL: https://www.theregister.co.uk/2008/10/27/this_is_an_egg/
Forgotten what an egg looks like? We can help
Local paper spells it out
Posted in Bootnotes, 27th October 2008 13:39 GMT
Hot on the heels of the Beeb's "just exactly where is England?" shocker, we have a further example of news outlets' occasional need to really spell it out to readers.
Yes indeed, try this cracker from the News & Star website, gleaned from an article entitled EXTRA POLICE DRAFTED TO CRACK KESWICK EGG-THROWING CASE: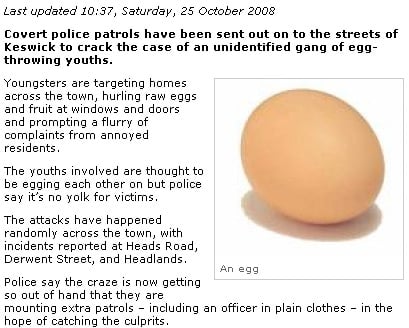 Riiiiight - that's what an egg looks like. Thanks for the caption, too, which should avoid any possibility of confusion regarding exactly what we're dealing with here. ®
Bootnote
Ta very much to Craig Brass for the tip-off.