Original URL: https://www.theregister.co.uk/2008/10/25/review_mobile_phone_samsung_i8510/
Samsung Innov8 i8510 eight-megapixel cameraphone
Samsung's best smartphone yet
Posted in Personal Tech, 25th October 2008 08:02 GMT
Review It may be the first eight-megapixel cameraphone to hit the UK, but Samsung's i8510 does more than simply take nice snaps. Much, much more.
The i8510 flexes a formidable set of features that out-muscle most other smartphones in its class – and it's certainly Samsung's most feature-packed handset to date.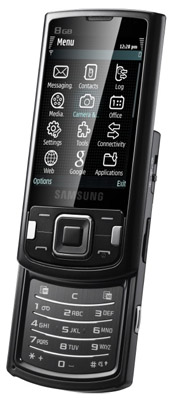 Samsung's i8510: watch out, Nokia N96
Built on the Symbian S60 3.2 platform, the i8510's look isn't a million miles away from Nokia's popular N95 8GB – albeit without that model's trademark dual-slider mechanism. Under the bonnet too, the i8510 matches many of the key features of the Nokia model, but it also sprinkles a few extra into the mix.
In addition to the class-topping cameraphone, the i8510 is an HSDPA-enabled 3G handset with a download speed of up to 7.2Mb/s. It also supports Wi-Fi, has A-GPS satnav technology built in and is available in two versions with 8GB and 16GB of internal storage. This can be expanded even further 4-16GB Micro SDHC cards.
It has a full deck of multimedia software on board, though there are no dedicated music controls. Still, it gets a big tick for having a 3.5mm earphone socket, allowing you to add your earwear of choice.
As you rifle through the phone's menu system, you come across plenty of pleasing features and software pre-loaded. There's a sophisticated repertoire of applications, tapping into a wide variety of interests.
For instance, as well as a full web browser, you can upload images to websites and blogs using the Shozu application. There's a suite of Google apps - Search, Mail and Google Maps - plus Fring's VoIP and IM application. Gypsii hits the spot for location-based social networking, while the phone boasts support for DivX video. Samsung is clearly aiming at a wide target audience with its do-everything approach.
Any Nokia smartphone stalwarts thinking about switching rides will feel comfortable with the i8510's handling. It's a large phone, but not excessively so for the functionality it packs. It measures 106.5 x 53.9 x 17.2 and weighs 136g, which is fractionally larger but thinner than the N95 8GB. It has a high quality, solid build with nicely rounded edges, so slips into the pocket just fine.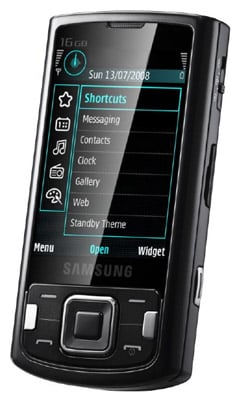 The Shortcuts option can be tailored to how you want functions to appear
The spring-loaded slider is firm and smooth, while the numberpad has a nicely responsive key action. A couple of keys flanking the Clear button provide user-definable function shortcuts, but the main action revolves around the navpad and S60 menu system.
That said, the home screen has a distinctly different look and feel to Nokia's S60 smartphones. A column of icons ranges down the left of the screen, linking to Shortcuts, Calendar, Music player, FM radio and Personalisation sections. As you click through these, more detailed sub-menus appear, which you can scroll through and click to select.
The navpad's centre button doubles up a touch-sensitive mini trackpad, providing a whizzier way of sliding through menus and jinking around webpages in the browser.
In day-to-day menu-surfing mode, though, it's one of those touch-operated controls that you'll either love or hate. We found it could too easily be accidentally brushed against or mis-clicked, taking us to menu places we didn't want to be. Thankfully, it can be easily deactivated, or its sensitivity adjusted.
Flanking the navpad are a quartet of soft-menu keys, call and end buttons, and a pair of prominent chrome keys: Menu and Gallery. The latter fast-tracks into a content sub-menu, containing images, videos, music and so on.
The 2.8in, 240 x 320, 16m-colour display is bright and clear, and does a fine job presenting images and videos. An 'Auto pivot' option means that thanks to its inbuilt motion sensor, the screen can switch orientation automatically, depending how the phone's being held. There's a small secondary camera for face-to-face video calling.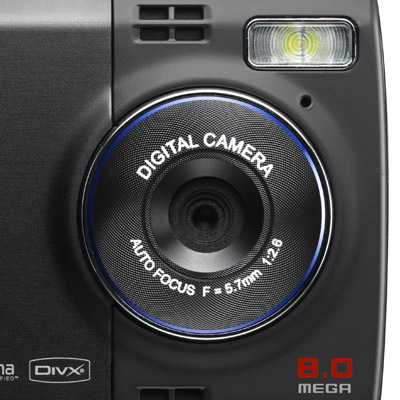 The 8Mp camera gives the back a distinctly digicam look
The main-event – the eight-megapixel camera – gives the i8510's back panel a distinctly digital camera look. The lens array stands slightly proud of the back and has a lens cover built in which opens automatically and only when the camera is active.
As well as the obligatory shutter button, there's a small slider for switching between still photography, video grabbing and your album of shots. The zoom rocker control is on the opposite side, so it's placed on the bottom of the phone when you're using the i8510 in camera mode.
There's no optical zoom on this model, unlike Samsung's G800, and we'd liked to have seen a more powerful and precise xenon flash rather than the dual-LED unit provided. Besides that, the phone's camera hits the mark.
The autofocus system is very precise and works well - the two-step shutter enables you to get tightly focused shots, and there's a great macro mode for close-ups. There's a plethora of adjustments you can make to the auto metering, exposure, white balance, ISO and brightness. Anti-shake and wide dynamic range options are included too, for avoiding hand jitters and dealing with difficult lighting conditions.
There's a blink detector so pics aren't spoiled by the subject closing their eyes mid-shot. It works as advertised.
One stand-out option among the usual array of shot modes and image effects is an excellent panorama tool. Although you can only take panoramic shots at 640 x 480, the mode uses the motion sensor to help frame a smooth stitched-together sequence of shots. Very clever.
We very much liked the pictures we got from the i8510. Images were sharp and extremely detailed, and colour reproduction was excellent, all in a variety of lighting conditions. Close-up shots were of a very high quality, even in indoor light. We found the camera responsive, and had no problem with shutter lag. Images were processed quickly too.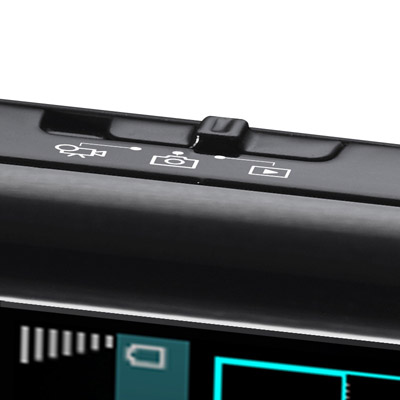 Flick the switch and you can shoot at 120f/s for slow-mo
In low-light situations, pictures weren't quite so great, but the flash does a reasonable job at illuminating close-ups. Overall, we grabbed some of the finest cameraphone images we've yet taken.
Flick the camera's mode switch to video and you can shoot at up to 640 x 480. You can capture footage for playback in quarter- or eighth-speed slow-motion - shooting at maximum 120f/s at 320 x 240 quality, and playing back at 15f/s.
The i8510's media player capabilities include DivX video support, so it's ready to let you make the most of that 2.8in screen. For music, the i8510 is equipped with a typical S60 music player that's intuitive to use. Tracks are tidily arranged under familiar categories - artists, albums, playlists, genres and composers - and audio playback is of a pleasingly high quality. Audio is well balanced, clear and with a good dynamic range: a cut above the norm for a mobile.
Although the 3.5mm socket allows you to add your own headphones, the supplied in-ear set are rather good, coming with a selection of swappable plastic tips to ensure a snug, comfortable fit. Our only niggle would be that we'd have preferred the 3.5mm socket on top rather than on the side of the phone.
Copying tracks over is fairly straightforward, either using the supplied Samsung PC Studio software, drag-and-dropping from a PC in mass-storage mode, or by slipping in a pre-loaded memory card. You can download tracks too, and the phone has a decent FM radio.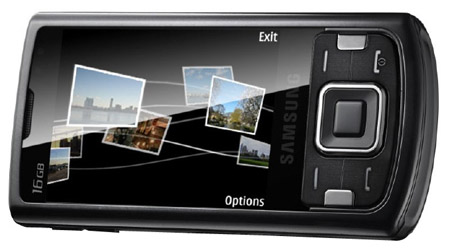 With nicely rounded edges, it slips into the pocket easily
A-GPS location finding is fast becoming a high-end mobile must-have, and it's present on the i8510. You can 'geotag' your images with location data, so you can view on a map precisely where pics have been taken.
Google Maps enables you to pinpoint where you are, search for local amenities and places of interest, and plan routes, following them as you progress. It's a very handy app to have on a phone, as we've mentioned before, but it isn't a full satnav system.
On that score, Samsung's pre-loaded Route 66, though to use it you'll first need to subscribe to Route 66's mapping, routing and voide guidance service.
We found the A-GPS gadgetry on the i8510 took slightly more time to get a full satellite fix in comparable locations than Nokia's N95 8GB and 6210 Navigator did. When it did lock on to our position, though, it held on well and was very responsive to our movement.
The i8510's high-speed HSDPA and Wi-Fi connectivity ease the way for fast web browsing as well as swift downloading. The web browser provides a good web experience - you get page overviews and there's Flash support. The i8510 can also handle RSS feeds.
Yahoo! Go is included too, pulling together into one app a bunch of online services, widget-style, including email. The addition of Fring provides VoIP calling and instant messaging. The GyPSsii client offers GPS-enhanced online social networking and content sharing, including the real-time location of other GyPSsii users. Samsung has also loaded some decent games – including FIFA 08 football and the Asphalt 3 Street Rules driving game.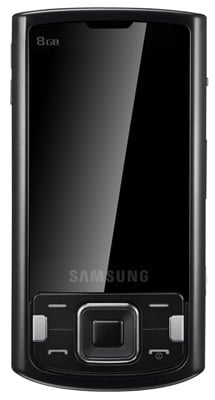 The 2.8in display dominates the front of this phone
The i8510 isn't just geared up for fun - there's a hefty amount of smartphone organiser functionality in there too. As well as staples such as calendar, calculator and clock, there's a dictionary, PDF reader and Office document viewers for files loaded onto the phone or received as email attachments.
There's certainly plenty of gadgetry to play with in this handset, but Samsung hasn't overlooked the bread and butter of voice calling, which is perfectly sound. The i8510 put in a robust performance on signal holding too, while the phone's Wi-Fi set-up was similarly efficient and reliable.
But with so much functionality, battery life could be an issue. Samsung reckons the i8510 can run for up to 330 hours on standby, with a talk time of up to five hours on 3G networks or 8.5 hours in 2.5G coverage. How much the more power-hungry features are used is going to determine charging frequency. With our average usage, we could get two to three days' battery life, but if certain features, such as GPS, were used more often, daily charging became necessary.
Verdict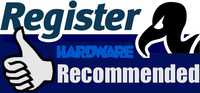 The i8510 is the most capable and impressive Samsung handset we've seen and it's definitely one of the top S60 smartphones around. The icing on the cake is the eight-megapixel camera, which can produce excellent quality images. Samsung has gone to town with the i8510 and produced one cracking handset.