Original URL: http://www.theregister.co.uk/2008/10/22/review_smartphone_sony_ericsson_xperia_x1/
Sony Ericsson Xperia X1 Windows Mobile smartphone
Could have been a contender
Posted in Personal Tech, 22nd October 2008 11:02 GMT
Review Sony Ericsson's answer to the iPhone is finally with us, and though there's much to admire, it doesn't feel like it's quite the phone it could have been.
First, though, the good stuff. The X1 is a good-looking handset, with its matte black face offset by silver trim around the sides. The front is dominated by its large, 800 x 480, 65,000-colour touchscreen, though this isn't really enhanced by the muddle of buttons beneath it. These are arranged in a sort of twin X shape - do you see what they've done there? - and include two soft-menu keys; call stop and start; an OK button and another for 'Panels' - more on that later.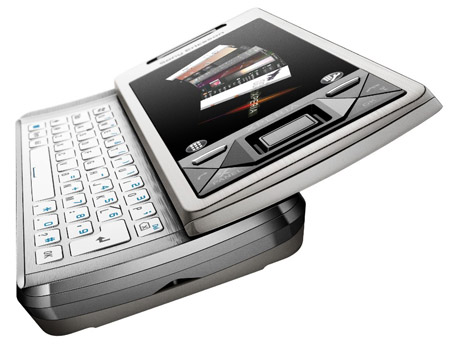 Sony Ericsson's Xperia X1: not as chunky as other Windows Mobile phones
The buttons surround a touch-sensitive navpad - or "optical joystick" as Sony Ericsson calls it - which helps when skimming through menus, though you can disable this feature if you prefer. Navigation-wise, the X1 makes little pretense to be a one-handed handset. Around the sides and on top, in order, a USB power slot, a volume rocker, camera button, power button and 3.5mm headphone socket.
The X1 isn't as heavy or as fat as some other recent Windows Mobile models, which is all to the good, though it will still make a hefty bulge in your pocket thanks to a thickness of 17mm and weight of 145g.
The reason for the girth is, of course, the slide-out Qwerty keyboard and fortunately this is a winner. There's just enough resistance to prevent it opening by accident, but when pushed it flies open with a reassuring thunk.
The four lines of well-spaced metal keys are finished in a brushed chrome look, and have a slight bend that helps to differentiate them under your thumbs. And speaking of bends, one of the style innovations of the X1 is that the screen tilts slightly upwards when you slide the keyboard out. It helps a little with viewing, but doesn't really offer anything you couldn't do with your wrists.
The screen automatically flips into landscape mode when the keyboard is activated and while the display looks handsome enough indoors, it's a bit too reflective to hold up well in bright sunlight.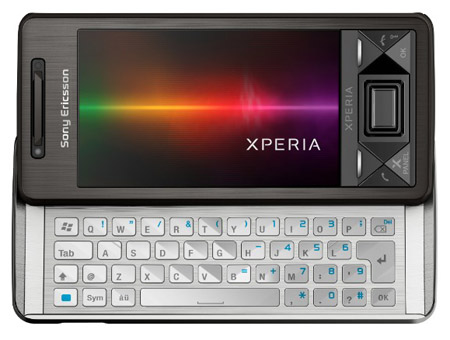 The screen flips into landscape mode when the keyboard is activated
The X1 runs Windows Mobile 6.1 - a first for Sony Ericsson - but unlike, for example, Samsung's Omnia or HTC's Touch series, you will need to use the Windows menus to find your way around. For this you'll (often) need to make use of the stylus, which slots into the side.
At the top menu level, however, Sony Ericsson has made a bit of an effort with its "Panels" UI. This is a series of home pages that each focus on a particular application. Ours came with time and date, media player, FM radio, events, calendar, Google and Fish (they swim around the time and date) panels pre-installed. You can download others, and SE has apparently made this option open to developers, so there could be some interesting choices available soon.
The panels generally look good and they're easy to change, using the Panels button, which shows them all at once. This is an decent way to get around without resorting to the stylus, but since it takes a few seconds to change from one panel to another, the time lag started to grate after a while. As did the rather fiddly control buttons, and the fact that the soft-emnu keys aren't active in every application. We really missed Sony Ericsson's back key.
The camera is of the 3.2-megapixel stripe and is fairly good as far as that goes. The Pics it takes are decent, with reasonably accurate colours. If the definition suffers in respect to those increasingly common five-megapixel affairs, that's only to be expected. Less excusable is the fact ot takes a good three seconds or so for the phone to get into camera mode. Autofocus adds further delay to the shutter time, so the X1 is not great for quick snaps.
All the camera settings are accessed on screen, and while there are a few pre-shot options - including multishot, though not SE's BestPic - there are few features here for post-shot editing. There's an LED photolight rather than a xenon flash, but a nice innovation is the touch focus mode, where you touch the screen at the point you want to be the main focus of your pic, which can make for some arty forced perspective shots.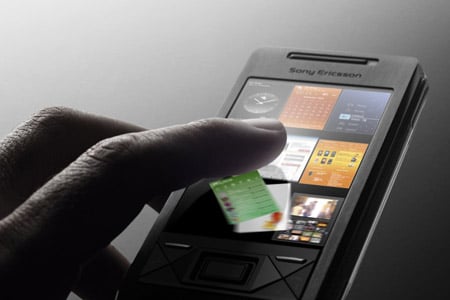 Sony Ericsson's Panels UI sits on top of Windows Mobile
Incidentally, video quality doesn't take too much of a downward step, since the X1 records and plays at 30f/s - 640 x 480 (VGA) only - giving smoother-than-expected recording and playback.
There's also a VGA camera on the front for video calls using the phone's HSDPA 3G connection. And speaking of connections, the X1's got everything you could need, including Wi-Fi, Bluetooth and infrared. Push email is available through Windows Outlook, and of course you get the main advantages of the Windows Mobile platform: easy syncing with a PC and a wealth of third-party applications.
The music player owes something to SE's Walkman series - there's also Windows Media Player if you feel the need - though it feels a bit under-specced in comparison. It will display album art, but there's no graphic equaliser and a limited number of filing options. The X1 doesn't come with Sony Ericsson's best headphones - they're reserved for the Walkman series - though they're really not bad at all.
Still, you can easily upgrade the 'phones thanks to the 3.5mm socket. There's a mere 400MB of memory on board the X1, but you can augment this with Micro SD - wot, no Memory Stick? - which you can hot-swap, though you'll still need to remove the metallic backplate. The X1 will handle cards of up to 16GB in capacity, though none is supplied.
After all that multimedia mediocrity, it's a relief to note that the X1's web browser is a bit of a gem, though you'll prefer to use it in landscape mode with the slide-out keyboard rather than the stylus-only portrait mode.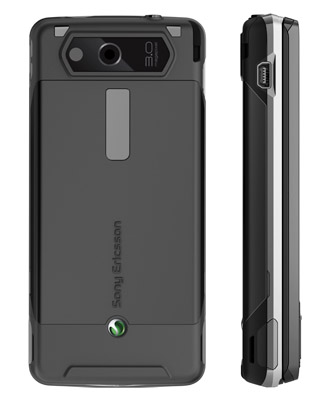 A nice touch with the 3.2Mp snapper is the touch-focus mode
You can zoom in or out with the volume rocker, slide pages around by brushing them with your thumb, view streaming video, set up RSS feeds, save pages and navigate through your browsing history. It makes browsing fun, in other words.
There's GPS on board, as seems to be standard for smartphones these days. It's backed up by Google Maps and a trial of Wayfinder Navigator for satnav with voice guidance.
The X1's battery life isn't anything to write home about. We just about got a couple of days out of it, but with optional juice guzzlers like HSDPA and Wi-Fi switched on and the screen brightness optimiser switched off, that time was reduced to about a day.
Verdict
Sony Ericsson's first Windows Mobile handset packs a lot into a compact package. It has an average camera which at least beats the iPhone, a pretty good media player and an excellent browser, as well as enviable connectivity options. But we were left with the suspicion that a degree of useability has been sacrificed for style.